Roads Awash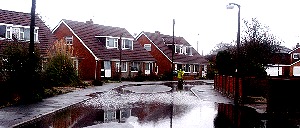 Photographs by Patrick Trollope.
ON 18 January (Tuesday), the met office reported Crosby as having the highest rainfall in the UK, with 27mm of rain recorded. This high rainfall meant that the area all over Merseyside was awash, making driving difficult.
On Friday 21 January after the week's rainfall Freshfield's Southport Road and Heather Close became more like a boating lake than a road. The flooding spread into the gardens of the local houses and also onto the forecourt of the BP station at the junction of the Formby Bypass.
The flood was not just confined to the heavily used road into Formby, but it also affected the south side of the Formby Bypass and Southport Road roundabout, making conditions hazardous to traffic from all approaches A pumping truck was called out to clear the water away.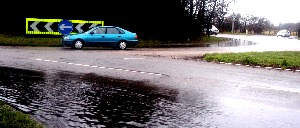 Residents in Heather Close said:- "This is getting increasingly frequent. The council must do something to stop this. The situation is getting well beyond a joke."
A BP customer added:- "The Bypass is also a joke. In fact it is an accident waiting to happen. Cars have to swing right over to avoid the flooding when going around from the north and road users on the northbound lane of the bypass have to plough through what is increasingly turning into a ford."
Local delivery vans driver, Dave, told us:- "Ever since the so called drainage improvements on the Bypass, the situation has been made worse. The road is now an aquaplaning hell if there is heavy rain. but in defence, some parts of the road dry out quicker than it used to... only problem is that it is not consistent and leaves cars speeding along and suddenly hitting what are best described as mini- rivers."
Next week we will be putting enquiries to the council to see what is going to be done to stop this situation from happening again.
If you spot a problem let our news desk know.
Please donate...

~HAPPY BIRTHDAY~

HAPPY BIRTHDAY

Eric Lion-Taylor

Southport's last Viking

From

the roll play gang.

IF you have some one you want to say happy birthday to for free,

then use this email address

& send the names

to us by emailing us to:-

birthdays@southportreporter.com