Merseyfest 2005 Formby is now Launched!!!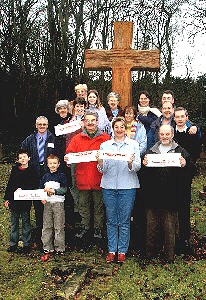 Report by Bob Wagstaff photograph by Patrick Trollope
A interesting evening to launch MERSEYFEST FORMBY took place in the Gild Hall, Formby, on Tuesday 25 January. At the meeting were representatives of the various organistions in the Formby community. After the presentations there was an opportunity for questions and to meet others of the community who will be taking part.

Representing the Chief Executive of Sefton, Mr.Graham Haywood, one of his senior officers, Mr. Mo Kundies said:- "Merseyfest has already demonstrated it's willingness and ability to engage local communities and individuals to undertake community led projects during last year's pilot scheme.

I am optimistic that this years main event will even be even more successful, both in terms of what it physically delivers, and the positive legacy that it will leave behind in Sefton."

The photographs show members of the Merseyfest Formby team with Claire Curtis-Thomas, who is giving her whole-hearted support, both locally and in Westminster. Here she met the Bishop of Liverpool, The Rt. Rev'd James Jones, at the launch with Merseyside MP's and Peers in the Palace of Westminster recently.

Please donate...

~HAPPY BIRTHDAY~

IF you have some one you want to say happy birthday to for free,

then use this email address

& send the names

to us by emailing us to:-

birthdays@southportreporter.com

IF YOU HAVE AN EVENT, OR ANY NEWS THEN....

Telephone

:-

& our Fax Number is:- 01704 513 741 TODAY!

UK office hours only, calls maybe recorded.