RTA On The Southport Road in Scarsbrick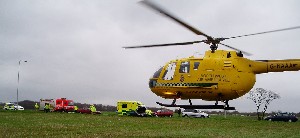 YET anouther RTA. The North West Air Ambulance received the call out at 12:06 to attend an Road Traffic Accident on the Southport Road in Scarisbrick on 15 April 2005.

Lancashire Land Ambulance, Police and Fire Brigade were already at the scene of the incident. The patient was a 30 year old male and was treated at the scene by the NWAA before being flown to Royal Preston Infirmary's specialist unit. The other patient was taken by land ambulance to Southport Hospital. It took the NWAA only seven minutes to transport the patient to hospital, a journey which would have taken approx 45 mins by land ambulance.

Over the build up to summer Motoring organisations are telling people to keep the speed down, do not drink and drive, check your brakes and water etc. but always for get to say that you should donate to the charitys who help you, if you do have an accident. The North West Air Ambulance is the region's only medical air emergency service and with out your support they would not be able to help others. It receives no mainstream funding and yet it costs just under £1 million a year to maintain, this vital service covering Lancashire, Merseyside, Cheshire, Greater Manchester and Cumbria. Expert pilots and paramedics work 365 days a year to watch over the people of the North West. To donate to the NWAA call the free donation hotline on 0800 587 4570.
Who will get your vote?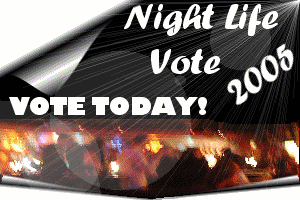 YES the two week is up for the Southport Night Life 2005 Vote but you still have to 6 May 2005 to vote for you top Southport Town Center pub and clubs.
All you have to do is vote for the best club or pub in the Town Center via printing off one of our voting slips from this site or cutting out them out of the Champion. We have 5 categories to choose from.
The rules are as follows:-
Only official voting slips may be used

Comments must not be placed on slips (de-faced forms will be scrapped)

Vote boxes will be opened by staff from The Champion and/or Southport Reporter.

The editor's decision is final.
Congratulations!

Just married, Paul and Debbie Davis.

With lost of love from all of us at the Fuzzy Peach, Southport.

~HAPPY BIRTHDAY~

IF you have someone you want to say happy birthday to for free, then use this email address & send the names to us by emailing us to:- birthdays@southportreporter.com