Formby Walk Of Witness 2005
Photograph by Patrick Trollope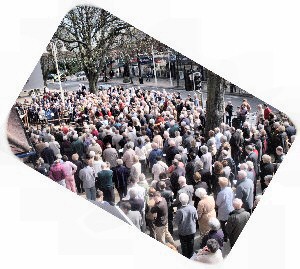 FORMBY Village came to a stand still as it was taken over, on the 25 March 2005, by the traditional Walk Of Witness on Good Friday.

This year's walk had more participants than the last few years and was hailed as a huge success by the Formby Churches Together group who organised it.

The event started with the processions of witness that set off from the Grapes Pub and from the Formby Library ending at the village centre where a service was held in the open air. The service was conducted by the Chair of the Churches Together, Formby group. Opening the service was the hymn "There is a Green Hill Far Away". The Address was given by Rev. Howard Sharp, Moderator Mersey Province, United Reformed Church. Prayers were read out by members of Formby, St Anne's Church. The closing Hymn was "When I Survey The Wondrous Cross."

John Chalcraft said:- "I have never seen as many people attend this service before. We were lucky to have very good weather this year and this has brought out all ages from very young to the very old. Churches Together, Formby, would like thank all those who have helped prepare and taken part in this act of worship. We would also like to thank Merseyside Police who helped make the event run smoothly and safely."
Click below for more photos!
If the green box above or the purple box below do not show, you must download a new edition of Java. To get it just use this link:- http://java.com/en/index.jsp
~HAPPY BIRTHDAY~

IF you have someone you want to say happy birthday to for free, then use this email address & send the names to us by emailing us to:- birthdays@southportreporter.com

Log on to our

Radio Station...