WITH LIGHT, COMES HAZARD
Written by the North West Air Ambulance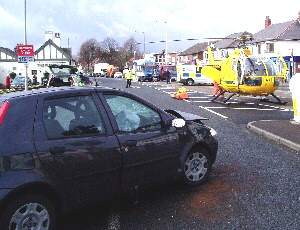 AS THE mornings and nights get lighter and with British Summer Time starting on Sunday 27 March, the North West Air Ambulance (NWAA) is urging drivers to not get carried away with the "spring in their step" and end up "hitting the pedal to the floor".

In the last few weeks, the region's only medical air emergency service has been called out to a number of road traffic collisions (RTC's) and six very serious ones. Paul West, Operations Manager and paramedic for the charity said:- "To be called out to so many serious RTC's in such a short space of time is unusual. Unfortunately we deal with serious trauma and death on a regular basis but usually it is the summer months when we see a significant increase in RTC's.

As the daylight and weather improves the roads will get busier, especially with Easter and the holidays fast approaching. We urge road users to concentrate fully, ensure speed limits are adhered to and give some consideration to other road users and pedestrians alike."

At a cost of just under £1 million a year to maintain, the NWAA is a registered charity and receives no mainstream funding. Covering Merseyside, Lancashire, Greater Manchester, Cheshire and South Cumbria, an area of 5,500 square miles and a residential population of seven million people. The NWAA responds to all major motorway incidents, all serious accidents including horse riding, rugby and motor cycling, serious road accidents and incidents in areas that have poor and restricted road access including golf courses, fells, woods or beaches. On average the NWAA is called out four times a day, rising up to ten in the summer.

For the patient, the NWAA is the fastest emergency service. Donations can be made by ringing 0800 587 4570.
IF YOU HAVE AN EVENT,
OR ANY NEWS THEN...
Telephone:-
(44) 01704
513 569
UK office hours only, calls maybe recorded.
Change To Release Day

OVER the next 2 weeks only, Southport Reporter will be updated on a Sunday.

We are also putting a new link up with our radio station and other new features on this site. We are taking unusual step to speed up the integration of services we offer and to stop any problem with the loading of the site.

All deadlines remain the same. Thank you and we look forward to bringing you the new updated site.

~HAPPY BIRTHDAY~

A big HAPPY BIRTHDAY... to Jenny Owen, 20 again! Wishing you all the best, from your friends Peter, Matt, Mark and Gill.

To my love of my life, my darling Mary. Happy Birthday from Dale Robinson.

xXx

IF you have someone you want to say happy birthday to for free, then use this email address & send the names to us by emailing us to:- birthdays@southportreporter.com

Log on to our

Radio Station...