Passiontide Recital
@ the Holy Trinity Parish Church,
Hoghton Street, Southport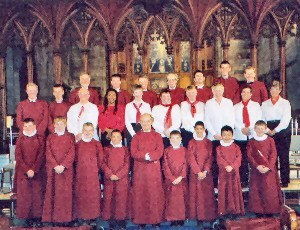 THE Fauré Requiem is one of the best known and most loved pieces of church music. It is music full of light and serenity and includes the moving aria "Pie Jesu" that is a favourite of so many. It is to be performed on Palm Sunday, 20 March at 6pm in Holy Trinity Church, Hoghton Street, Southport by the Church & Chapel Choirs.

Other music in the recital will include Stabat Mater by Schubert and two of the Mystical Songs by Vaughan Williams. The Choir will be directed from the organ by David Williams and the soloists, themselves members of the choirs, will be Fiona Williams, Soprano and Bob Ball, Baritone

The Church Choir at Holy Trinity is a traditional Anglican choir of boys and men who sing the services each week, including a Choral Evensong each Wednesday, very rare in a parish church today. On this evening they are joined by the ladies of the Chapel choir, most of whom are members of the Southport Bach Choir, who join the men to sing motets during the Sunday morning Eucharist.

Holy Trinity warmly invites you to this recital of music for Holy Week. Apart from a good musical evening - it could well prompt some deeper thought and put you in the spirit to enjoy Easter even more. It lasts about an hour and there is a retiring collection in aid of the Choir funds..

Easter Carol Services are much rarer than Christmas ones, but at 6pm on Easter Day (27 March) there is the annual celebration of Easter in this form, again by Holy Trinity Church & Chapel Choirs in their Church at 6pm.
IF YOU HAVE AN EVENT,
OR ANY NEWS THEN...
Telephone:-
(44) 01704
513 569
UK office hours only, calls maybe recorded.
Change To Release Day

OVER the next 2 weeks only, Southport Reporter will be updated on a Sunday.

We are also putting a new link up with our radio station and other new features on this site. We are taking unusual step to speed up the integration of services we offer and to stop any problem with the loading of the site.

All deadlines remain the same. Thank you and we look forward to bringing you the new updated site.

~HAPPY BIRTHDAY~

HAPPY BIRTHDAY...

Graeme Cresswell from the gang. Jo, Matt, Sally and Elizabeth... So when is the party?

IF you have someone you want to say happy birthday to for free, then use this email address & send the names to us by emailing us to:- birthdays@southportreporter.com

Log on to our

Radio Station...