Officially Unveiled

ON 22 April Monday 2005, Mrs Errol Knowles, the wife of the late Pier Trust Chairman, David Knowles unveiled the tram's plaque at the official unveiling of the Southport Pier Tram. The tram will travel Britain's longest overland pier, all 3633ft of it, 7 days a week over summer holidays and also on some of the other holidays, and also at weekends throughout the year. The air-conditioned tram is an up-to-date version of the original that ran when the pier first opened in 1860. The new tram comes with an hydraulic ramp lift access for the disabled, CCTV and lots of other gadgets. Also attending the event where Louise Hopkins, Director of Mersey Waterfront, Cllr Ronnie Fearn and Mike Swift. At the end of the ceremony Lord Fearn presents Mrs Knowles with a bouquet of flowers. A very emotional end, acknowledging as it did, the diligence of Mrs Knowles and her late husband over the years.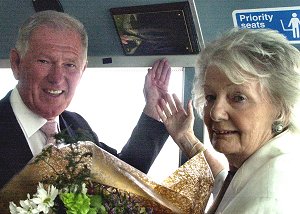 If the green box above does not show, you must download a new edition of Java. To get it just use this link:- java.com/en/index.jsp
~HAPPY BIRTHDAY~
IF you have someone you want to say happy birthday to for free, then use this email address & send the names to us by emailing us to:- birthdays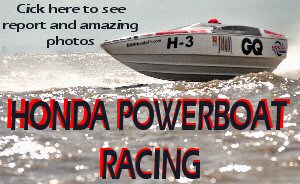 Southport Flower Show 2005, part 1
Honda HF4S Racing Series, Liverpool Grand Prix
COASTGUARD ASK PUBLIC FOR ASSISTANCE TO LOCATE HOAX CALLER
Vue Film Showing Times.
Southport FC v Stevenage Borough FC
£4.7 million boost for Aintree Racecourse and Equestrian Centre
Mayor's charity cabaret
Twin wingwalkers set to go Utterly Butterly at Southport Air Show, Lancashire on 10 & 11 September 2005!
Reader Competition... Tasty Allergy Friendly Foods!
JUST 2 MILLION OF THE BRITISH WORKFORCE ACCOUNT FOR MORE THAN 30 MILLION SICK DAYS
Search For A Star Heat 2
Licensees urged to apply for licences
Southport golfer is runner-up in Golf Foundation Weetabix Age Group Championships
BHP Billiton backs the battle on environment black spots
New £50m chapter for Central Library
WHAT DO DAVID BECKHAM, LENNY HENRY, MEERA SYAL AND ELTON JOHN HAVE IN COMMON?
Shooting incident at the Mood Bar in Liverpool City Centre...
NORTH WEST AIR AMBULANCE STATEMENT
Calling All Budding Artists
GREEN STREETS OF LIVERPOOL
Usdaw says Boots staff aren't made for standing
The benefits of flexibility
More Pair Tram Shots.