LSP Wins Top UK Rail Award...

MERSEYTRAVEL'S Liverpool South Parkway interchange has won a coveted national award for excellence in the UK Rail Business Awards.

The multi-million interchange, which opened in June 2006, was chosen from a host of major national projects to be named winner of the NCP-sponsored Station Excellence of the Year award.

The HSBC Rail Business Awards 2006 are the highlight of the UK rail calendar, recognising the cream of the country's rail industry and rewarding excellence in business, technology and engineering, safety and security, stations and trains, creativity and individual achievement.

Councillor Mark Dowd, who collected the award, said:- "These awards are one of the best we could get. We were up against some very stiff competition.

We are delighted that, nationally, people are sitting up and paying tribute to Liverpool South Parkway, which is, without doubt, one of the most modern interchanges in Europe."

Neil Scales, Chief Executive and Director General of Merseytravel, who was also Engineer in Charge of the construction of the interchange said:- "Liverpool South Parkway is one of our brightest success stories. This award is further recognition of the importance of Liverpool South Parkway to the local community and our public transport system."

The stunning eco-friendly interchange, created by Merseytravel, provides fast and efficient links to one of Europe's fastest growing airports - Liverpool John Lennon Airport.

The vital hub provides a huge boost to public transport in South Liverpool, providing access to up to 11,000 jobs planned for the area and contributing to the continued transformation of the Speke and Garston Pathway areas.

The award winning interchange is linking thousands of commuters with developing business and retail zones, with more than 5,000 passengers a day.

Liverpool South Parkway includes a single booking and passenger information office and enquiry point for bus, rail and airport journeys; a bus station and taxi rank, a high frequency bus shuttle to Liverpool John Lennon Airport and a 240 space Park-and-Ride car park free to users of the facility.

The sustainability elements of LSP and the integration of various forms of transport are some of the best examples of their type in the country.

Waste blast furnace slag, instead of cement, as well as recycled aluminium and Forest Stewardship Council (FSC) certified wood was used to build the interchange. It also contains a giant rainwater harvesting system, saving 700,000 litres of mains water per year, geo thermal heat pumps for heating and solar photovoltaic cells on its south facing windows, which provides some of the electricity supply to the building.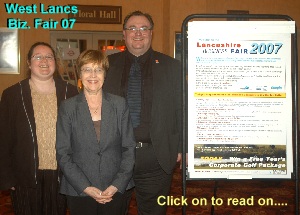 --- NEWS REPORTS ---
The Blood Red Moon
Green light for James Street works
EMPLOYMENT LAW SUFFOCATING SMALL BUSINESSES
Mersey Ferries ticket changes
STATE OF THE ART HEARING CENTRE OPENS IN HEART OF SOUTHPORT
Vue
Film Showing
Times
Soft on shoplifters
FORGET THE ENVIRONMENT AND TERRORISM, IT'S MONEY THAT KEEPS US AWAKE AT NIGHT
Merseyside Astronomy Day
Holly Lodge High School 85th BIRTHDAY
North West council tax bills set to rise by higher than national average at 4.4%
Nurses threaten strike over 'derisory' pay deal
Council tax set to rise by 2.9%
Council loan gives "national icon" lift off
NEARLY 4 MILLION PLAN TO GIVE UP SMOKING WHEN THE BAN STARTS
Backers Bar - Southport
FAST FOOD NATION GETTING EVEN FASTER
Research reveals the worrying state of young people's mental health
Letters to editor:- "Defend Council Housing"
BRITISH WORKERS SWINDLE £1 BILLION ON EXPENSES EACH YEAR
Peter Brown Craven Minor League
The West Lancashire Business Fair 2007
"LIVERPOOL IS THE BIRTHPLACE OF MORE BANDS WITH NUMBER 1 RECORDS THAN ANY OTHER CITY ON THE PLANET!"
Trust scores 'Good' mark in review into services for children in hospital
Letters To Editor:- "RAF Woodvale."
YOUNG PEOPLE GIVEN THE CHANCE TO TASTE TOP JOBS
OSCARS FOR CITY'S TOP CARERS
Fitness bus scores with kids
CHANGE YOUR LIFE – GET INVOLVED!
WORK WISE WEEK 2007 AND NATIONAL WORK FROM HOME DAY
Irresponsible dog owners brought to heel
Older people more likely to be out of work
Exhibition honours young carers
CAR ADVERT,,,
TRUST IN YELLOW COACH TO ST ALBANS
Trust hosts consultant exams
Pete Bennett (Big Brother 7 - 2006 winner)
Local Ship wins title of 2007 "Best Home Produced Beef"
~HAPPY BIRTHDAY~
If you have someone you want to say happy birthday to, for free,
then use the email address below to send us the names
you want us say happy birthday to, and/or a photograph.
Email us today!