"WE WILL REMEMBER THEM..."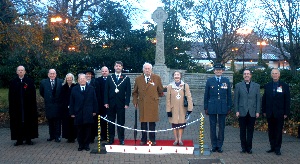 IT is not only for the servicemen who died in World War 1 and World War 2 that Remembrance Day is held, but for those of all conflicts, past and present. Sadly, that is a fact many people tend to forget. Southport and Liverpool have lost several local soldiers in recent years, who served overseas in places like Iraq. Those soldiers, like the many others who have sacrificed their lives to keep us safe and free from harm were remembered, as usual, with the 2 minutes silence, throughout the UK and through out most of the world.

"Will this mark of respect continue?" is a question we all keep hearing. Personally, I hope it will. Not only do these events honour those brave men and women who serve to keep us free, but also help to remind us just what is the true cost of the freedom which we all enjoy, and the sacrifices that are made to keep it. Just looking around any ceremony of remembrance on the 11 hour of the 11 month each year, you can see in the eyes of many who have served in the armed forces, no matter what side, the sense of humanity and an earnest wish for peace.
If you did not get a Poppy this year, think hard next year and get one! It is not saying you support or glorify war, but in fact it is saying quite the opposite. Not only that but you help the Royal British Legion and the many other groups it supports to help those who have been injured, not only in past wars, but in current hostilities as well. Wear a poppy with pride. It shows that you do not forget the extreme sacrifices of the men and women who have helped keep us a free nation. Without formal remembrance, we, as a nation, will forget and that will only lead to us making the same mistakes, which we have committed before. "We will remember them."
Click
here
for more photographs of the Southport Remembrance Service and Formby's Remembrance parade.
DID you know that if you are internet ready on your mobile phone you can now view this site on the move?

Also check out our shop for lots of photos you can send to your mobile phone! To see the shop please click here now...
Merseyside Police Authority Open Meeting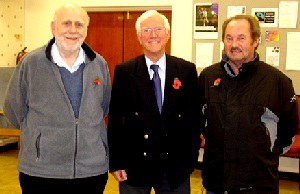 THE Merseyside Police Authority held an extremely successful meeting at Southport's Holy Trinity Parish Church Centre, on Houghton Street.
Many issues were raised at the meeting, by the general public. Most concern the town's binge drinking and vandalism. Also raised was the issue about drug abuse in the town, which is now seen by many as a rapidly growing plague across Sefton, indeed across most of the country. Also on hand were the local representatives of the Sefton Home Watch Association and the Merseyside Police Advisory Panel, who also gave advice and information about the town's policing.
One of the most vocal bodies on the night was the local Taxi group, who asked why the Police presence in the town seemed to disappear in the early hours of the morning. They were informed that their feelings would be addressed and a more visual presence considered.
We look forward to the next meeting next year and congratulate all involved for what has been a very productive and informative night...