Organ Recital, St Helen's Church, Sefton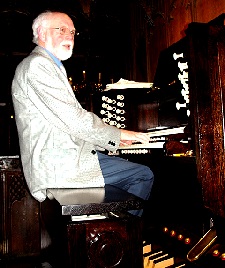 ON the evening of Saturday 1 March 2008, an opening recital was held at St Helen's Church, the Parish Church of Sefton, on its newly restored organ. This was given by Anthony Nightingale, who is one of four regular organists at that church. The concert was introduced by the Rector of Sefton, Mrs I B Cowell, and a retiring collection was taken for the Church funds. Thanks were given to all who had helped achieve this very successful restoration.

The ancient church provides a very atmospheric setting for this instrument, which remains as a hundred percent pipe organ. David Wyld, Managing Director of Henry Willis and Sons, and his foreman, Fred Preston, are to be complemented on their stupendously successful restoration work.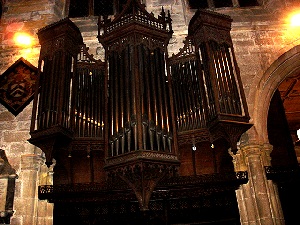 The accomplished organist, Mr Nightingale treated his audience to a very varied selection, which demonstrated the capabilities of this magnificent organ. From quaint refrains such as Haydn's Three Pieces for a Musical Clock to the more familiar Handel's 'March of Scipio' (the Regimental Slow March of the Coldstream Guards), the delicate 'In Paradisum' by Dubois, and the intricate haunting of Yon's 'Melody for Flute', also other sonorous tender pieces culminating in the much chosen 'Widor Toccata in F' with it powerful crescendo. The interesting and carefully chosen assortment of interesting music was well received by all. The evening was rounded off pleasantly by the availability of light refreshments.

Do join the congregation sometime in the welcoming church and experience the organ first hand. Also worth noting, Sefton Church is holding an Easter Open Day, on 24 March from 2pm to 4.30pm, with refreshments, stalls and tours.
Community radio services get the green light!
OFCOM Radio Licensing Committee (RLC) has awarded KCC Live a licence to broardcast. Ofcom said that:- "KCC Live will broadcast to Knowsley, Merseyside. The station will serve young people in the economically deprived area of Merseyside.
The station is based in a further education college and has many years experience with a long-term RSL which broadcast within the college.
The group's links with its parent college mean that it has access to studios, committed staff and secured funding.
The station's clearly defined target community and its experience with its community should ensure that it caters for its tastes and interests.
The group has the support of a range of relevant community stakeholders. In addition it has strong social gain proposals, with a clear focus on serving its underserved target community, giving its young participants a voice and, through its links to the parent college, a well documented, tried and tested processes for bringing volunteers into the organisation."
Readers Photograph of the week

THIS photograph taken in the early morning of jet trails above Southport Collage was snapped by Peter Birrell. If you have a photograph you would like us to show your photo as photo of the week, email it to our news room.
Please read our T&C first before sending and stories or photos.