Am I dreaming? That's not one, but two Superlambananas!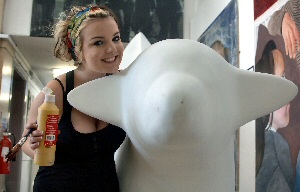 NOT one, but two replicas of Liverpool's famous Superlambanana are to become personalised by Southport College Students, who won a competition to re-design the decoration of the iconic sculpture. The competition was part of Go Superlambananas, aimed at engaging and capturing the imagination of the local community. After the winners have decorated their 'Lambananas, the organisers will place all of the 100 sculpture replicas on Merseyside streets, in parks and open spaces between 16 June 2008 and 25 August 2008. So far it is unclear if the Superlambananas will be found pastured in Southport this summer, though... "The two mini Superlambananas were delivered last week. It was amazing to see everyone huddling around as the white statues emerged from a wagon. Straight away they created a magical atmosphere at the college." said Darren Kirwin, the art and design Curriculum leader.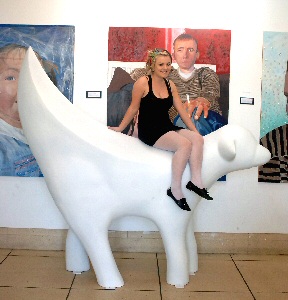 The two Southport College students, Annabelle Wakefield aged 17 and Jolanta Kurzeja-Ryan, aged 30, are both delighted. Annabelle, who is currently studying for a National Diploma in art and design said:- "It will not be white for long! This is a fantastic opportunity and I am very much looking forward to cracking on painting it... I will be using a reflective material to make my statue glitter and sparkle." We have been told that Jolanta, who has completed her BA in fine art at the college and is now on a ceramics and glass course, is to cover her Superlambanana in Braille. Darren Kirwin added, "I am so pleased that two of our students have this chance. As a college, we are also really proud that we are able to play a part in the Capital of Culture celebrations and at the same time celebrate the talent that our students possess." Following the 'Go Superlambananas' events across Merseyside, many of the Superlambananas will be sold at a charity auction, with a significant percentage of the proceeds going to the Lord Mayor's Charity Appeal.