Bonfire & Grand Fireworks Display in Southport!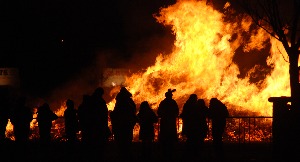 THE Southport and Hesketh Round Table put on one what was a fantastic show for all ages. The event really heated up as the event fully started at 6:30pm with the massive Bonfire being lit.

The heat was amazing as Phillipa Park and her family, from Southport, set alight the massive fire. "This has been the best ever show we have put on." one of the members of the Round Table told us and this was echoed in statements we took all around Victoria Park.

There was appetising food and drink, side shows and even a Fairground, put on by Southport based Silcocks, which was fantastically well thought out, with rides for all ages and sizes. The commentary on the night given was by Dune 107.9. At 8pm, the fireworks lit up the sky.

As the multicolour explosions shot across the cold clear night, enormous speakers were pumping music out. The match of fireworks to music was very well balanced.

This was a superb effort and was, as one spectator put it:- "Well worth standing in the cold for and well worth the entrance fee!"
It is hoped that the cash raised will go a long way this year towards helping the North West Air Ambulance and also Queenscourt Hospice.
The Round Table has asked us to say that they would like to thank all who came and would especially like to thank the many volunteers who helped on the night and over the run up to the big event. They also would like to thank St John Ambulance, and their many sponsors. Special thanks has to go to Rooftop Solutions and Consultancy Services Ltd for sponsoring the Fireworks; also to George Roberts for supplying the Fencing and Pavementshield as their sponsorship of the Bonfire.
Well done from all of us, here at Southport Reporter. As another spectator said:- "We cannot wait to see what happens next year... This night has been fantastic, trouble free and extremely friendly, yet again."