Michelle Heaton and Cast Spotted in Nando's Southport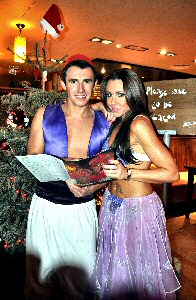 FORMER Liberty X star, Michelle Heaton, and fellow cast members of Southport Theatre and Convention Centre's pantomime, Aladdin, took time out to go for a bite to eat at Nando's in Southport. We caught up with them just before they changed out of costume for their dinners. Aladdin runs to 2 January 2011. For more information go to:- SouthportTheatre.org.uk. Also keep an eye out at Nando's as the cast might again be flying in and out for their food, over that time. Just before ordering Michelle told us that:- "I love Southport. It is so friendly and even when we come out, like now, in our stage outfits, we don't get any problems." Another cast member added:- "The staff in here cannot be any more helpful and have allowed us to get changed here, so that we can order and get served quicker. You can't get better than that…."

Editors note:- "Thanks to all the cast for letting us and the Nandos' staff get a few snaps. We hope you did not get too cold on the way over. Good Luck with the show!"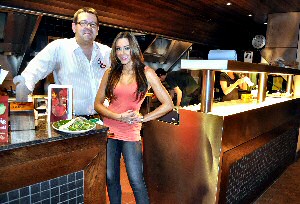 If you like the photos, please order them and do not copy them. Keep this site online... Click here to find out out you can get you copy of these photos..

KEEP up-to-date with our daily news email service..

~ Sign up ~

to our new news service on Formby-Reporter.com.

If you subscribed you can keep in up-to-date with what's going on in and around Merseyside. It is free and we do not send out massive amounts of emails. Also your email is kept under the UK's Data Protection Act, so you can be sure that you will not have problems.
| | | | | |
| --- | --- | --- | --- | --- |
| This week's news in pictures | | | | |