Kate Maryon visits Formby
Photograph by Patrick Trollope.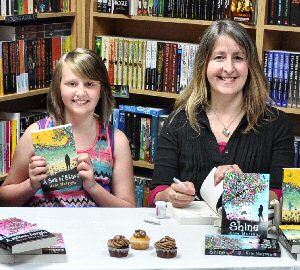 KATE Maryon is a highly gifted children author, whose stories also are read and enjoyed by just as many adults as children. Her work is focused on fiction for girls aged 9 to 15 years of age, but is full of thought provoking ideas and very well constructed social commentary. She has already published 3 amazing books, with the 4th to hit all books stalls in the UK, from 7 June 2012! Kate was in Formby Books on 25 May 2012 for a pre-release signing of copies of her new book called:- "A Sea Of Stars."
Those who where lucky enough to attend got, not only the chance to get a signed copy of her new book, ahead of national release, but also a chance to quiz Kate. Plus all who attended received a free milkshake and a cupcake, not forgetting Kate's glitter sprinkled in their books! if you want to know why glitter was put in them, well you will have to read them... We are not telling!
If you do not know what her new book is all about, well it is a cleverly constructed book about adoption, that is taken from a very unusual angle. It is set around 2 girls whose lives collide. Both are from very different backgrounds and the story explores the ideas of friendship and family. It is a very beautiful and moving story. It is full of emotion and explores the girls hidden and visual feelings, along with the social baggage that they have to deal with.
It is written in a very constructive and imaginative format, that is easy to read, yet leaves a lasting impression. So as tensions in this story rise and secrets come out, will the girls become friends or even sisters? We can safely say that this book is destined for TV or film at some point, as it is highly original in its approach and judging from the following the other books have, this one will be bigger still!
At the event was also a very talented school girl from the Wirral. Kate's number 1 fan, Vistie Marsden had in fact even done a video review of Kates first books before attending and could not wait to get her hands on the next 2 books. To see Vistie's video review about Kate's first 2 books use this link to watch here. This young girl from the Wirral not only captured the attentions of Kate, but also ourselves... So we had to let her conduct a 1-2-1 video interview with Kate for us! You can see it on the photograpic and video coverage page, by clicking on here now and the video will also soon be added to Southport.TV.
In fact we also have another Youtube link for you. She was so keen to read her newly bought 2 books that she added a new book review on Youtube only a few days later! To see the review she did click on here now! Both of her reviews are very professional and we would like to bet that if she keeps this level of quality up, well you might be seeing her on the TV.
To find out more about Kate and her books, why not visit:- katemaryon.co.uk, katemaryon.com, facebook.com, twitter.com. See more photographs and the video interview by Vistie Marsden, click on here Eamon, Carol, Patrick, Mum and Dad.
| | |
| --- | --- |
| | Camelot Readers 2 for 1 Offer... Click on here to find out more!!! |
| | | |
| --- | --- | --- |
| | Click on to read on! | Click on to read on! |
Manx Direct

08447 402 038

2 Years Parts & Labour Worranty
This Weeks Edition - Audio Copy
Click here to hear this weeks edition in audio format. Please let us know what you think about it. via emailing us. Also if you have a child who can draw a face, send one in and we will look at using it for our news reader for an edition. Adults can try as well! You will get a copy of the animation sent to you and credit on the animation as well!.