Run England 3-2-1 Running Route is a first for Liverpool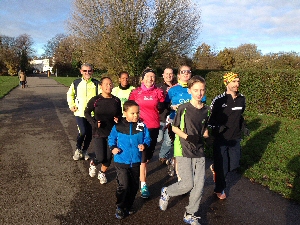 A 5km running route has been created in Princes Park in Toxteth. The Friends of Princes Park have been supported by the Royal Liverpool Hospital and Liverpool City Council's Public Health and Outdoor Recreation teams to create Liverpool's first Run England 3-2-1 running route.

The route highlights some of the features of the park including the lake, tennis courts, the outdoor exercise facilities and the play parks and can also be used by walkers and cyclists alike.

Councillor Tim Moore, Cabinet member for parks, said:- "These waymarkers will help to encourage walking, running and exercising, helping people to stay fit and healthy as well as enjoying the surroundings of this fantastic park. I'm delighted that we have been able to install them for the first time in Liverpool in Princes Park."

As part of the Run England programme from England Athletics this route makes up one piece of the jigsaw that helps to provide a supportive pathway for beginner runners in the City.

Craig Blain, Run England Area Coordinator for the North, said:- "Run England as a programme is aiming to support more people to get more active and through running and one aspect of this is the development of routes as part of our 3-2-1 programme. These marked and distance referenced routes provide a hand rail for people stepping out for the first time on their own and we hope this will be the first of many routes for the City."

Katy Gardiner, Chair of the Friends of Princes Park said:- "The Friends groups are delighted to have the Run England 3-2-1 Route installed in the park. Running in the park has really taken off in the past few years with the success of the parkrun here every Saturday, and we hope the route will help to get more people to have a go at running".

Graham Furniss, from Liverpool Royal Hospital added that exercise reduces the risk of many health conditions and improves wellbeing. "The full 5km route will help you to burn off 300 or 400 calories and help to keep you in good shape. Most importantly, running is enjoyable and is definitely more fun with friends, so why not get your trainers on and give it a go!"

The Public Health team will be conducting a free prize draw survey of running activity in Princes Park and are appealing for people to take part. The prize will be £50 worth of Natterjacks Running store vouchers courtesy of Run England. The Survey will be conducted from 1 to 31 March 2014, and the winner will be drawn after the 1 April 2014.

To find your local 3-2-1 route and to find out more about the support on offer from England Athletics as a recreational runner please visit:- runengland.org.

Road safety summit in Liverpool
A ROAD safety summit is being held in Liverpool to look at ways to reduce the number of deaths and injuries on the City's roads. Statistics show the number of people killed or seriously injured in 2012 was 243 - the highest since 2005, although significantly down on the total of 339 in 2003. A total of 11 proved fatal - up from nine in 2011 but still a huge reduction on the 29 deaths in 2003. The number of cyclists involved in accidents has also been rising in recent years, up from 30 in 2010 to 36 in 2012.

Public agencies including the City Council, Merseyside Police, Merseyside Fire and Rescue Service, Merseytravel, green travel charity Sustrans and the NHS are coming together at Liverpool Town Hall to look at what more can be done to tackle the issue.

Councillor Tim Moore, Cabinet member for transport, said:- "If you look at the trend over the last decade, it is clear there has been considerable success in reducing the number of accidents. However, we are acutely aware that even one accident is one too many and can have a devastating impact on people's lives. Given that all of the public agencies in the City have less money to spend due to cuts in funding from Central Government, it is imperative we work together and pool our resources to tackle the issue. Road safety is not something that is just the responsibility of one organisation. We all count the cost of an accident, whether it's the police and fire service who attend, the NHS which treats and rehabilitates victims, or the knock on effect to us all of insurance premiums. Through a mixture of education, prevention measures and enforcement, I hope by working together more closely we can find ways to reduce the number of accidents on our roads."

Liverpool is currently rolling out the introduction of 20mph limits to 70% of its highways, covering the majority of residential areas, to encourage drivers to slow down in places where there are more likely to be pedestrians and children.

There are also a number of road safety education initiatives including a scheme called:- 'Holding Hands' aimed at children up to the age of 6, a pre-driver scheme for teenagers and work with schools on child pedestrian training.

Liverpool is also leading the way with cycle proficiency training, with more than 70% of primary school age children taking part in Bikeability, against a national average of 40%. Training has also been delivered to over 1,000 secondary age students over the past year; more than anywhere else in the country.

Merseyside Police Commissioner Jane Kennedy said:- "Any road incident that leads to serious injury or death is a tragedy. I know that the Force are taking very seriously least year's increase in the figures and I am working with the Chief Constable to ensure that our shared aim to improve road safety remains clearly in focus. It is vital we all work together to tackle this issue and I wish the summit every success. I look forward to receiving the proposals and working with all the partners to reduce the number of traffic accidents to ensure everyone can travel across Merseyside safely."

Research shows that junction improvements can have a major impact in improving road safety. Traffic calming on Clough Road and Alderwood Road in Speke has more than halved the number of collisions and safety improvements at the Greyhound Roundabout in Knotty Ash has slashed accidents by almost ⅔.

A Council scrutiny panel is also being established to examine the evidence and look at best practice from elsewhere.

ROAD SAFETY IN NUMBERS:-
95% of road collisions due to human error
70% of primary school children who receive Bikeability training
232 serious collisions (2012)
11 fatalities (2012)
83,679 speeding tickets issued (2013)