£700k boost taking superfast broadband further and faster in Merseyside
AN extra £700,000 of government money for superfast broadband will help business start ups and job creation in some of Merseyside's hardest to reach rural areas, Culture Secretary Maria Miller announced. The nationwide rollout is a key part of the government's long term economic plan to secure Britain's future by providing better access to superfast broadband, and in allocating funding the Government has worked to ensure as many families and businesses as possible benefit.

Local projects will now receive additional funding from a £250 million pot, with the hardest to reach locations amongst those who stand to benefit most. This funding is in addition to the £1.2 billion already invested by central and local government and will ensure 95% of UK homes and businesses have access to superfast broadband by 2017.

The current rural programme will deliver returns of £20 for every £1 invested, representing tremendous value for money. As well as improvements in the productivity of broadband firms, faster broadband will create an additional 56,000 jobs in the UK by 2024.

The work involved in the current rollout is expected to provide a £1.5 billion boost to local economies, with approximately 35,000 job-years created or safeguarded over the period to 2016. By 2024, the Government's current investments in faster broadband will be boosting rural economies by £275 million every month, or around £9 million every day.

Over 10,000 homes and businesses are now gaining access each week, with this figure expected to reach 40,000 per week by summer this year. There are strong economic growth and efficiency reasons why local authorities should contribute towards to the cost of rolling out superfast broadband, and the additional £250 million will be awarded on a match funding basis.

Superfast broadband allows families to use multiple devices simultaneously, so while parents are streaming a movie or their favourite television programme, the kids can be uploading photos and videos to social media sites whilst downloading the latest track from their favourite artist. Businesses also stand to benefit hugely from the roll out, which will facilitate video conferencing, boost processing power and increasing productivity.

Culture Secretary Maria Miller said:- "Superfast Broadband will benefit everyone in Merseyside; whether they need it for work, to do homework or simply to download music or films. Thousands of homes and businesses now have access and it is helping people with their everyday tasks. We want to make sure that Britain is one of the best countries in the world for broadband, and the extra £250 million we are investing will help ensure communities around the UK are not left behind in the digital slow lane."

Communities Secretary Eric Pickles said:- "This government's long-term economic plan is accelerating the roll-out of superfast broadband, to help narrow the digital divide and boost local growth. We are offering additional central government funding to Councils who want to work with us to help increase internet speeds for their local residents and local firms."

Cllr Flick Rea, Chair of the Culture, Tourism and Sport Board at the Local Government Association said:- "Councils are committed to improving internet services for residents and business to help drive forward growth in their areas and this announcement of further funding is a positive step to build on the good work that has already been done locally to build better connected communities. We look forward to working with the Government on the roll-out of the schemes in the areas that are receiving funding."

The government also recently committed £10 million to look at ways to reach those areas in the "final 5%". Potential technologies that could be piloted under this fund include:-

► Using 4G mobile signal to deliver 'fixed wireless' superfast broadband'.

► Using fibre direct to premises.

► Taking fibre from broadband cabinets to a distribution point further down the network, increasing speeds by reducing the reliance on copper.

► Satellite technology.

The fund will open on 17 March 2014 and the Department for Culture, Media and Sport is asking local authorities to offer support to these pilot projects.

A Google map showing the progress of current superfast broadband projects in the North West is available online.

Re-birth of City landmark moves forward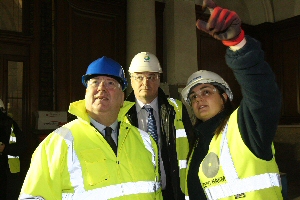 THE WORK to transform Liverpool's historic Royal Insurance Building into a stunning new hotel is gathering pace. Mayor of Liverpool, Joe Anderson, visited the building to see for himself the huge progress being made in rejuvenating the Grade II* listed building, which will be re-born as the Aloft Liverpool hotel later this year.

Mark Ashall, Director of Ashall Property Ltd, and site managers, joined the Mayor, to give him a tour of the building and show how each element of the £18 million project is taking shape.

The Royal Insurance Building, on the corner of Dale Street and North John Street in the City Centre, has lain derelict for over 20 years, and had been placed on the National Buildings at Risk Register.

Liverpool City Council stepped in to kick-start its redevelopment last April, purchasing the freehold of the building for £1.95 million. This resulted in £18 million of private investment in the project undertaken by Runcorn-based developer Ashall Property Ltd.

Now, the building has a bright future, with Starwood Hotels & Resorts Worldwide Inc. on-board to bring their design-led Aloft brand to the building; a high-profile first for the City.

Around 150 construction jobs are being created during the build, with over 50 full time equivalent jobs to be created once the hotel opens. The Council will get an income stream from the 125 year lease on the building, which will exceed the cost of the freehold, and which can be ploughed back into services.

Mayor Anderson said:- "I'm delighted to see such fantastic progress being made on the transformation of this building. It's an important landmark in the heart of our City, with outstanding architectural and historical value, and it's great news for the City that it will soon be shining once more. Our deal with Ashall is another example of how we are investing to earn; targeting finance effectively to drive forward developments that deliver an economic boost for the City, create new jobs and bring in new income streams for the Council. The rebirth of the Royal Insurance Building is great news for our City, for our economy and for our hotel sector. It was extremely interesting to see the painstaking work that is being done to restore the building to its former glory – and it's only added to my excitement over its grand re-opening."

Mark Ashall, Director at Ashall Property Ltd, said:- "The strong support the scheme has received from Mayor Anderson and Liverpool City Council has been and continues to be a key factor in its success. We're delighted with the rate at which the project continues to develop and it was important to have an opportunity to share this progress with the City Mayor."

During his visit, the Mayor was able to see the first 2 completed guest rooms and the work that has been done to restore the famous gold dome on the roof of the building. He was also able to see the on-going work to convert the loft space within the building, creating new guest rooms with stunning views across the City.

The latest figures show that Liverpool's work to bring historic buildings back into use is having a real impact. Less than four per cent of the City's buildings are now on the at risk register, compared with a national average of around 7%.

Launched in 2008, Aloft Hotels rank among TripAdvisor's 'Top 25 Trendiest Hotels in the US and around the world.' Created to shake up the traditional mid-market hotel sector, they feature urban-influenced, modern design at an affordable price.

The 116 room, Aloft Liverpool will feature the brand's signature high ceilings, oversized windows, platform beds, walk-in showers and atmospheric public spaces. It will also offer a re:chargeSM fitness centre and re:fuelSM by Aloft, a 24 hour grab and go deli-style café, in addition to five creative spaces for meetings and presentations.