Matty H plays at the Grand National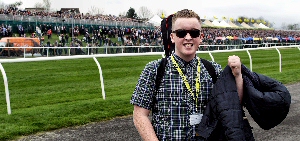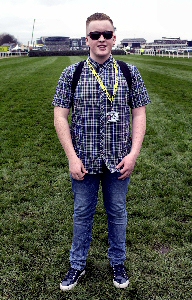 ON Saturday, 5 April 2014, at the Crabbie's Grand National Day, was a very special day for local acts Early Music, Matty H and She Drew The Gun. Following a competition for music fans to nominate up and coming Merseyside acts to perform on Crabbie's Grand National Day at Aintree Racecourse, Early Music, Matty H and She Drew The Gun where given the chance of a lifetime. Previous years have seen Esco Williams and Stealing Sheep selected and this year Peter Guy, the man behind Getintothis and Yaw Owusu, curator of the Liverpool International Music Festival and programmer for live music for the Crabbie's Grand National Festival. Matty, was chosen from around 150 nominations. The acoustic stage is Matty H. comes from the Sefton side of Merseyside and is a singer-songwriter, (pictured here at the event) said that:- "This is the biggest gig of my life! I was amazed when I found out I had been chosen, I called my manager and couldn't believe it. I'm going to be able to meet a whole new audience and hopefully grow my fanbase in a way I never dreamed before." Well done to Matty and also to the other 2 acts!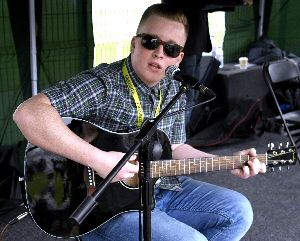 This is are a readers photograph, taken at the event of some of the VIP's Matty and the others preformed to. Do you recognize these stunning ladies?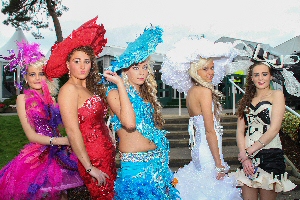 These are a few more readers pics, taken by Liam, from the event:-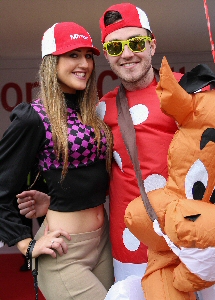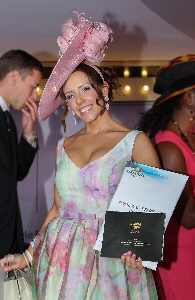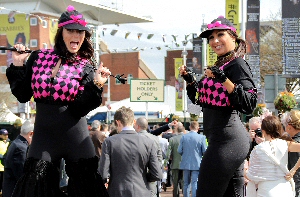 TALL SHIPS COMPETITION - 2014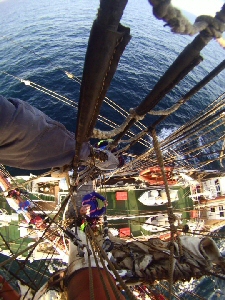 SCHOOL children in Merseyside are being given the opportunity to join a voyage of a lifetime. As part of an initiative run by the Wirral Safer Schools Partnership and The Tall Ships Youth Trust, 2 teenagers are being offered the chance to set sale on a tall ship.

Setting sale during October 2014 half term*, the young people will be part of a team of forty Year Nine pupils from across Merseyside who will board the Stavros S Nyarkos brig on a trip around the English Coast.

Constable Colin Garland said:- "The aim of this initiative is to develop self-reliance, team work and confidence. We have two places for two pupils, a boy and girl, and we are asking people to nominate their son, daughter, grandchild, niece, nephew, friend or even themselves and tell us why they/you deserve one of the places on this year's trip. This isn't a relaxing holiday though and everyone on board will be expected to work. The young people work a series of watches during their voyage and learn other sailing skills in on-board lectures and practical activities."

Merseyside Police Commissioner Jane Kennedy said:- "I am delighted to be able to offer one young person on Merseyside the chance to take part in this once-in-a-lifetime trip. Merseyside has a proud maritime history and this is a fantastic opportunity to get a taste of life out on the seas. Alongside the physical challenge, this trip will give the winning teenager the chance to learn new skills, build their confidence and improve their ability to work as part of a team."

The 2 additional spaces are being funded by the Office of Merseyside Police and Crime Commissioner and The Tall Ships Youth Trust.

* 26 October to 2 November 2014.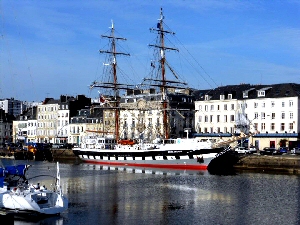 Terms and conditions
► Entrants must be Year Nine pupils and reside in Merseyside.

► The competition is not open to employees of the Office of Merseyside Police and Crime Commissioner, Merseyside Police Officers, their immediate families or anyone else associated with the competition.

► Only one entry per person.

► Entries must be no longer than 400 words and should be sent to:- Colin.Garland@merseyside.pnn.police.uk. Written entries can also be sent for the attention of:- Con Colin Garland, The Mosslands School, Mosslands Drive, CH45 8PJ. Full contact information including full name, address, email address and contact number must be included.

► The winner will be chosen by Constable Colin Garland.

► The judges' decision is final.

► The prizes are non-transferable and no cash alternatives will be offered.

► Merseyside Police reserves the right to substitute the prizes for other prizes for other prizes of equal or higher value at its discretion.

► Winning entrants to the competition agree to be photographed for publiCity purposes.

► The winning entries will be publicised on the Merseyside Police website and local media.

► Photographs will be used in future Merseyside Police publiCity material.

► Merseyside Police does not accept responsibility for late or lost entries.

► Closing date for all entries is Wednesday, 30 April 2014.

► After the closing date, Merseyside Police will choose one winner from the fully completed entries.

► The winner will be notified by email/phone/post.

Merseyside Police may use the information you supply for statistical purposes only, but you will not be able to be identified from this information.
Merseyside Police will not pass on your details to any 3rd party for any other use than that stated above without your permission.