Pyramids store manager helps stage Zumbathon event to raise cash for children's cancer charity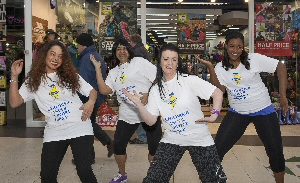 A BIRKENHEAD store manager is using her Zumba moves to support a good friend and raise money for the charity which helped her fight leukaemia when she was a teenager.

For the past 4 years 41 year old Sarah Hastie, who heads the sales team at Trespass in Pyramids Shopping Centre, Birkenhead, has been mad keen on Zumba, the Latin inspired dance fitness programme which is now sweeping the world.

Its hectic workouts have helped her to shed an amazing 10½ stone and she's become such an enthusiast that she recently qualified as an instructor to host her own weekly class.

Sarah is now putting her expertise to good use by helping to lead a big charity Zumbathon organised by close friend and fellow Zumba fan Kesiena Ovien in aid of CHICS; the Children's Cancer Support Group.

The charity supports families going through cancer and helped Kesiena during her own battle with leukaemia when she was in her teens. The charity zumbathon is being sponsored by the Liverpool-based Hampson Hughes Solicitors where Kesiena works as a trainee solicitor.

Sarah, who lives in Knowsley Village, Liverpool, explained that she originally took up Zumba as a way of getting fit as her 40th birthday approached. She said:- "I'd always been fairly large and when I reached the age of 37 I weighed 19 stones. I decided it was time to do something about it, so I started on a healthy eating programme and also looked around for some sort of exercise I could do. I heard about the Zumba class at my local village hall and took myself down there. I just loved it and haven't looked back since. In the past 4 years I've been doing Zumba I've lost 10 and a half stones and now weigh about 8 and a half stones. When I started doing Zumba I was a bit self-conscious but within a few weeks I'd moved from the back of the class to the front. It's so empowering and it doesn't matter what you look like, how old you are or whether you're male or female. We do it to all sorts of dance styles like flamenco, salsa and street and it's very exciting. Some people call it exercise in disguise. It's also such a laugh to take part in. Both my daughters, Courtney, who is 16, and Erin, who is 12, both love Zumba as much as I do."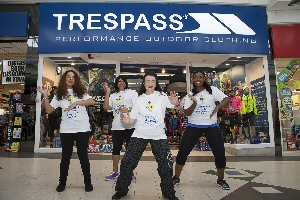 Sarah, who has been with Trespass for 7 years and has managed the Pyramids store for the past 6 months, added:- "I wanted to pass the enjoyment and benefits on to others, so I trained as a Zumba instructor and now have my own group which meets in Prescott on Merseyside every week and attracts about 20 people, both men and women. I've also done quite a few Zumbathons in aid of various charities over the past few years, including Comic Relief a couple of times. It was at the Comic Relief event last year that I first met my friend Kesiena Ovien. She had leukaemia when she was younger and is just an amazing person. She's training to be a solicitor with a Hampson Hughes Solicitors, who are sponsoring the event, and has qualified as a Zumba instructor herself. Kesiena is organising a Zumbathon in aid of the children's cancer support group CHIC'S at the Wavertree Lifestyle Centre on Sunday, April 27 and I'm one of a number of instructors who will be helping her. The instructors will be on a big stage up front and will lead the rest in a non-stop exercise routine lasting for three hours from 1pm to 4pm. We're expecting around 150 people to turn up and help raise as much money as possible for CHICS through sponsorship. They'll be coming from all over Merseyside and the Wirral and there will be girls and even a few guys joining in. I just can't wait to do it because it will be so much fun. I'm also delighted to be helping CHICS which does such marvellous work. It helps to support the whole family of a child diagnosed with cancer in a variety of ways like producing a regular newsletter, drop-in centres and parent meetings. There's also a telephone befriending service, trips and parties and holidays for the children and their families."

Derek Millar, Commercial Director for Pyramids Shopping Centre, said:- "I wish Sarah and her friend Kesiena lots of luck with their very energetic efforts for CLICS. It sounds like a fantastic charity to raise money for."

Sarah's friend Kesiena Ovien, who is 26 and comes from Liverpool, said:- "I was diagnosed with leukaemia when I was 13. I had treatment for 3 years and, touch wood, I am free of it now. It was while I was having my treatment in Alder Hey Hospital that I had my first contact with CHICS. They were fantastic and helped me and my family so much that I wanted to do something to help them in return. I'm a trainee solicitor at Hampson Hughes Solicitors in Liverpool and I'm also the charity co-ordinator for the Merseyside Junior Lawyers group. When they were looking round for a suitable charity to support I suggested CHICS. As I'm very keen on Zumba and have been an instructor for the past year and a half I came up with the idea of doing a Zumbathon on behalf of CHICS."

Kesiena added:- "The event is being hosted by Merseyside Juniors Lawyers and sponsored by my law firm, Hampson Hughes Solicitors. About 20 instructors from across Merseyside and the Wirral, including Sarah, have agreed to help on the day, so it should be a fantastic occasion. I've set a fundraising target of £3,000 for the event, but if we could get even more than that it would be marvellous."

To support the Zumbathon event go to Kesiena's charity page.
Army Cadet Band Concert to be held
OVER 300 musical Army Cadets from all over the country attend at Altcar Training Camp each year for a week of musical instruction, training and assessment. This year it is from 14th to 18th April. The best of these are chosen as the National Army Cadet Band &Corps of Drums who then perform together. A concert will then take place on Wednesday, 16 April 2014, from 7:30pm at Ince Blundell Village Hall, Lady Green Lane. Tickets will be £5 and concessions available from £3 via Formby Books, Formby Hardware or Hightown Village Store. For information ring:- 01704 871927 or 01704 874101. This event has been held for the last few years and is thoroughly enjoyed by all. Half of the proceeds goes to the Poppy Appeal to help service and ex-service personnel, the other half goes to provide instruments for the Band.

Vital funding up for grabs for innovative social businesses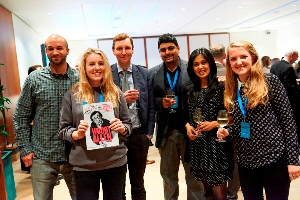 2 specialist social investment organisations based in the North West, First Ark and Fusion21, have challenged early stage social businesses across the region to apply for vital investment capital and business mentoring support to help propel their ventures to the next level.

The opportunity to grab a share of a funding pot worth £500,000 is open specifically to social businesses, which are enterprises that are created and designed to address a specific social problem. In particular, social businesses generate profits which are invested back into the business itself to help it grow, or are used to start other social businesses, with the ultimate aim of increasing social impact.

First Ark and Fusion21 are 2 of the partners which have provided funding towards the national Corporate Social Venturing (CSV) Challenge run by Big Issue Invest, the social investment arm of the Big Issue. The CSV Challenge is seeking up to 20 teams from across the UK to join an intensive mentoring programme. At the end, 10 finalists will be chosen to receive an investment of up to £50,000 each, as well as on-going business support.

Social enterprises, charities, public sector spin-outs or any businesses across Merseyside/the North West with a social mission are encouraged to apply. To be considered for investment, ventures must be able to deliver high social impact, have a track record and ambitious development plan, and be working in the fields of health, education, wellbeing, homelessness or the creative industries.

Bob Taylor, chief executive at First Ark, comments:- "At First Ark we're passionate about creating opportunities for social businesses to succeed and we've invested in this exciting programme because it will stimulate and enable enterprise and enterprising people here in Merseyside/the North West to reach their potential and generate a huge social impact. It's an amazing opportunity to make a real and sustainable difference to people and local economies and we're delighted to be one of the corporate partners."

Dave Neilson, chief executive at social housing procurement specialist Fusion21, adds:- "As a social enterprise we are committed to encouraging the growth of social ventures that will help to stimulate the economy and create jobs where they are most needed. Fusion21 has committed considerable financial investment to this scheme. As corporate partners we are looking forward to working and supporting social businesses tackling some of the toughest challenges in society."

Nigel Kershaw, CEO of Big Issue Invest and Chair of Big Issue, said:- "The Corporate Social Venturing programme is core to The Big Issue's mission. We don't want people ending up on the streets and that's why we're investing in brilliant social ventures that create jobs, training, accommodation and wellbeing. It's all about prevention. The relationship we have with our corporate partners is not some fly-by-night 'social wash'; it's for real. They are putting in their own money and time to nurture these social ventures in the long term."

The initiative is an innovative partnership between Big Issue Invest and Barclays, with investment and support from 5 partners why are:- Experian, First Ark, Fusion21, Places for People, and The University of Northampton. The Challenge is also supported by the Cabinet Office, as part of the £10m Social Investment Fund.

Interested social businesses can visit:- bigissueinvest-csv.com to apply. The deadline for applications is 5pm on 19.
Sidmouth Lifeboat on Bike's team Visits Southport Lifeboat
Photographs and report by Scott Harrison.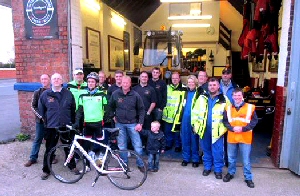 ON Tuesday 8 April 2014 Sidmouth Lifeboat on Bikes (SLOBS) team came to Southport Lifeboat house. The Sidmouth Lifeboat on bikes is riding around the UK to as many INDEPENDENT LIFEBOAT'S as they can. On Tuesday they went from Carlisle to Southport. Sidmouth Lifeboat are Raising money to buy a new back-up boat.

Southport Lifeboat would like to thank the Rotary Clubs of Southport, Southport Meols, Southport Links and Southport Sunrise for their kind donation of £200. Sidmouth Lifeboat also received £200.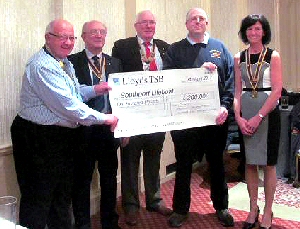 Pictured here is Tony D'Arcy-Masters from Southport Lifeboat with the Rotary Clubs of Southport receiving £200.
You can see video footage of Sidmouth Lifeboat on bikes team leaving the Southport Lifeboat House on YouTube.

Southport Lifeboat and Sidmouth Lifeboat are both INDEPENDENT LIFEBOAT'S and receive NO funding from the RNLI. Both Lifeboat's are depend entirely on donations from the public. They both receive no Government grants.

If you would like to follow the Sidmouth Lifeboat on bikes team here is the Facebook and for more information about Sidmouth Lifeboat visit:- sidmouthlifeboat.org.uk.
To see more information about Southport Lifeboat you can visit:- southport-lifeboat.co.uk.