PEOPLE'S HISTORY EXHIBITION 7 APRIL 2014
WHAT lies behind the closed doors of Liverpool's empty buildings? What stories and memories do these fantastic buildings hold? How long have they lain empty and why?

This Easter Hidden Liverpool, a year long programme funded by the Heritage Lottery Fund delivered by Liverpool based social enterprise PLACED, will launch its' second exhibition; People's History Exhibition at Liverpool Albert Dock. The interactive exhibition will feature some of the memories, stories and images people have shared over the last six months, bringing to life some of Liverpool's public buildings which now stand empty.

The exhibition opens its doors on Saturday 19 April to kick off the Easter weekend and is open daily until 29 April. The exhibition comprises images, memorabilia and interviews of fascinating, funny and touching stories gathered by the Hidden Liverpool team. Stories include romantic tales of people meeting their husband in the State Ballroom, witnessing landmark events from the roof of the Cunard Building and taking afternoon tea upstairs in the Forum Cinema.

Local campaigns working to resurrect some of the cities empty public buildings also feature, including Save the Futurist Cinema in Lime Street, the Jewel on the Hill project with Everton Library and Save Woolton Pool where John Lennon learnt to swim!

Throughout the 11 day exhibition visitors will be invited to share their own memories and stories as well as hearing those of others.

A number of free events are also running during the exhibition. An evening event with a panel featuring Joe Anderson will discuss the value of our empty buildings in "Our empty buildings; why not knock them down?"

There will be a focus on the Lime Street area in a free design workshop. People will be invited to share their ideas for the key gateway into the City which has long lost its' grandeur of days gone by. People will be invited to look at how they would improve the street and make it an area the City could be proud of as part of a hands on creative workshop.

Photographers have the opportunity to take part in a workshop and attend an evening talk with Andrew Brookes, who will be sharing tips for photographing the empty and hidden parts of the City.

Other events include 2 fun drop-in workshops, where families can get involved by coming up with new designs for some of our empty buildings. Hidden Liverpool walking tours that share some of the stories in the exhibition will also be launched during the exhibition.

The People's History Exhibition runs from Saturday, 19 April 2014 until Tuesday, 29 Apri 2014, so it will beopen daily, taking over a vacant retail unit at the Albert Dock (C7 next door to Natures Treasure). Check Hidden Liverpool events page for up to date details of the exhibition and events programme.
Booking is essential for many of the events and can be made through visiting the news and events pages on the Hidden Liverpool website.

Commissioner visits Club2Go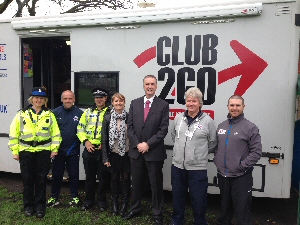 A CHARITY helping police reduce crime and anti social behaviour has been praised by Lancashire's Police and Crime Commissioner. Clive Grunshaw visited the mobile Club2Go bus when it parked up in Crosslands Park, Hawes Side, Blackpool, this lunchtime (MONDAY), and was impressed by the passion and enthusiasm of everyone involved with the project. The initiative, run by Lancashire Boys and Girls Clubs, aims to tackle problems in neighbourhoods by putting on structured activities for hard to reach children and teenagers, and works with local police officers and police community support officers to reduce trouble in targeted areas. The Commissioner watched youngsters playing football under the supervision of FA coaches on the first day of their Easter holidays, and said:- "Partnership work is vital of we are to reduce anti-social behaviour and make our neighbourhoods better places to live for everyone. The young people Club 2 Go reaches out to often have nowhere else to go, so the service really is a lifeline. I was pleased to hear on my visit how closely the staff are working with the local police and PCSOs in the areas they visit, and the positive impact the bus has on levels of crime and disorder. It was clear to see the difference this type of initiative is making to people in the communities it visits." The mobile bus relies on grant funding, and will be visiting various locations across Blackpool over the Easter holidays. You can find more information on the Club2Go Facebook page.
Runcorn celebrates 50th birthday
ON the River Mersey to the South East of Liverpool, the Town of Runcorn is celebrating it's 50th birthday this year. Officially it's was set up as a New Town on 10 April 1964, that was designated by government with the primary purpose of providing housing and employment for people from Liverpool and Merseyside. Runcorn and the surrounding area was initially expected to accommodate approximately 30,000 people who where migrating, mainly due to post-war 'slum' clearance within Liverpool. The then Runcorn New Town was largely the vision of a single man, an Architect and Town Planner, called Arthur Ling. Today, over 45,000 residents currently live within Halton Borough, that includes Runcorn and Widnes. Historically the area is important as a crossing point, but became even more important when London and North Western Railway (LNWR) built one of it's major railway bridges, the Runcorn Railway Bridge, also known as the Ethelfleda Bridge or the Britannia Bridge, that was opened in 1868 and is still in use today. Over April and May to mark the anniversary the Town will be hosting many events, to allow its residents, both young and old to share their memories and to look at its future. other events are also planned and a program can be seen via on the pdf you can download by clicking on here. For the latest information visit:- VisitHalton.com.