Davies delivers €300m in to keep Britain's lights on
A North West England MEP is celebrating his success in helping to ensure that Britain's lights can be kept on without contributing to global warming. The country's 1st carbon capture power station looks set to be built with the help of €300 million from a finance mechanism introduced by Liberal Democrat Chris Davies. The European commission has announced that it now has the necessary letters of support from the UK government. It amounts to a green light from Brussels for the White Rose project, a 450MW coal power plant to be built at the Drax power station in Yorkshire which could be the first of many. Instead of being released into the atmosphere CO2 will be piped from the plant for permanent storage in rocks deep beneath the North Sea. Chris Davies introduced the idea for the special EU funding source back in 2008. The money available comes from the sale of 'surplus' CO2 allowances. He overcame initial scepticism eventually to secure the backing of Europe's governments. The MEP, who is known as the European Parliament's expert in carbon capture and storage (CCS) technology, has warmly welcomed the award. He said:- "Carbon capture technology can allow us to continue to use oil and gas without releasing CO2 into the atmosphere. Together with renewable energy it is vital for our future and Britain is set to take the leading role in Europe. Making possible these funds for CCS is one of my greatest achievements as an MEP."
Calling Southport adventurers – could you conquer Snowdon by moonlight for the NSPCC?
IN September 2014, the NSPCC will be looking for adventurers from Southport to take on an exclusive trek to the summit of Mount Snowdon by moonlight to raise vital funds. Mount Snowdon is the highest mountain in England and Wales and is a popular hike by day; however its slopes have been largely unexplored by night, until now.

Taking place on 6 September to 7 September 2014, this unusual trek will be an unforgettable experience; climbing 1,085m to the summit of Mount Snowdon by moonlight and descending the mountain slopes by sunrise.

Snowdonia National Park is synonymous with beautiful, rugged landscapes, wonderful trekking and outdoor pursuits. The start of the trek will provide stunning views of the National Park in the fading light, and as the night draws in this challenge turns into a real adventure as you navigate the mountain paths by moonlight. Trekking at night is a very different experience than during the day; your senses grow used to the darkness and you can enjoy the silence and the remoteness of the mountain.

When you reach the summit, you'll have the chance to explore and take in your achievement before starting your descent. The sky will start to lighten and you will be able to enjoy wonderful views over the Menai Strait towards Anglesey. As the sun rises, the spectacular landscape will open up before you, leaving you amazed by how far you have climbed and ready for a hearty celebratory breakfast.

By taking part in this exclusive trek, you can help the NSPCC to protect children all year round through its projects and services including ChildLine; the UK's free, confidential 24 hour helpline and online service for children and young people in distress or danger.

Louise Stimson, NSPCC's head of community fundraising for the North West said:- "More than 90% of our income comes from voluntary donations, for which we are extremely grateful. Anyone interested in the Snowdon Moonlight Challenge will need to commit to raising a minimum of £350 to secure their place and pay a registration fee of £29, but with plenty of time to build up your fitness, and with the support of the NSPCC's dedicated fundraising team, this really is an experience not to be missed. You can always combine the trek with a great weekend away."

For more information about the trek or to register your interest visit:- nspcc.org.uk/snowdonmoonlight.
YES, England really does have a patron saint!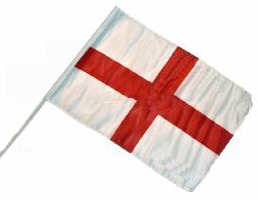 THE 23 April 2014 was Saint George's Day in the UK. The 23 April is traditionally the feast day of Saint George and the National Day for England, although it is not an official national holiday in England, it is celebrated on this date each year. It is the traditionally accepted date of Saint George's death in AD 303, but oddly he wasn't actually English at all - nor did he slay a dragon. Quite how Saint George a symbol of bravery and how his image and cross became part of English history is just as strange as the stories that are associated with him. The 1st real mention of him as part of England was through links to the Crusades, when he is said to have miraculously appeared and led the Crusaders into battle. His name and symbol later became a battle cry on several occasions during the Hundred Years' War, thus embedding him firmly into English mythology and culture. In England St George's Day was once a major feast, and a national holiday in the early 15th century. Within England the day was on a par with Christmas! Today though it is no longer a national holiday, in fact many English do not know when their Patron Saint's day is and others appear not to be bothered about it. So what would encourage more English people to celebrate St George's Day? Unlike St. Patrick's Day, St George's Day is frequently forgotten and is often not even a blip on the English social calendar. It has been called for over and over again, but there is still no sign of the government giving way and making St George's Day a public holiday. Should we have it as a holiday and do we need a Patron Saint to be English? On Sunday, 27 April 2014, keep an eye out for the Saint George's Day Parades. Each year in Southport and Formby such parades are held by the local Cub and Scout Groups! Email your views on this topic to:- news24@southportreporter.com and let us know what you really think about Saint George's Day.

Did you know? Interestingly, this year marks the 120 year of The Royal Society of St. George, which was established in 1894, by Royal Charter and currently has Her Majesty the Queen as its Patron. The society bills itself as is the premier patriotic society of England. For more information visit:- royalsocietyofstgeorge.com.

New and extended signings for the Widnes Vikings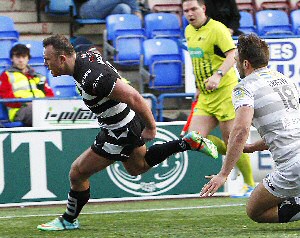 WIDNES Vikings has announced that prop-forward Paul Johnson has signed a new contract with the Club for the 2015 and 2016 seasons.

Johnson, 26, joined the Vikings prior to the start of the First Utility Super League season on a one year deal and he's impressed enough for Vikings Head Coach Denis Betts to hand him a new 2 year deal.

Denis Betts said:- "Paul is a person of real quality and he's a great bloke to have around the Club. His deal is a reward for how hard he's worked since he's been here. He got released early from his contract at Hull but he's backed himself here and every time he's played for us he's put in quality performances. We knew that as soon he got settled at the Club and in an environment that he's happy with we'd get the best out of him and that's proven to be the case. He's going to get better and better, he has a lot of potential in him and we are looking forward to working with him in achieving that over the next couple of years."

Johnson, a former prop with St Helens, Wakefield and Hull, admitted that the offer of a new contract came sooner than he thought, but was pleased to sign after an 'enjoyable' start to his Vikings career.

He said:- "It has come a little sooner than I thought, but when Denis Betts came up to me and offered me the chance to re-sign, I was delighted to put my name to the contract. I originally signed here on a one year deal and it was my goal to work hard and get a new contract so to do that now is great for me. As soon as I came here I knew Widnes Vikings is a Club I'd like to be at for a long time. The people here, the set up and the facilities are first class, so to be at the Select Security Stadium for another two seasons is brilliant. I've been working hard and I'm just really enjoying my Rugby League here. It also helps being back at home near my family and girlfriend, so things are going well for me both on and off the pitch. I'm just glad that now the deal has been sorted I can concentrate on my Rugby and contribute to us having a successful season at the Vikings."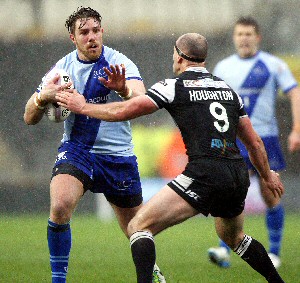 Things have come full circle for Johnson this year and to sign in the week the Vikings toppled St Helens was pretty special for him.

He added:- "I'll continue to work hard and wins like the one we got this week against Saints are massive. I played at St Helens earlier in my career and to get a result like that against your old Club is pretty pleasing. We were keen to put our recent losses to Catalan and Warrington behind us and we managed to do that yesterday with a really good win."

Signing up is strike centre Stefan Marsh on a new 2 year deal. Marsh, 23, joined the Vikings initially on loan in 2010 and returned to the Club on the same terms in the Vikings' 1st season back in the top flight.

At the end of 2012 campaign Denis Betts signed the Wigan born player on a permanent 2 year contract and now Marsh will be at the Vikings for 2015 and 2016 Super League seasons.

Marsh has played 40 times for the Vikings, scoring 23 tries and is a key figure in Betts' back line.

Widnes Vikings Head Coach Denis Betts said:- "This new deal is a reward for all the hard work Stef has put in since he's been here. He's a great person to have in the group, works hard, has loads of ability and we think he's got it in him to get better and better for this Club. He's a real strike player for us and he has that X-Factor about him that makes Stef pretty dangerous to play against. We're really pleased to have tied him up for another 2 years."

Marsh said:- "I'm really enjoying my time here at Widnes and when the offer came in to put pen to paper for another 2 years, I jumped at it. It's a really exciting time to be involved at the Vikings as the Club is really moving forward. Widnes Vikings is a Club that has a rich history and I'm looking forward to playing my part in shaping the future. We are building something special here."