Get your running shoes on…The Port Sunlight 10k Road Race is coming to get you!
THE 3rd Port Sunlight Road Race is now only weeks away and entries are coming in thick and fast for the 10k and 5k events. Many have participated in the race since its launch in 2012, while for others it's their 1st time round the well manicured parks and wide boulevards of this picturesque village. BTR Race Director Alan Rothwell commented:- "This is always a very popular event due to its unique setting. Entries are well up on last year so if you're planning to run you need to enter quickly to avoid disappointment; places are filling up fast and we are nearly at capaCity. There is a full programme of events and activity, so I'd encourage runners to bring their family and friends and enjoy a full day out in Port Sunlight." All entrants will receive a chip race time, medal and technical T-shirt. Runners will also benefit from free entry into Port Sunlight Museum where they can enjoy The Social Suburb, a new special exhibition celebrating 125 years of the village. The day will also feature a children's 1k Fun Run. All youngsters taking part will receive a medal and mini goodie bag. Race entry for the 1k run is on the day. The 3 running events form part of a full day of activity being co-ordinated by Port Sunlight Museum & Garden Village (PSM&GV), who are including the best bits of their annual festival to this year's event. The day is being supported by Unilever. Wirral Autistic Society is the official charity for the event. Nigel Chapman-Rogers, Events Co-ordinator for PSM&GV, said:- "This is a real family day out with plenty of activity taking place on the village green. Visitors will enjoy live music and dance all day, from Samba and Swing to Jazz and Brass. We've got some delicious international food and drink exhibitors including Corks Out, the Pizza Peddlers, Dixies Kitchen, Caarma Curries, and the new Manna Foods Deli. For children, there's face painting, craft activities, and a climbing wall and trampoline. And for those who like to shop, we're delighted to welcome back Pillbox Vintage, purveyors of fine vintage and retro clothing, jewellery, accessories and home wares, who will be based at Church Drive School next to the race headquarters." If you prefer to exercise on 2 wheels, take a leisurely cycle round Port Sunlight with Wirral Cycle Hire. Or take your own bike along to the Cycle Surgery for a MOT courtesy of KL Cycles of Eastham. For the 1st time there will be 2 junior cycle races in the afternoon, organised by the Port Sunlight Wheelers. Katherine Lynch, Heritage Manager of PSM&GV, added:- "We are delighted that the Wheelers are involved this year, and having cycle racing also on the bill will further widen the appeal of the day. The Wheelers have their origins in early village history and their involvement is very fitting in this anniversary year."
Few places remaining for Chester Half Marathon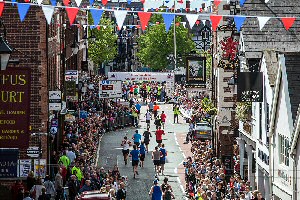 PLACES are selling fast for the annual Chester Half Marathon, taking place on Sunday, 18 May 2014. With less than 500 places remaining, those wanting to enter are encouraged to book their place now to avoid disappointment.

Due to the City centre location of the race, entries for the Chester Half Marathon will be capped at 7,000 in 2014. Entries have been coming in thick and fast over recent weeks, with the last week seeing more than 500 people enter the race. This has left organisers to predict that general entries will fill up by Sunday, 27 April 2014.

Joint Race Organiser, Chris Hulse said:- "The amount of entries we see coming in always increases rapidly towards Easter. As numbers for the race are limited, we always have an abundance of disappointed runners who leave it too late and end up missing out. We would urge you to act now to secure your place and avoid disappointment."

The Chester Half Marathon is ideal for beginners and seasoned runners alike, due to its picturesque surroundings and largely flat, fast route, making it 1 of the most popular of its kind.

Sunday, 18 May 2014, will also see a one mile Fun Run for families and children. Places will be allocated on a 1st come first served basis on Saturday evening and Sunday morning of race weekend.

For those looking to go the extra mile (or 13), Chester will also host the MBNA Chester Marathon on Sunday 5th October 2014. Places for the 26.2 mile race are also expected to sell out quickly, as it was previously crowned it the UK's number one marathon by Runner's World magazine.

Chris added:- "Entries have been really strong following the Virgin London Marathon. As the biggest marathon in the North West this Autumn, we are expecting that to continue over the next few months."

Entrants can sign up to the Chester Half Marathon now and also for the MBNA Chester Marathon at:- chestermarathon.co.uk.

1st time cyclist takes on 100 mile challenge for charity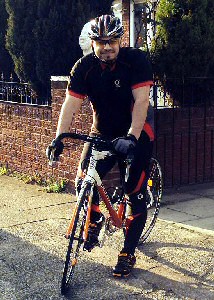 THE 1st time cyclist Coz Zinonos, 38, from Liverpool, is set to cycle 100 miles in aid of a charity close to his heart as he prepares for the 10 August 2014, RideLondon event. A brave fundraiser, Coz has not been on a bike in over 15 years so has been training for the challenge since the start of the year in a bid to raise money for United Response. The charity supports people with learning disabilities, mental health needs and physical disabilities across England and Wales. Commenting on the event, Coz explained:- "When I 1st got the email about Ride London, the thought of cycling 100 miles for some reason just seemed like a really great idea; even though I simply don't cycle! The thought of getting on a bike, training, and then taking part in such a momentous occasion took hold of me. In addition, raising money for a good cause made my mind up, to do something and give something back. I guess I was sold on the idea of making a difference in people's lives through raising sponsorship, and taking on a real challenge for myself also."

A Service Manager at United Response, Coz took on his role at the organisation just 6 months ago and works within its Shared Lives scheme based in Merseyside. The scheme offers an alternative to the usual housing support offered to people with learning disabilities and mental health needs, giving individuals the opportunity to live in an integrated family environment and allowing them to become part of a community. Setting up and sticking to a training programme has been crucial to Coz's preparations for the event and he has built up stamina by building on the 10 to 20 mile cycles he began earlier in the year. So far, Coz has garnered the support of local businesses and family and friends, but is keen to raise greater awareness of his exciting upcoming challenge. "I guess it's all about getting the message out there and getting people on board for such a good cause. I'm really looking forward to being in London, cycling on empty roads; well, car free anyway; raising money for United Response, as well as meeting other people taking on this challenge. There should be lots of great scenery around while I'm putting myself through my paces. It will be great to see the thousands of people cheering me on and to raise money for United Response at the same time." said Coz.

To find out more about taking part in RideLondon for United Response and to sign up for your own place, call Mark on:- 0208 246 5202 or send an email. To donate to Coz ahead of his cycling challenge, please click here.
Time to boss the opposition as Southport Golfer Records exclusive HOLE-IN-ONE at Formby Hall Golf Club
THE time was right for a Southport golfer when he scored a hole in one during a recent club competition to be rewarded with a limited-edition BOSS watch as recognition for the achievement. Jeffrey Windle, 67, scored his ace on the 156 yard, par 3 6th at Formby Hall GC, and the 20 handicapper was rewarded with membership of the exclusive BOSS Watches H1 Club and a specially commissioned, commemorative timepiece. The luxury German brand has once again pledged to reward club golfers with an exclusive watch for every hole-in-one recorded during a club competition in 2014 after giving away £600,000 worth of limited edition mementos in 2013 - and Windle is among the latest to achieve the feat this year. The scheme is open to any golfer whose club uses HowDidiDo; a free-to-use, web-based social network for golfers; and anybody playing in official club competitions is eligible. Currently, more than 1,800 clubs use the website. Stephen Brydon, commercial director for MGS Distribution, the official licenced UK distributor for BOSS Watches, said:- "Congratulations to Jeffrey on achieving golf's Holy Grail of a hole-in-one. To the majority of amateur golfers, recording a hole-in-one will be the most memorable thing they achieve in golf; a once in a lifetime experience probably; and we want to ensure they have much better memories than merely a dent in their bank balance after buying drinks in the clubhouse. The exclusive BOSS watch is available only to golfers who record a hole-in-one. It will provide a constant reminder of the achievement and also help to ensure they're never late for a tee time again. We also hope it might add a frisson of extra excitement to club competitions for golfers who may not be in with a chance of winning the event, for they know that every time they stand on the tee on a par 3, they are just one shot away from winning a stunning timepiece." In addition to the limited-edition watch, Windle is also awarded membership of the exclusive BOSS Watches H1 Club which offers its members access to exclusive benefits and merchandise. No extra registration is required to participate in the BOSS Watches promotion as all official club competitions are recorded on the HowDidiDo system, so holes-in-one are noted and automatically ratified by the golfer's club.