Steve Hackett's Genesis Extended Tour - New Dates Released...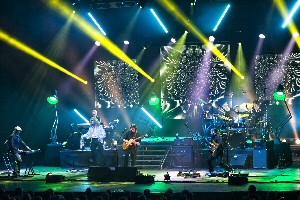 STEVE Hackett's extended UK Tour on 21 October 2014, and runs until 4 November 2014. This landmark show will feature a selection of Genesis classics and will feature some of the gems he could not include on the award winning Genesis Revisited tours in 2012 and 2013. With a career spanning decades and a repertoire which includes a body of outstanding solo work, this will be the last opportunity for fans to see Hackett perform a whole set entirely from the Genesis catalogue.

An excited Steve Hackett explains:- "Due to the success of the Genesis Revisited shows, we're extending both the dates and the concept in 2014. We'll launch into a full Genesis set with favourites from this year such as The Musical Box, Dancing with the Moonlit Knight and Supper's Ready along with the addition of other Genesis classics which are often requested and the audiences deserve to hear... I'm really excited about this!"

Steve Hackett was Genesis' guitarist from 1971 to 1977 and is the first ex-member to re-record and tour that part of the band's material in Genesis Revisited I (1996) and II (2012). Taking the stage again with Steve Hackett is an exceptional team of top class musicians, including Roger King (Gary Moore, Snoop Doggie Dog, Jamelia) on keyboards, Gary O'Toole (Kylie Minogue, Chrissie Hynde) on drums, percussions and vocals, Rob Townsend (Eddie Henderson, Bill Bruford, Django Bates) on sax, flute and percussions, Nad Sylvan (Unifaun, Agents Of Mercy) on vocals. Genesis Extended also sees the return of Nick Beggs on bass and twelve-string guitar.

The Genesis Extended tour will visit some of the locations that Genesis Revisited missed, and will also return to London where the 2 Genesis Extended shows; at Hammersmith Apollo and Royal Albert Hall respectively; sold out. The magic of the Genesis Revisited shows was captured on CD/DVD for the Genesis Revisited: Live at Hammersmith 2-disc package, and this summer's Genesis Revisited: Live At The Royal Albert Hall 2-disc package.

Reporting on Hackett's astounding live performance, Prog magazine wrote:- 'a faithful', inspired trip down memory lane, which re-affirms the majesty of many of Prog's defining moments. Hearing a packed house inquire in unison, 'A flower?' is a spine tingling experience'; 'spine tingling' was also the word used by the Newcastle' Chronicle to describe the brilliance of his guitar solo, while Fireworks called the show 'magnificent in every respect' and Classic Rock Society defined it as 'two hours and a half of pure joy for any Genesis fan'.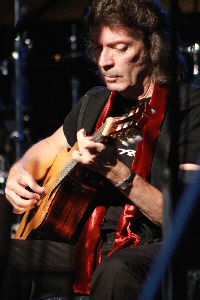 For fans who missed the Genesis Revisited tours or if the show missed your favourite track, here's your chance to relive the timeless magic of the 'Genesis Golden Era', thanks to guitar wizard Steve Hackett and his remarkable live band.

Genesis Extended UK Tour:-

Tuesday, 21 October 2014 - IPSWICH - Regent Theatre - Call the booking line on:- 01473 433 100.

Wednesday, 22 October 2014 - BRIGHTON - Centre - Call the booking line on:- 0844 847 1515.
Friday, 24 October 2014 - NOTTINGHAM - Royal Concert Hall - Call the booking line on:- 0115 989 5555.
Saturday, 25 October 2014 - GLASGOW - Clyde Auditorium - Call the booking line on:- 0844 395 4000.
Sunday, 26 October 2014 - YORK - Barbican - Call the booking line on:- 0844 854 2757.
Tuesday, 28 October 2014 - SOUTHEND - Cliffs Pavilion - Call:- 01702 351 135.
Wednesday, 29 October 2014 - SOUTHAMPTON - 02 Guildhall - Call the booking line on:- 023 8063 2601.
Thursday, 30 October 2014 - CARDIFF - St David's Hall - Call:- 02920 878 444.
Saturday, 1 November 2014 - LONDON* - Eventim Apollo - Call:- 0844 249 4300.
Sunday, 2 November 2014 - SALFORD - The Lowry - Call the booking line on:- 0843 208 6000
Monday, 3 November 2014 - GUILDFORD - Glive - Call the booking line on:- 0844 770 1797.
Tuesday, 4 November 2014 - BIRMINGHAM - Symphony Hall - Call the booking line on:- 0121 345 0602.

Ticket prices for all venues except London are:- £29.50 and £27.50, all seated (except Guildford seated/standing) and London* as that is:- £35 and £30. 24hr The tours ticket hotline is:- 0844 338 0000. You can also book tickets online via this website:- BookingsDirect.com (Agency and credit card bookings subject to booking fee) Showtime for all shows is 7.30pm (plus support). For full details on exclusive VIP packages to meet Steve before the shows, please see:- hackettsongs.com.

Steve Hackett was the lead guitarist for Genesis from 1971 to 1977 and is the first ex-member to re-record that part of the band's repertoire in his albums Genesis Revisited (1996) and Genesis Revisited II (2012). Following the huge success of both albums, Hackett toured Genesis Revisited extensively. Hackett has recently taken part in the upcoming BBC documentary Genesis; Together And Apart, which sees the original line up of Genesis reunite for the 1st time since 1975 and is due for transmission and release later this year.

First World War Commemoration Weekend to be held in Liverpool
THIS September the City will be taken back in time to 1914 for the Merseyside First World War Commemoration, a special weekend programme of events to mark the 100 year anniversary since Britain entered in to the First World War, brought by The First World War Commemoration Task Group from Friday, 12 September to Sunday, 14 September 2014. The programme of events will commence with a free concert at the Liverpool Anglican Cathedral on Friday, 12 September 2014. In this special concert a mass choir of Song Merseyside that has been formed especially for the event, comprising of Primary Schools from 6 local authorities, will perform a special selection of songs from the WW1 era which will echo through the Cathedral. Participating choirs Vox Swing, Pacific Swing, Sing Our Socks Off, Vox Voices, as well as many individual singers, all come together to present a wonderful highlight to lead the proceedings of the weekend. St Johns Gardens will be transformed to 1914 Merseyside on Saturday, 13 September 2014, with a series of performances, exhibitions and stalls that will demonstrate to all exactly what life was like at the time of the outbreak of the First World War. Encounter everything from Housing, Clothing, Transport, Entertainment, Public Health and Women's Suffrage in this educational and informative experience which will give the public a fascinating insight in to life at the time. It will also explore what the Call to Arms meant to thousands of families in and around the (old) counties of Lancashire and Cheshire in this truly poignant event that will offer something for the whole family. There will also be a special guest appearance from The Band of the Grenadier Guards who will perform in the Gardens before a full concert that evening at St Georges Hall. The Band of the Grenadier Guards, the sound which symbolises the very essence of the nation, will play a live concert filled with the music which has made them a national treasure for more than 3 centuries in the magnificent Great Hall at St Georges Hall, and is also a fundraiser for SSAFA, on Saturday, 13 September 2014. Throughout Britain's history, the music of the Grenadier Guards has been the backdrop to national life and identity; representing British constancy, dignity and artistry; attributes shared with the venue for this unique concert; and the guard are now regarded as one of the world's finest military bands; having filled the streets of London with music and colour; a truly historic sound and sight which invokes the very sentiment of national pride. The band has not been seen in Merseyside within living memory so this is truly a once in a lifetime opportunity to see them play live. There will also be a warm welcome for guests as brass musicians aged 11 to 18 from Resonate's Music Centre will be playing a special selection of music, entertaining guests as they arrive. Concluding the weekend on Sunday, 14 September 2014, is a special Drumhead Service at Exchange Flags, honouring the ceremonies that Soldiers of all faiths and beliefs received before they went off to War in 1914, and also whilst they served. A Drumhead Service has its origins in the distant past where military chaplains in the field used the drums of their Battalion or Regimental band to construct a makeshift altar, so that they could hold religious services close to where the troops were positioned. The drums were covered by either a simple cloth or a flag and topped by a simple cross. Councillor Roy Gladden, Chair of the First World War Commemoration Task Group said:- "I hope that as many people as possible will come together to commemorate the outbreak of the First World War. This commemorative event will give a small, but very informative insight to the generations of today of what life was like at the time of the outbreak of the First World War. This commemorative event recognises all the Commonwealth countries that were involved during WW1 and representatives from each have been invited to attend." This will be the first in a series of Commemorative events happening across the Merseyside region over the next four years, marking key dates and events throughout the First World War, and is truly not to be missed. The First World War Commemoration Task Group is made up of the 6 local authorities Halton, Knowsley, Liverpool, Sefton, St Helens and Wirral as well as the Ministry of Defence and various organisations including SSAFA and the Royal British Legion. Anyone interested in exhibiting at the event in St Johns Gardens on:- Saturday, 13 September 2014, can contact Susan McAdam on:- 0151 600 2918 or susan.mcadam@liverpool.gov.uk. For further information please visit:- itsliverpool.com/culture.
PERFORMANCE DETAILS
Primary Schools Concert
Anglican Cathedral, St James Mount, Liverpool L1 7AZ
Friday, 12 September 2014
Time:- 1:00pm to 2:30pm
Tickets:- Free Event

WW1 Commemoration Day
St Johns Gardens, William Brown Street (Behind St Georges Hall), Liverpool
Saturday, 13 September 2014
Time:- 10:00am to 5:00pm
Tickets:- Free Event

The Band of the Grenadier Guards
St George's Hall, St George's Pl, Liverpool, Merseyside L1 1JJ
Saturday, 13 September 2014
Time:- 6.30pm (doors) | 7.30pm (show)
Tickets:- £20.00 (Inc Booking Fee)
Tickets for all 3 above can be purchase in person at TicketQuarter, Queen Square, Liverpool, online or on:- 0844 800 0410 or at St George's Hall Shop:- 0151 225 6909.

Drumhead Service
Exchange Flags, Liverpool, L2 3YL
Sunday, 14 September 2014
Time:- 12:00pm to 12:45pm
Tickets:- Free Event.
Man killed in fall from the Mount Pleasant Car Park, Liverpool
MERSEYSIDE Police have confirmed that Officers are in attendance at an incident in Liverpool City Centre, following a report of concern for safety for man, on Friday, 15 August 2014. Patrols were called to Mount Pleasant Car Park, Brownlow Hill, at around 3.30pm following a report that a man had appeared to have fallen from the Car Park. Sadly he died a short time later as a result of his injuries. Enquiries are on going.