Singer helps sweeten Strawberry Tea cancer research fundraiser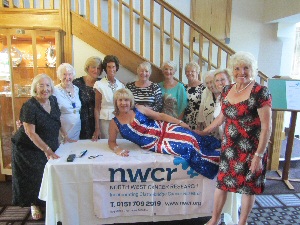 A local singer, who has performed for the likes of the Royal family, has helped a team of Southport based fundraisers collect over £1,000 to support cancer research projects in the North West.

Liverpool born Julie A Scott, who shot to fame on ITV's talent show New Faces in the early 80s, entertained over 120 guests at this year's annual Strawberry Tea fundraiser with a selection of songs through the ages, as well as a special rendition of 'It's a Long Way to Tipperary' to commemorate this year's World War One centenary milestone.

Held at the Hillside Golf Club on August 6 guests were treated to an afternoon tea of cakes and a pastries' overlooking the golf course, courtesy of the golf club's catering staff. Money was also raised through ticket sales and a raffle which featured prizes including bottles of wine and beauty products generously donated by committee members.

All the money raised will be donated to North West Cancer Research (NWCR) Incorporating Clatterbridge Cancer Research, which facilitates research into the diagnosis and treatment of cancer, including studies at the nearby University of Liverpool.

The event was organised by the Southport-based NWCR fundraising committee who have been tirelessly raising money for the charity since 1957. Chair of the committee Olive Cutts is just one of around 16 volunteers who gives her time to supporting the work of the charity, despite having battled with breast cancer herself.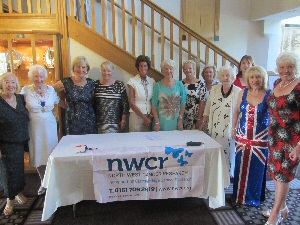 Olive hopes that as well as raising money that the event will inspire others affected by cancer to support the fight against the disease. She said:- "Cancer affects everyone at some point in our lives, whether that's directly or through a loved one. By continuing to support North West Cancer Research I hope we are able to continue to increase our understanding of cancer, with the aim of improving the lives of those who are affected by it. We had a fantastic turnout for the Strawberry Tea and it was a wonderful afternoon. Events like these don't just happen by themselves and they take a lot of hard work to organise, which is why I would like to thank all of the committee members, Julie A Scott and Hillside Golf Club for their efforts. Also a big thank you to all our guests who gave generously and made this an afternoon to remember."

The Southport committee is 1 of over 20 regional committees in North and Mid-Wales who support NWCR. Its network of volunteers also covers Merseyside, Cumbria, Lancashire and Cheshire. Around 85p of every pound raised by these committees is put into actual research which equates to around £750,000 a year.

Anne Jackson, Chief Executive of NWCR, said:- "Our committees are vital in allowing us to fund cancer research which has a direct impact on those living in the North West. The money goes straight into funding studies at local universities so we're hugely grateful to those who attended and gave generously. Volunteers are the lifeblood of the charity so it's great to see such an active committee really making a difference to cancer care."

NWCR is a leading regional charity which raises money to achieve a better understanding of cancer and directly benefit people living in the North West.
To date it has raised over £28million to fund cancer research projects in the North West of England and North Wales.

MURDER AT THE ADELPHI HOTEL!

FOLLOWING the success of Murder at St George's Hall, one of the biggest murder mystery events ever staged in Liverpool, Lovehistory return with Murder at the Adelphi Hotel! Taking place on Saturday, 20 September 2014, at the city's grandest and most historic hotel. Murder at the Adelphi is a murder mystery dining experience filled with deception and intrigue that will leave audiences mesmerised.

Set within the grandeur of one of the city's most famous buildings, guests will be wined and dined in silver service fashion; a service ONLY available in Liverpool at the Adelphi Hotel; and will bear witness to a murder most foul! In true "whodunit" style, each table in the dining area will be named after a much loved fictional detective; Sherlock Holmes, Inspector Morse, Phillip Marlow, Columbo, Miss Marple, Hercule Poirot and guests to this auspicious event will need to use their powers of deduction to piece together the crime.

Join Lovehistory for an evening of Murder, Mobsters and Massacre, having developed a real twist on one of the bloodiest events in Mob history, the Valentine's Day Massacre. This real "whodunit" experience will keep you entertained with plot, twists and turns and our sultry songstress will distract you with the smoky sounds of the 1920s. The evening will include a three course meal, themed with American glamour and welcome glass of bubbly!

Look out for the infamous North Side and South Side gangs as they battle for the truth in this truly magnificent show. Nine professional actors will do their best to deceive you and with the help of our very own Chicago news reporter, you will assist in catching the killer! For an extra special treat, this evening will sizzle with the songs of the 1920s speakeasies, performed by our very own professional singer.

Join us for an evening that recreates the atmosphere of gangland Chicago in the 1920s, when turf wars ruled and gang warfare reached new heights. Valentines Day 1929 has been described as a day that blood smeared the streets of Chicago, a bloody event that turned murder into massacre. Whatever the problem, the solution for Chicago gangsters is always the same… and that's murder!

Lovehistory's Judy McLean said:- "Lovehistory are excited to be hosting this event in the Adelphi Hotel. We love using these iconic buildings to explore and present the history of the City in a new and dynamic way."

As one of Liverpool's iconic landmarks and one of the oldest standing hotels, the Adelphi has long caught the public's imagination. During 20th century, the Adelphi was the hotel of choice for affluent passengers before they embarked on their journey to America and many iconic stage performers including Frank Sinatra, Laurel and Hardy and Judy Garland have spent the night at the hotel. The evening event will run from 7:30pm to 10:30pm with a late bar available. Table service for drinks will be available throughout the course of the evening. Dinner will consist of 3 courses and starters will be served at 8pm.

For further information please visit:- lovehistory.co.uk.

LISTING DETAILS:-
Uurder at St Adelphi Hotel Hall
Date:- 20 September 2014 at 7.30pm
Tickets:- £38.00 plus £2.25*
Tickets:- Purchase in person at TicketQuarter, Queen Square, Liverpool.
Online at:- ticketquarter.co.uk* or call calling:- 0844 800 0410.
Please note that handling fee per order (not per ticket) and that tickets include a silver service 3 course meal and glass of bubbly.
A 60s charity concert planned for Relate
RELATE Cheshire and Merseyside are holding a charity concert on Thursday 16 October 2014 at The Floral Pavilion, New Brighton and are delighted to announce that the entertainment for the night will be provided by the one and only Liverpool band, The Merseybeats, supported by The Fourmost. This will be a nostalgic night taking us back to those memorable songs played in the 60s at Liverpool's famous Cavern Club. A spokesperson for the charity told us they were so grateful to these two bands for making themselves available to perform at this charity event and Relate hopes to raise enough cash on the night to help support the expansion of their counselling service for young people in Merseyside. This will provide young people with access to specially trained counsellors who will be available mainly in schools, to come to term with difficulties such as family breakdown, bereavement, step parenting and bullying to name, but a few problems that young people face in their young lives. Tickets are now on sale for this event and can be purchased through the Box Office at The Floral Pavilion Theatre, New Brighton, call:- 0151 666 0000 or visit:- floralpavilion.com for more information. Tickets are £17 each and Relate hopes you, your family and friends will support this charity event.