WIRRAL RESERVIST BACKS ROYAL NAVY RECRUITMENT CAMPAIGN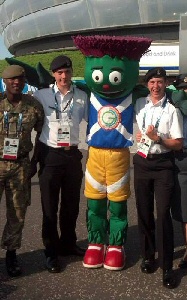 A personal trainer from Moreton is backing a new campaign to encourage more people to become Reservists in the Royal Navy.

Dean Martin, 20, helps people achieve their fitness goals in his civilian career; but also finds time to serve in the Royal Naval Reserve; and is currently backing a recruitment campaign to encourage more people to enlist.

He is giving his support to a recruitment initiative in the North West, which aims to sign up around 150 new recruits in the region over three years, and is supporting a Live recruitment day taking place this Saturday, 28 September 2014, from 11.00am and 3,00pm at HMS Eaglet, East Brunswick Dock, Liverpool which is also Dean's main base for training.

People attending the event will have the opportunity to find out more about life in the navy by meeting serving Reservists and taking part in physical and mental challenges.

Dean credits the Royal Navy with broadening his horizons, and helping him to achieve more in his career. He joined the Reserves straight from school at the age of 16 after hearing about them from his swimming coach.

Like many current Reservists, Dean learned more about what to expect by attending an open evening at the base. Soon afterwards he signed up and 4 years later still attends every week.

Dean recently served at the Commonwealth Games in Glasgow, which he describes as an 'awesome experience'. He says:- "We were brought in to provide security for the Glasgow games; everything from operating x-rays to searching vehicles and patrolling the area. We spent 2 weeks training in Lincolnshire with the tri-services before starting on duty. It was great mixing with the army and RAF as well, and I also got to see some sports including the boxing, weightlifting and netball, and met the marine Judo gold medallist."

In civilian life, Dean is studying biomedical science while working for a personal training company, and hopes to go on to university to study physiotherapy.

He credits the Reserves with building his self-confidence and helping him shine in job interviews. He adds:- "Being in the Reserves helps develop skills that are useful in civilian job roles. As part of the training we have to keep calm in dangerous situations, such as searching for explosive devices, and we learn to communicate as a team and trust in our own abilities. Experiences like that are useful to draw on in life, and impress people in interview situations. In future I would like to go on deployment – I am still quite new to the Reserves and feel there are a lot more opportunities to come."

Dean is one of more than 2,300 men and women who currently serve as Reservists in the Royal Navy alongside their normal day job. Most have no previous military experience.

When needed, the Royal Naval Reserve supplements the full-time ranks with extra manpower, and in some cases provides additional specialist civilian skills. New recruits must be aged between 16 and 40, have an appropriate standard in English and Maths, and be able to complete a 1½ mile run within a set time.

Reservists need to be able to commit the equivalent of 24 days a year for training, which mainly takes place during the evenings and at weekends, and will be paid for their time. They will also qualify for a yearly tax-free bonus, which ranges from £400 to £1,600 depending on the length of service.

Chief Petty Officer Marc Barrowcliff added:- "Becoming a Reservist is a great way of experiencing life in the navy without having to give up your day job. For many people, it's a chance to fulfil long-held ambitions. We welcome new recruits from all sorts of backgrounds, and we'll help you to develop skills, knowledge and personal qualities that can help you in everyday life as well. We pay people for their time but you'll also experience the action and adventure of life at sea, and develop new friendships that often last a lifetime. The Royal Naval Reserve has got a fantastic history in Liverpool, going back more than 100 years, and I'd encourage people to come along to the event on Saturday to find out more."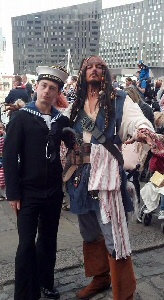 The initial training to become a Reservist takes place one night a week or at weekends for the first 20 weeks. This is followed by a two-week residential course at the prestigious Royal Navy training facilities of HMS Raleigh in Cornwall or Britannia Royal Naval College in Dorset.

Both courses include overnight exercises on Dartmoor and, following the residential course, new recruits will be given training for a specific role, ranging from logistics to submarine operations.
For more details, or to register to attend, call:- 08456 00 32 22, search for 'navy reserves' on the web, or visit:- royalnavy.mod.uk/navyreserves.

Save, Rave & Shop till you drop with Arriva's Student Travel Passes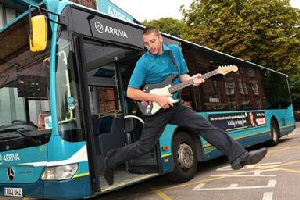 TRAVEL savvy students from across the North West could find themselves living life in the fast lane this year, simply by purchasing one of Arriva's 2014 to 2015 Student Saver bus tickets.

To celebrate the launch of its student tickets for the current academic year, Arriva is offering buyers of its affordable term-time passes the chance to mingle with VIP's at some of the summer's top music events, or even splash the cash on the season's latest fashion trends.

To showcase just how far your cash can go by planning travel arrangements up front, anyone purchasing a Student Saver during the Autumn term via the Arriva website, will be in with a chance of scooping one of a host of money can't buy prizes, including a mini-break to Germany, a £1,000 shopping spree with Topman/Topshop and weekend festival tickets for 2, with travel and camping thrown in.

Debra Heaton, marketing and communications manager from Arriva, explained:- "We pride ourselves on offering students real value for money and, with this free prize draw, we're hoping to showcase just how far your money could go if you think sensibly about spending it in the most cost-effective way. We believe that student days should be a positive experience, and by purchasing our Student Saver ticket, many people will find that they have a few more pounds in their pockets to spend on both fun and studying alike. It's as simple as clicking 'buy' online, and this year, by doing so during the Autumn term, you could also earn yourself the chance to have even more fun than you bargained for."

Arriva, which currently runs services throughout Southport, provides a range of Student Saver tickets offering unlimited travel within defined academic periods including term tickets and annual season passes.

Anyone purchasing tickets online until Monday, 3 November 2014, will be automatically entered into the draw, providing they click 'enter now', after purchasing their ticket online. Further opportunities to win can be earned by then sharing participation through both Facebook and Twitter. Those who have already purchased will also be able to enter their details and be in with a chance of winning.

The festival and mini-break Berlin prizes are for a maximum of 2 people. Other prizes available include Red Letter Days experience gift vouchers worth £250.

For terms and conditions, or more information about Student Saver tickets in the North West visit:- arrivabus.co.uk/student.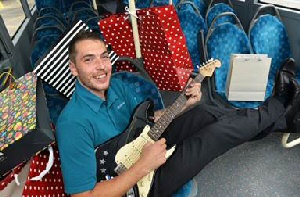 Trainees help residents cut energy bills
LIVERPOOL City Council has recruited young people to champion and promote energy efficiency to local residents. 6 young people will be working with the Healthy Homes Programme and engaging with residents through appointments, door-to door surveys, and at local events across the City. The trainees are all between 16 and 18 and were not in education, employment or training. This opportunity provides them with 6 months' employment, a real work experience supplying and fitting free low energy bulbs in the homes of vulnerable residents. They will also be providing a free energy monitoring service to help residents identify opportunities to reduce their energy consumption, attend events which promote energy efficiency and support environmental health officers with support using thermal cameras to identify problems with residents homes. Councillor Ann O'Byrne welcomed the trainees onto the programme on their first day and said:- "This is a great learning opportunity for these young people and demonstrates the Council's commitment to reducing youth unemployment. And, very importantly, at a time when many people are facing severe financial pressures it will help vulnerable residents reduce their energy bills." This is the 2nd group of trainees who have worked on the programme which has received a very warm welcome from those receiving the service. Among comments made were:-

► "They were very helpful, they explained everything and they were very polite."

► "The young trainee who fitted the light bulbs was very polite and had a good knowledge of the service you provide."

► "Trainees were very pleasant and knew what they were talking about."

► "The service was excellent."

► "Everything was spot on."

The trainees' training programme is aimed at helping them to develop their employability skills and increase their opportunities in future employment. Much of the training is accredited by Chartered Institute of Environmental Health, City and Guilds and NEA.