Care company urges locals to walk for dementia next weekend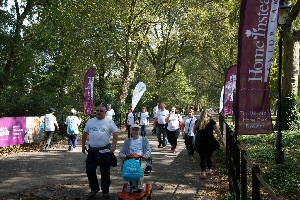 AS the main sponsor of next weekend's Alzheimer's Society Memory Walk at Aintree Race Course, Home Instead Senior Care is encouraging local people to take part.

The at home care provider cares for many people living with dementia and is keen for as many people as possible to get involved and support the event on Sunday, 5 October 2014.

Registration starts at 10am and the walk sets off at 11am. Walkers can choose between an easy 2k, or more challenging 10k Memory Walk. There is no registration fee but Alzheimer's Society ask participants to raise £50 to help fight dementia in the local area.

Participants will be able to see the inside of the famous racetrack whichever walk they take part in. There will be entertainment en route to keep walkers motivated including face painters, DJ's, food vans and live music and a special raffle.

Both Memory Walks are pushchair friendly but as the grass on the racecourse is long it may be difficult for wheelchair users. Guide Dogs are allowed.

Volunteers from Home Instead will be available throughout the day to answer any questions and to offer support.

There will be representatives from across the area coming along to take part in the event as well as a team from our national office in Warrington.

Trevor Brocklebank, CEO and Co-founder of Home Instead, is urging local people who are keen to help make a difference and contribute to the fight against dementia to come along.

The Alzheimer's Society Memory Walks are a series of fundraising walking events which take place every autumn across England, Wales and Northern Ireland.
The Walks raise money to provide vital support to people living with dementia and help fund research to find a cure.

Information on the Aintree Memory Walk can be found online.

Home Instead is also the main sponsor of Memory Walks in London, the South West and Midlands.

OPEN AUDITIONS FOR TALENTED STAGE PERFORMERS TO JOIN THE HOTTEST CASTING AGENCY
LHK Management, the busiest TV, Theatre, Film Casting & Booking Agent in the North West are opening their books for a limited time, looking for sensational new talent. LHK Management will be holding open auditions at Liverpool's Epstein Theatre on Sunday, 5 October 2014, to find the very best performers to join their catalogue of stars and stage performers. Auditions are open to the entire Merseyside region and are for a spot on LHK Management's 2014/5 Merseyside books. On Sunday 5 October at The Epstein Theatre, prospective Stars will take to stage in front of LHK Production's very own Lee Kelly, in a bid to become the North West's next breakout performers. Auditions are split into the following categories:-

► For Juvenile artists (Age 5 to 15) who show a talent for singing, dancing and/or acting; auditions will take place at 12:30pm.

► For young performers (Age 16 to 20) who can deliver as a singer, dancer and/or as an actor; auditions will take place at 1pm.

► For Professional performers (Age 21+) with industry experience; you will be required to prepare a monologue and song of your choice (if you are a singer). Auditions will take place at 1:30pm.

LHK Management has been created due to the rapid success and expansion of LHK Productions Ltd and is responsible for looking after some of the UK's most memorable pop acts and TV personalities including Sonia (1993 Eurovision Song Contest, Andy Scott Lee ('3SL', Pop Idol, Totally Scott Lee), Dale Howard (Big Brother) and Nikki Grahame (Big Brother, Ultimate Big Brother). LHK Management also represents local performers including Alison Crawford (Jack and the Beanstalk) and the very best in the region's dancers and juvenile performers. Lee Kelly, Creative Director of LHK Management and LHK Productions said:- "After many years of being asked to represent various clients I am proud to once again open the agency books for LHK Management. We are bombarded with requests for representation on a weekly basis and I can't wait to see what amazing talent will turn up to impress us at our open auditions. We pride ourselves in representing some of the most talented Artists around. Our Clients have secured contracts within TV & Theatre including Blood Brothers UK Tour, P&0 & Celebrity Cruises plus commercials for M&S and many more. We are looking for Actors, Singers and Dancers from ages 5 to 100, who are outstanding. If you want to go that extra mile then we want to see you."
For more information please click on here or via clicking on this link.
AUDITION INFORMATION

LHK Management Open Auditions
The Epstein Theatre, Hanover Street, Liverpool, L1 3DY
Sunday, 5 October 2014.

Audition Times
Juvenile artists (Age 5 to 15):-12:30pm.
Young performers (Age 16 to 20):-1pm.
Professional performers (Age 21+):-1:30pm