Daryll lights up Christmas with a song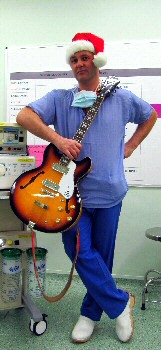 AN operating theatre is the usual stage for Daryll Nesmejanow but this Christmas it's his singing talent that's in the limelight. For the 42-year-old singer and guitarist has written and recorded his own song to sit alongside classics like Do They Know It's Christmas and Fairy Tale of New York.

"People kept saying to me I should record a Christmas song, so I thought 'why not'?" said Daryll, who is an operating department practitioner (ODP) at Southport and Ormskirk hospitals.

ODPs are an important part of the operating department team working with surgeons, anaesthetists and theatre nurses to help ensure every operation is as safe and effective as possible

As well as writing and performing Light up My Christmas, Daryll also made an accompanying video.

"It was mostly filmed at home and took me a couple of weeks to do. Also it was done with special Christmas magic." said Daryll, who is keeping under wraps how he choreographed a backing group of singing presents, adding:- "People I work with have been very supportive; some have even bought it! In fact, I've been overwhelmed by the response."

Daryll, a father of 2 from Swinley Lane, Wigan, has been singing since he was 14 and been in various bands. His current band, The Ravadas, is in the process of auditioning a new drummer for the New Year.

Light up My Christmas is available to downloaded on iTunes, listened to for free at SoundCloud and watched at YouTube, or put "Nezmo" into any internet search engine.
Taxi War brings traffic chaos to Liverpool City Centre Video
Video by Patrick Trollope.
THIS is video footage of the protest that took place on 5 December 2014. Please email our newsroom with your views to us about this issue via:- news24@southportreporter.com.

£3.4 million roundabout scheme to boost jobs in Merseyside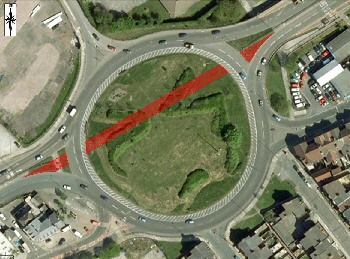 A £3.4 million project has begun this week to tackle congestion along a section of the busy A5036, near Liverpool. The 4 month Highways Agency project will see Bridge Road roundabout; at the Western end of the A5036 at Litherland, North of Bootle; remodelled. The work will reduce queuing and boost employment opportunities along the route which links the Port of Liverpool with the M57, M58 and the rest of the motorway network. Gagandeep Singh, Project Manager at the Highways Agency, said:- "Tackling congestion along this vital commercial route, linking the port and the motorway network at Switch Island, will improve safety and reduce queueing This is a significant investment in improving the A5306 and has been devised with the Local Enterprise Partnership, supporting jobs generation and housing across this part of Merseyside." Over the next few months, the roundabout will be remodelled into a 'Hamburger' design; carrying port bound traffic through the middle of the existing island and giving a better flow for through traffic by separating it from local traffic.

The work includes:-

► Conversion of the existing roundabout for westbound A5036 traffic, which will separate local traffic from through trunk road traffic.

► Associated traffic signal work to accommodate the change of layout on the roundabout.

► Modifications of the traffic islands around the roundabout.

► Improvements to the road markings around the roundabout.

► Resurfacing work around the roundabout.

► Landscaping of the roundabout.

Lane closures are currently in place leading up to and on the roundabout between 8am and 5pm, and the project is due to be completed in March 2015. The project is one of 123 in the Government's £317 million 'pinch-point' initiative; a 2 year programme of targeted works being delivered alongside larger schemes and routine maintenance and improvements along the strategic road network. The pinch point programme, devised with the input of councils and local enterprise partnerships, is designed to help stimulate new development and local economic growth by improving road safety and tackling congestion bottle necks. In all, 28 projects, worth £66 million, are being delivered across the North West.
More information is available on the project's dedicated website.