UKIP has officially opened it's campaign office on Lord Street, Southport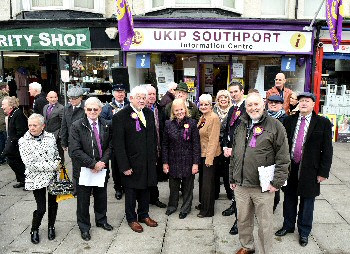 THE cry for change rang out loud on Lord Street, in Southport, when on Saturday, 7 February 2015, UKIP'S officially opened its campaign offices on Lord Street. The political party has nationally come under extremely close scrutiny over the last 2 years, as it grows in popularity. For many who are unsure of the main stream parties, UKIP is offering them a chance for change, as also does the likes of the Green Party. Unlike the Greens however, what UKIP is really about is not quite so apparent and it has received very mixed reporting in all areas of the media. Nationally, the Liberal Democrats, Labour and the Conservatives, seem to be increasingly focusing on fighting with each other, and mocking UKIP, so has this party got a chance to get in nationally, and what would happen if they do? We did a quick sample of 25 people this week. All randomly asked and from different backgrounds, just to see if they would be voting and also what party they are most likely to back. This was no way a scientific or proper survey, but interestingly, our Editor counted 10 people who intimated that that they were heading towards, but were moving away from traditional parties as they felt let down. 5 said they would be happy with anyone in, but UKIP. The rest, shockingly, were undecided, so much so as to say they might not even bother voting. This is a really small sample though, to us, it does suggest that this year's general elections might not be as straight forward as they have been in other years. One thing for certain, is that UKIP's new office, in its location next to one of the remaining Post Offices in Southport, is making people talk. Also it is encouraging its members to interact with the public, something many of the other parties have yet to start doing properly locally, as far as we can see.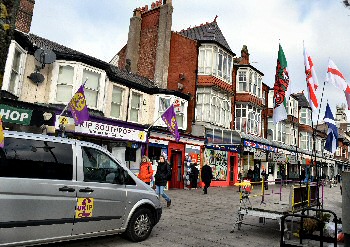 We would be interested to hear your views on UKIP and also on the other parties, and on elections in general, so please do email us them to:- news24@southportreporter.com. The video below (can also be played in a separate window), shows the opening of the office and also introduces all the UKIP Candidates, for the local elections in May 2015, and their Parliamentary Candidate. It also has an interesting section, explaining a bit more of what UKIP is about, via local election candidate, John Lion-Taylor, who stresses that:- "One of our main, local, objectives for Southport, is to regain Southport's Independence from Sefton." Over the next few weeks we, at Southport Reporter, will be contacting other parties standing on Merseyside and also we invite them to contact us to give their views.


Please note that the above video is in Flash. Click here for an alternative player.

KEEP up-2-d

ate




with our free daily news emails.



Are you subscribed? Si

g

n

u

p

today

to

our daily email news service via... Formb

y

-

Re

p

orter

.com



If you subscribed you can keep in up-to-date with what's going on in and around Merseyside. It is free and we do not send out massive amounts of emails.

Your email is kept under the UK's Data Protection Act, so you can be sure that you will not have problems from your information being passed on to 3rd parties.
...HAPPY BIRTHDAY
...
Email us to put your or a friends birthday in one of our editions...
If you have someone you want to say happy birthday to, for free, then use the email address below to send us the names you want us say happy birthday to, and/or a photograph. Email us today!
--- MORE NEWS REPORTS BELOW ---

Crime author Kate Ellis visits Formby

ON 7 February 2015, Stockport based crime author... Click on here to read more...!

Brake urges investment in life saving traffic Police in response to falling numbers and rising casualties
Free your Homes, Cars and Children of second hand smoke
Liverpool office workers are burning the midnight oil, according to Regus survey
E-Fit appeal after a teenage girl told to:- "get into the car"
Broadband boost for businesses
GMB welcomes Mesothelioma victims compensation but will fight on for those who missed out
The Liverpool Triathlon returns soon, but are you taking part?
Communities set to benefit from Commissioner's fund
Kevin Wilson Murder
Man charged over sexual assault in Southport
20 year old shot in Litherland
North West Change holds event for patients and staff
Brunlees Court celebrates grand opening
Nominate your NHS hero in the 2015 Pride Awards
Full Coaching Team Access - A First in British Sport?
Karen Potter Craven Minor JFL
Could you host a Big Brunch for Barnardo's?
Latest airline to 'Czech-in' at LJLA announces new flights to Prague
Model Boat Show returns to the National Waterways Museum
Fishlock's florists and R Charity 'make it official' for Valentine's Day
Mad Dog Run 2015
Further 300 Jobs To Go As AA Struggles To Cope With Interest Payments On Massive Debts
Deputy Prime Minister boosts jobs with £50 million for local companies
Review:- 'Kaiser Chiefs Live In Liverpool'
Fresh from BBC TV's The Voice, Nathan Moore to appear at Revitalise Sandpipers
Southport FC scores with Moore and Smalley sponsorship
'Walrus' rolls out with full Merseyside launch of electronic Saveaway
James Arthur is excited to announce a new UK Tour
Find out why Carers Trust Charity was awarded £500,000
New Twopence Play Premieres Next Month and will celebrate 21 years on stage
Brass Proms at Prescot Festival Fundraiser
Person struck by Train
Comic Relief statues exhibited at Goldsmiths' Hall before making their way across the UK
Christians in North West tired of short termism within politics
Next of kin appeal for:- 'William George Roche'
'Moomins On The Riviera' to open in cinemas nationwide
Don't miss the next St George's Hall Tea Dance
Star studded line up will roll back the years at Aintree 80s night
Merseyside Police is backing a global push to create a better, safer Internet
Benidorm Actress Backs Campaign To Help End Domestic Abuse!
2 men charged with production and sale of counterfeit football tickets
Dramatic ballet film called:- "Doll Factory" to show in Liverpool

TAYLUER Amos of Liverpool, a rising star on Dance Mums, has... Click on here to find out more.

| | | |
| --- | --- | --- |
| | Click on to read on! | Click on to read on! |

B.O.A. 70th Anniversary DVD

THE video footage we have taken at the 70th BOA events this year in Liverpool has now been fully edited is available to buy, on a DVD, from our Online Shop, on Mersey Reporter very soon. For each DVD sold, £3.00 will go to the Liverpool's Lord Mayor's Charity Appeal. (Registered Charity No. 229539) At this stage we can only do UK postage options, but if you are outside the UK, you can still order copies, but only via emailing our newsroom at:- news24@merseyreporter.com with your FULL address and we will get back to you with a postage cost and a payment link, should you wish to continue.
| | |
| --- | --- |
| | YOU CAN ORDER PHOTOS CLICK HERE TO FIND OUT HOW! |