Parents and students urged to nominate their school for good diabetes care award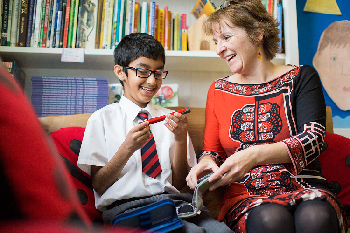 DIABETES UK is urging parents and students in Southport to nominate their schools for a special award that celebrates schools that provide great care and support to children and young people with Type 1 diabetes.

The charity's 'Good Diabetes Care in School Award' is open to all schools in Southport. Schools can nominate themselves, or be nominated by parents, students and healthcare professionals. Winners will be chosen by an assessment panel, which includes parents and representatives from Diabetes UK. The winners will be announced later this year, and next year, and will receive a trophy valid for 2 year.

It is extremely important that children and young people with diabetes receive good care in school to help them keep their blood glucose to target levels. In the short term, high or low blood glucose levels can make a child extremely unwell, and in the long-term, high blood glucose levels can increase risk of serious complications such as amputation, blindness and stroke later in life. Supporting children to manage their diabetes well is also key to enabling them to get the best from their education and school activities.

The charity says that the 'Good Diabetes Care in School Award' will show that good diabetes care in schools is achievable and share best practice amongst schools, helping to ensure that all students with diabetes achieve their full academic potential.

Recognising that some schools will have some concerns about how to support students with diabetes, as part of its Type 1 diabetes:- 'Make the Grade Campaign', Diabetes UK has created free resources to help parents and schools get the right care in place. Along with this the charity has launched a Care in Schools Helpline which provides parents of children and young people with Type 1 diabetes in England, Scotland and Wales with information and support around the care their child is entitled to receive at school.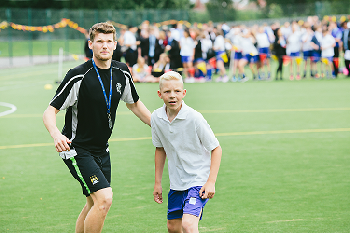 Stephen Ryan, Diabetes UK Regional Manager said:- "Many schools in Southport are working really hard to ensure their students with Type 1 diabetes are not held back by their condition and have exactly the same opportunities as their peers without diabetes. We want to celebrate the achievements of these schools so we are calling on parents and students, who are receiving good care, in Southport to nominate their schools. The Good Diabetes Care in School Award will also provide an opportunity for best practice to be shared across schools, helping to build strong relationships between schools. The fact that so many schools are doing a fantastic job of supporting students with Type 1 diabetes shows that good care is achievable in all schools."

Nominations for this year's 'Good Diabetes Care in School Award' can be made anytime from Monday, 14 September 2015 to Thursday, 16 June 2016.

For more information on the 'Good Diabetes Care in School Award' visit:- Diabetes.Org.UK/School-Award.

Liverpool Commonwealth Association holds inaugural General Meeting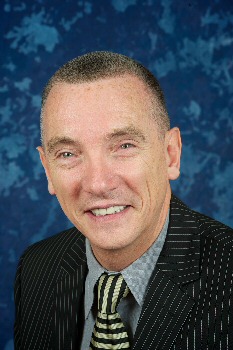 ON Tuesday, 15 September 2015, the founding members of the Liverpool Commonwealth Association joined together at Crawford House, Upper Warwick Street, for the inauguration of the new Association.

After its official launch on Saturday, 7 March 2015 at the Liverpool Parish Church the Association's Steering Group was tasked with developing a constitution to reflect the main aim of furthering links between diaspora communities of the Commonwealth to enhance 2 way trade, cultural and educational links and any other links designed to enhance the role of the Commonwealth and the Liverpool City Regions. The Association also has the wider aim of having Liverpool declared as a Commonwealth City.

Tuesday's General Meeting adopted the draft constitution after lengthy discussions with the founding members and then proceeded to elect its 1st executive officers.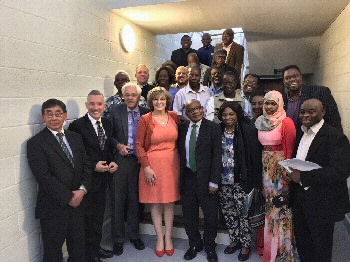 Cabinet Member for Business and former Lord Mayor Councillor Gary Millar was elected as Chair, with widely respected community activist Chief Angus Chukwuemeka elected as Vice Chair.

Cllr Gary Millar said:- "It is a huge honour to receive the unanimous support of Commonwealth community elders, founding members and supporting organisations like Liverpool John Moores University. I would like to use our home based links within this newly formed association to reach out to our trading and cultural partners and friends. I believe there must be big business out there in the 53 member countries. It's a potential 2.2 billion friends and customers all ready to hear why Liverpool and the North West is such an amazing place. I would like to thank the Steering Group for their hard work in getting us to this stage and I look forward to working with all Commonwealth members across the North West and the UK. Thanks also to Lord Lieutenant of Merseyside Dame Lorna Muirhead for agreeing to become our Honorary President."

A message from the Queen welcoming the creation of the Association was read out by Dame Lorna Muirhead at the official launch event in March.

Chief Chukwuemeka said:- "I am extremely proud that we have officially legalised this initiative with the adoption of our constitution so that we can proceed to develop the Association and its work plan. We celebrate our shared Commonwealth heritage and I am pleased to see so many members of our local community come and support the General Meeting."
Deceased estates notice - Lilian May Jackam
Pursuant to the Trustee Act 1925, any persons having a claim against or an interest in the Estate of Lilian May Jackam (also known as Lillian May) Jackam (Deceased), late of Birch Abbey Rest Home, 55 Alexandra Road, Southport, Merseyside, PR9 9HD, UK, who died on 04/10/2018, are required to send particulars thereof in writing, to the undersigned Solicitors, on or before 24/05/2019, after which date the Estate will be distributed having regard only to claims and interests of which they have had notice. Churches Solicitors, 12 High Street, Fareham, Hampshire, PO16 7BL, UK. Ref:- 'T553015.'
..Paid Advert..
Contact us:-
(+44) 08443 244 195
Calls will cost 7p per minute, plus your telephone company's access charge.
Calls to this number may be recorded for security, broadcast, training and record keeping.

News24@SouthportReporter.com
4a Post Office Ave, Southport, Merseyside, PR9 0US, UK


Our live Southport Webcam image above.
To see it live, please click on image.

Event Notices

More events that are taking place on Merseyside can be found on our Event Listings Calendar.

Click on here to see our event calendar.
Are you going to this event? If you are please let us know what you thought of it!

These are our other websites within the Southport & Mersey Reporter Network.

Mersey Reporter

Formby Reporter

Liverpool Reporter

Southport TV
| | |
| --- | --- |
| | © - Southport Reporter® is the Registered Trade Mark of Patrick Trollope |
..