Over 2,600 council homes in the North West face being sold off under new government plans
THE housing and homelessness charity, Shelter, have revealed the potentially devastating impact of government plans to sell off Council Housing, with new research showing that over 2,600 Council Homes in the North West could face being sold on the private market.
The proposed scheme would force Council Homes worth more than a set threshold for the region to be sold once they become vacant. The money would then be used to fund new discounts of up to £100,000 for housing association tenants taking up the Right to Buy.
According to the charity's estimates, Stockport would be the worst hit area in the region. Here over 1,330 homes could face forced sale; that is equivalent to nearly 12% of the area's total Council Housing stock.
West Lancashire could be forced to sell 7% of their total, or around 440 homes, once they become vacant and Cheshire West and Chester approximately 457 homes, or 8% of their total Council Housing stock.
Campbell Robb, Shelter's chief executive, said:- "At a time when millions of families are struggling to find somewhere affordable to live, plans to sell off large swathes of the few genuinely affordable homes we have left is only going to make things worse. More and more families with barely a hope of ever affording a home of their own and who no longer have the option of social housing, will be forced into unstable and expensive private renting. The government needs to scrap this proposal and start helping the millions of ordinary families struggling with sky high housing costs. If George Osborne is serious about turning around the housing crisis, the autumn spending review is his last chance to invest in the genuinely affordable homes this country desperately needs."
Figures showing how each area in the North West could be affected by the forced sale of council homes:-
| | | |
| --- | --- | --- |
| Area | Number of homes above the threshold | Proportion of total homes |
| TOTAL (North West) | 2641 | 2.8% |
| Stockport | 1334 | 11.7% |
| Cheshire West and Chester | 457 | 8.1% |
| West Lancashire | 442 | 7.2% |
| Manchester | 179 | 1.1% |
| Bury | 122 | 1.5% |
| Lancaster | 44 | 1.2% |
| Wigan | 29 | 0.1% |
| Salford | 24 | 0.2% |
| Blackpool | 6 | 0.1% |
| Oldham | 3 | 0.2% |
| Barrow-in-Furness | 3 | 0.1% |
According to the Charity all the other areas in the North West region are estimated to not be affected, either because their Council Housing stock has previously been transferred to a housing association, or because there are no homes above the regional threshold.
Shop which hid illegal cigarettes loses licence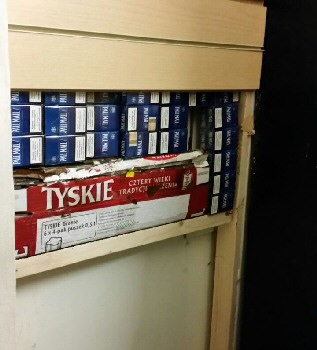 A Kensington shop specialising in Eastern European food and drink has had its alcohol premises licence revoked. The City council's licensing and gambling sub committee decided to take away the licence from Alinka in Prescot Road after they heard evidence from the Alcohol and Tobacco Unit (ATU) about sales of illicit cigarettes and the storage of non-duty paid vodka. The shop had been the subject of covert test purchases of cigarettes which had originated from Poland and Russia. It had been searched but no products recovered. As a result, the ATU used a tobacco sniffer dog during a visit in June 2015. The dog indicated what appeared to be wooden panelling on a wall in the store room, but once the officers forcibly removed the panelling they discovered the hidden stash of 3,120 Marlboro Gold, Pall Mall and Mathat cigarettes. Once the panelling was removed it revealed that its opening was controlled by an electro magnetic switch activated by a mobile phone charger plug. The licence revocation is subject to any appeal by the premise licence holder.
Councillor Christine Banks, Chair of the Licensing Committee, said:- "It is important that we target this type of illegal activity. The sale of illicit alcohol and tobacco undermines initiatives to improve the health of residents in areas of Liverpool where health inequalities are of significant concern, particularly in relation to tobacco and alcohol related illness. Licence holders who continue to supply these products will be targeted, brought to the Licensing Committee and have their licence suspended or revoked."

St Cyprians is ready for Students now!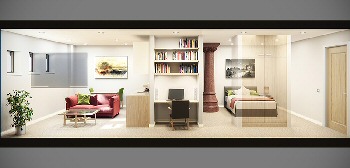 IDEALLY located close to all Liverpool's universities, St Cyprians offers the very best in student living. Based on the corner of Edge Lane, one of the major through roads in the City, the site has been brought back to life with a gross development of £5.5million by Skelmersdale based Primesite Developments.

These brand new, high quality studios provide everything a student needs while studying at university, from larger than average rooms, high speed broadband, to comfy social spaces, peaceful designated study areas and on site laundry facilities.

St Cyprians Student Halls bring a high standard of luxury living to the City and this development has seen the transformation of St Cyprians Church by not only retaining the beautiful historic architectural features of the church, but also perfectly infuse them with a modern contemporary build extension.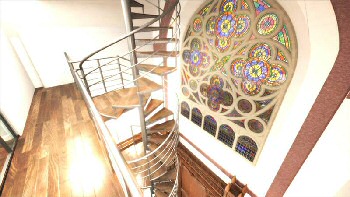 Within the unique setting of the former Church and grounds of St Cyprians the project has seen 118 fully self contained luxury studio apartments. Students of all the Universities in Liverpool will not only benefit from the privacy of their own larger than average living quarters, but will also enjoy the social interaction of the communal lounge, internet areas and study rooms, over all enhancing the group aspect of student life. With duplex accommodation and roof terraces; the studios come complete with fully fitted private kitchens and en-suite bathrooms.

Stuart Duffy, Partner at Liverpool based KDP Architects who worked on the project said:- "This development has seen a fusion of old and new come together to create a quite unique offering to the Liverpool student market."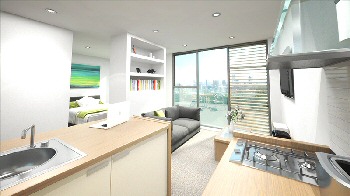 Managing Director of Primesite Developments, Kerry Tomlinson added:- "We are pleased to announce that 67 students move into the 1st phase, The Cube, this September followed by a further 51 students in November to the old Church section. We have created something a little different here for the student market with larger than average rooms set in a quite spectacular setting."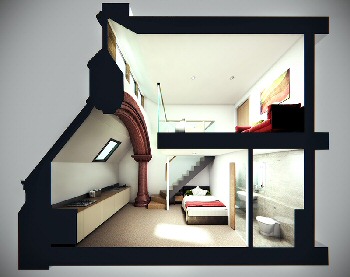 St Cyprian's, designed by Culshaw and Summers in 1881, has been empty since 2006, when the last worshippers stopped using it and it was deconsecrated. Kerry Tomlinson added:- "It's one of the key buildings on the main corridor into the City. Everyone of late has commented how much better Edge Lane is looking after years of regeneration works but this corner has blighted the view to the City, so we are more than pleased to have brought this key site back into use."
So what are your views on this development? Please email us your views and also if you are a student renting a place with in this development, please do let us know what it is really like! Email our newsroom via:- News24@SouthportReporter.Com.