Calling all grandmas and grandpas in Southport!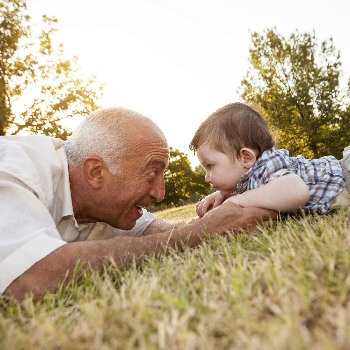 DO you know the difference between your Peppa Pigs and your Mr Tumbles? Can you twerk like Miley Cyrus and take the perfect selfie? According to research commissioned by McCarthy and Stone, you should!

To mark National Grandparents' Day, the UK's leading retirement developer asked parents and grandchildren in Southport to share their own personal experiences on what makes the greatest grandparent.

After being inundated with responses, McCarthy and Stone has compiled its:- 'Ultimate Guide to Grandparenting', which includes a list of the '20 things every grandparent should know in the 21st century', along with memory making activities for grandparents and their grandchildren in Southport to try for themselves.

From laughing at rude jokes, to slipping their grandchildren extra pocket money when their parents aren't looking, and letting them have chocolate cake for breakfast, the research shows that grandparents today are a mischievous bunch!

According to the research, new age grandmas and grandpas should know how to play Candy Crush, send a Snapchat, and the words to all the songs in Disney's Frozen.

And when it comes to spending quality time with the grandkids, the top 5 suggestions to make every grandparent a great one include baking a cake, taking a trip to the seaside, building a den, kicking up leaves and flying a kite. Ian Wilkins, from McCarthy and Stone North West, comments:- "We commissioned the 'Ultimate Guide to Grandparenting' because we wanted people in Southport to share their memories of their grandparents, and how fondly we all think of them. Having the time and freedom to spend with your grandchildren pays dividends for retirees, and is treasured time that children will remember forever. Not only do grandparents pass on valuable knowledge and advice, but as the research shows they take an active interest in their grandchildren's lives. They teach children that it's not all about games and gadgets but give them a different take on things that they might not otherwise get; something which is really important for us to cherish and celebrate. We hope that our downloadable guide will give grandparents in Southport a checklist of fun activities to tick off as they go, and encourage them and their grandchildren to enjoy some precious, quality time together."
'20 THINGS EVERY GRANDPARENT SHOULD KNOW IN THE 21ST CENTURY'
1. How to take a selfie
2. The words to One Direction's latest hit
3. The difference between Peppa Pig and Mr Tumble
4. Never admit to letting your grandchild stay up late
5. What Minecraft is
6. The art of photobombing
7. The words to all the songs in Frozen
8. Never to comment on your Daughter-in-Law's overflowing laundry basket
9. The names of all the CBeebies characters
10. What 'Derpy' and 'Reem' mean
11. How to play Angry Birds and Candy Crush
12. How to FaceTime the grandkids
13. How to insert emojis into a text or WhatsApp
14. The name of the latest X-Factor/Strictly winner
15. Your Khloe Kardashian from your Kim Kardashian
16. What Grumpy Cat is
17. How to send a Snapchat
18. Never admit to buying your grandchildren sweets on the way home from school
19. Always compliment your Daughter-in-Law on your grandchildren's exceptional manners
20. How to twerk like Miley Cyrus
'20 ACTIVITES EVERY GRANDPARENT SHOULD DO WITH THEIR GRANDCHILD'
1. Bake a cake
2. Take a trip to the seaside
3. Build a den
4. Kick up leaves
5. Fly a kite
6. Share old family photographs/albums
7. Rock pool fishing
8. Play pooh sticks
9. Watch a black and white film
10. Take a selfie
11. Go to the park and feed the ducks
12. Read a bedtime story
13. Star gazing
14. Blackberry picking
15. Camp under a table on a rainy day
16. Go to the zoo
17. Play cards
18. Do a jigsaw puzzle
19. Paint a picture
20. Go on a steam train

For more information and to download a copy of:- 'The Ultimate Guide to Grandparenting', please click here.

Overtime Overload - the 7 day working week
NEW research by global workplace provider Regus has revealed that workers in Liverpool are regularly putting in a considerable number of extra hours at the office. 22% regularly work a staggering 15 hours per week or more; the equivalent of 2 days; in addition to their scheduled hours. These workers are therefore effectively working a 7 day week.

Regus' latest survey, which gathers responses from over 3,500 UK professionals, shows that overtime is now part of normal working life. In Liverpool only 7% said they usually work one extra hour per week or less and a staggering 66% working an extra 6 hours or more, which is above the UK average at 57%.

The research also shows that Liverpool workers are struggling to switch off at the weekend, with 30% most likely to complete their overtime on Saturdays and Sundays. However, workers are keen to leave on time on Fridays; only 15% say they usually work overtime at the end of the working week. Email us if you agree to:- news24@southportreporter.com.

Whilst high levels of overtime are visible across the UK there are some regional variations. High Wycombe and Watford have the most (73%) professionals working 6 hours of overtime or more. This compares with 37% in Brentwood at the bottom of the table, but even here 33% are working significantly above and beyond their regular working day.

Richard Morris, UK CEO, Regus:- "While the commitment of workers globally is admirable, it is worrying that some are working the equivalent of a seven day week. Employers need to realise that not only is this unhealthy, it's also not conducive to productivity or a high standard of work. It is also true that the location this work is carried out in plays an in important role in contributing to worker wellbeing. If workers need to complete overtime, being able to do so from a professional workspace closer to home will mean they benefit from a shorter commute at the beginning and end of the day. In fact, working closer to home means the unproductive commuting hours; often totalling 4 hours per day; can instead be spent on productive tasks. If punitively long hours are combined with gruelling commutes, workers could soon be facing burnout."
St Luke's Church consultation results published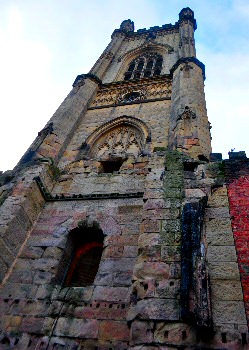 THE majority of people who responded to a consultation over the future of St Luke's 'Bombed Out' Church in Liverpool are supportive of limited development and events taking place at the site. The public consultation in August and September followed a commitment from Mayor Joe Anderson to keep St Luke's in public ownership and secure a viable future for the building. Over 6,300 people responded to the survey about the famous landmark; 70% of them from the City and the remainder from around the UK and as far away as Hong Kong and Australia. Although 65% of respondents were against full redevelopment, 75% were in favour of some level of limited work to provide things such as toilets, food and drink facilities, seating and a performance area. More than 80% of people would like to see exhibitions at the site, closely followed by live music, film, theatre and educational projects. Other ideas suggested included guided tours and religious events; and only a small percentage of people (4%) didn't want to see any events in the church or its gardens. Respondents were supportive of the stonework repairs that are currently underway, funded by the City Council and Historic England, and want to see the structure of the building made safe and preserved for the future. People generally recognised St Luke's as a War Memorial and suggested ways to make a more visible and prominent memorial and also felt strongly that there should be public access to the site. Council lor Mark Norris, Liverpool City Council's Heritage Champion, said:- "It's great to see such a passionate and informed debate about St Luke's. The responses we have received have established a good degree of consensus on the core issues of the acceptable extent of development and renovation work and the types of uses and events that people wish to see. We will use the results as the basis to make decisions in relation to the future of St Luke's." A summary of the results of the public consultation can be found online. Further announcements on a timescale for the next steps including looking for an operator to run the site will be made in the near future. Details will also be announced shortly of a public open day which will allow a limited number of people access to the site to find out more about the repair and restoration work that is currently underway.
Fox and Goose Halloween Costume Public Vote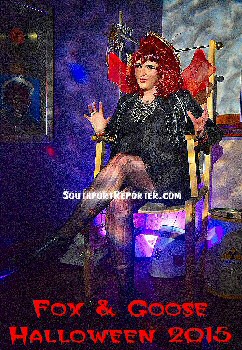 WE had intended to run this last week, but with the Paris Bombings we decided to hold and run it in this week's edition. We can now reveal that the winner of the Public Vote which was held via our Facebook Page, was Hayley Murrayhas. Please go to the Fox and Goose from 23 November to collect your a voucher for 2 FREE pints, that will be valid to 3 January 2016! Also due to us delaying the results, we have extended the photo opportunity. Please contact us to find out more, on:- 01704 513 569. In short, you get the chance to be photographed in your costume again or in a new one, and have an A2 size, after being edited and FX added to it. Well done to all who came to the venue in fancy dress... Keep an eye out for Christmas and New Yews Eve, at the Fox and Goose!