Southport Plays Host to its First Ever Beer & Folk Festival This Summer
THE family friendly event will take place at the Pleasureland Arena, across 3 days, from Friday, 15 July to Sunday, 17 July 2016.

Some of the UK's leading folk music artists, including Scottish Folk sensations Treacherous Orchestra, are to descend upon the town as part of an eclectic line up co-ordinated by The Atkinson. Emma Lloyd from The Atkinson said:- "We are really excited about this new partnership with Real Ale Events and Pleasureland. We were delighted to be asked to programme the stage for the festival and we hope it is well supported so we can make it an annual event for the town, as well as growing audiences for our own Love Folk Festival in February."

The festival is being organised by Liverpool based Real Ale Events, the company behind a number of hugely successful beer festivals at St George's Hall, the Bombed Out Church and Waterloo's Old Christ Church.

As part of this outdoor space the Pleasureland are erecting a Big Top Tent to turn the festival into a real spectacle. Norman Wallis, owner of Pleasureland, is keen that:- "people are interested in this, especially in Southport. This is a just another big event to help the economy of the Town."

The Big Top will be alongside a covered music stage, a range of independent food stalls and a separate, dedicated bar area featuring as many as 200 different beers from microbreweries across the UK.

Mark Hensby, Managing Director of Real Ale Events, said:- "We've wanted to bring a festival to Southport for some time, but we were determined to make it something slightly unique. We have a great line up of music and a great array of beers from across the UK, so we are confident that the Beer and Folk Festival will be a big hit amongst local families as well as music and real ale fans from across the North West and beyond."

Tickets for the Southport Beer and Folk Festival cost between:- £5 and £10 and under 12's can attend free of charge. For further information, visit:- LiverpoolOrganicBrewery.Com or call:- 0151 933 9660.
12th Annual Prescot Festival of Music and the Arts
WITH over 600 people attending, not including the many hundreds who visited Prescot Carnival, the Prescot Festival is off to a very good start for Sumer 2016. 12th Annual Prescot Festival of Music and the Arts runs until Sunday, 26 June 2016. Highlights still to come include:-

► 'Barn Dance and Supper', to be held, on Friday, 24 June, at 7.00pm. Ticket cost £7. Join in or just sit back and listen to local folk group Change of Key, celebrating the 60th Anniversary of St Paul's Church, Bryer Road, Prescot. Includes Cottom's hot pot and dessert!

► 'Songs from the Shows with BOST,' will take place on Saturday, 25 June, from 7.30pm, at Prescot Methodist Centre, Atherton Street, Prescot. Ticket price £6. The Musical Theatre Company are back by popular demand with more movie, Broadway and West End favourites; plus, a few nods to Shakespeare, including classic tunes from Kiss Me Kate and West Side Story.

► 'Regal Festival Finale with South Liverpool Orchestra' is to be held on Sunday, 26 June 2016, from 7.30pm, at Prescot Parish Church, Church Street, Prescot. (£6 - under 16's free if with an adult) This is a Proms style concert paying tribute to HM the Queen in the year of her 90th Birthday, and William Shakespeare, on the 400th anniversary of his death. Hope University's South Liverpool Orchestra is conducted by Rob Howard with solo trumpeter Hannah Mackenzie (RNCM), and the evening ends with such patriotic favourites as Jerusalem and Land of Hope and Glory.

More information can be found online at:- PrescotFestival.Co.UK.

Did you know? Arts in Prescot is a voluntary community arts group organising a year round programme of arts, music and cultural events in and around Prescot?

VisitBritain launches GIANT tourism campaign in run-up to The BFG film release and Dahl's 100th Anniversary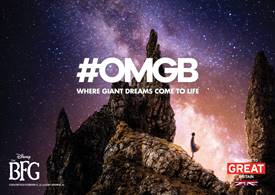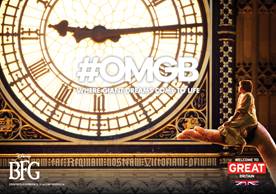 AS Britain gears up to celebrate the 100th Anniversary of Roald Dahl's birth and in the run up to the launch of the film adaption of The BFG, VisitBritain is showcasing to the world what makes Britain a GIANT; and family, friendly, tourism destination.

The national tourism organisation has launched an international:- 'Where Giant Dreams come to Life' film tourism campaign in its first-ever collaboration with Disney, producer of The BFG. The film, directed by Steven Spielberg and based on the book by Cardiff born author Roald Dahl, was filmed at locations across Britain including Blenheim Palace, London, the Isle of Skye and Bamburgh beach in Northumberland. The BFG film launches in the US on 1 July and in the UK on 22 July 2016.

VisitBritain's £350,000 6 week digital and social media campaign showcases magical, mysterious and dreamlike moments that can only be experienced on a trip to Britain. The campaign features a set of exclusive images of giant landmarks in Britain including the Angel of the North, Big Ben, the Isle of Skye and the lions in Trafalgar Square.

These images, and other giant visitor experiences across Britain, are being promoted across VisitBritain's online and social media channels adapting its #OMGB (Oh My GREAT Britain) to 'Oh My GIANT Britain.' The campaign also wants people to upload their own images of 'giant' experiences and locations in Britain to their own social channels.

VisitBritain/VisitEngland Chief Executive Sally Balcombe said:- "Our collaboration with Disney on The BFG is a fantastic opportunity to promote to a global audience of millions an unexpected side of amazing, family friendly moments that can only be experienced in Britain. By inspiring people to come and experience the best of 'GIANT' Britain we can drive growth from tourism and its economic benefits across all our nations and regions."

Ms Balcombe said that the link between tourism and film; 'set-jetting,' was "a potent 1" with recent films delivering a real increase in visitor numbers.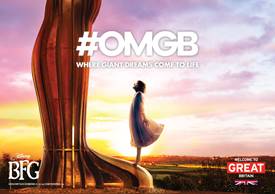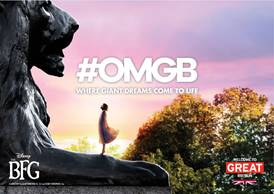 VisitBritain's campaign drives online 'traffic' to a BFG website on visitbritain.com/thebfg. The site has information on the British locations in the film, a 'user-generated' feed of #OMGB content, the official BFG movie trailer and details of visitor experiences linked to Roald Dahl and events to celebrate his 100th anniversary in September. Visitors to the site in the US, France, Canada, Russia and Australia can enter a competition for the chance to win a family trip to Britain, including a visit to Cardiff for its 'City of the Unexpected' celebrations in September.

Paid media campaigns are also launching in the US and France across Facebook, newsletters and entertainment website 'takeovers.'.

VisitBritain has more than 15 years' experience in film tourism and film promotion is part of the cross government GREAT Britain campaign.

Last year set a record for inbound tourism to Britain on visits and spend with 36.1 million visits, 5% up on 2014, and spending up 1% to £22.1 billion.