Young woman from Southport has risen to the challenge in Girlguiding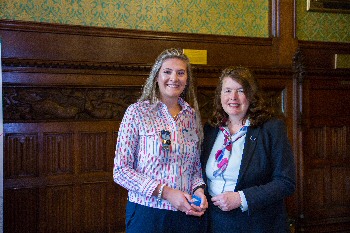 AN INSPIRATIONAL young woman from Southport has risen to the challenge to achieve the highest award in Girlguiding. Benita Skillicorn, 21, was presented with her Queen's Guide Award at the House of Commons on Saturday, 11 June 2016, by Chief Guide Valerie Le Vaillant, Girlguiding's most senior volunteer.

Adventurers and former Girlguiding members Anna McNuff and Sarah Williams were invited to the celebration to meet the award recipients and both gave speeches about the incredible dedication and achievements of the young women.

To achieve the prestigious award the young women took on a series of personal challenges in areas such as social action, voluntary work and travel and these had to be completed before they turned 26. Fewer than 150 Girlguiding members are presented with the award each year.

Benita took 3 years to finish her challenges and these included volunteering for 3 weeks in Madagascar where she worked with young girls on a project relating to clean water and the importance of hand washing. Benita said:- "Going to Madagascar is always going to be the thing that stands out from my Queen's Guide Award. Making a difference to people there and seeing how they were so appreciative of everything we did for them was very humbling."

Like the Queen's Guides, speakers Anna and Sarah know how to rise to a challenge. Last year Anna spent five and a half months running along New Zealand's Te Araroa trail, covering almost 2,000 miles in the process, while Sarah recently completed a gruelling 6 marathons in 6 days in the Sahara Desert as part of the Marathon des Sables. Anna said:- "I have such fond memories of my years as a Girl Guide and being part of the Queen's Guide Awards has brought it all back. The courage and dedication these bright young women have shown in attaining this award is nothing short of extraordinary. Most importantly I know this is just the start for them. The start of a life filled with exploration and endeavours that will push them far beyond their comfort zones, and it's this which I find most exciting of all."

Sarah said:- "It was brilliant to be at the Queen's Guides Award celebration and to meet so many inspiring young women. As someone who is always thinking about my next adventure I loved hearing about all the different challenges carried out as part of the award and how they had pushed themselves. They are a fantastic example of what can be achieved when you put your mind to something."

Girlguiding's Chief Guide Valerie Le Vaillant said:- "It was a real privilege to present the Queen's Guides with their awards. This group of young women are truly inspirational and they have done exceptionally well to achieve the Queen's Guide Award by taking positive action in their communities and beyond. They are our next inspiring female role models who have proved they are a force for good. They should all be very proud of their achievements."

For more information about how to get involved with Girlguiding, the leading charity for girls and young women in the UK, visit:- GirlGuiding.Org.UK.
Tribute by family of Karen and Jade Hales
THE family of Karen and Jade Hales, who died following an incident in Cathedral Road, Anfield, on Monday, 13 June 2016, have issued the following tribute:- "We as the family of Karen and Jade Hales would like to thank everyone for all the support we have received at this tragic time from our wonderful family, friends and neighbours. Merseyside Police have also been a great support to us. Karen and Jade were a large part of our family, they were as close as any mum and daughter could be and they will be so badly missed. We as the family need privacy to grieve Jade and Karen and to come to terms with this horrific shock we have all suffered."

Formby Food, Drink and Music Festival 2016

FORMBY Food, Drink and Music Festival is fast approaching with new attractions being added on a weekly basis to include the Climbing Wall, The Cave, Paint Balling, archery, roadeo bull, mega slide, pedal boats, assault course, magic shows, craft tent and Football Zorbing to mention a few. The live music stage will feature a variety of acts, but will feature:- 'YES LAD' a new and upcoming young boy band who are managed by the person who put 'Take That' together. Also appearing are the Casey Blues Band, Anna Corcoran, Searchin, the Dockers, the amazing Kappa to mention a few and with new acts be added all the time. Of course the now well known and much looked forward to Musical Firework Display, which is a surprise, but if you have got kids you should definitely not miss it. But also don't forget the fantastic Katumba Band, which is a walking wall of sound and who will be at the event on Sunday. On Friday night the Festival, we are told, will be having the School Choir Competition, which is a 1st and is being run in association with Formby Parish Council. That we are told will be followed by the 'Great British Pub Quiz...' with the winning team receiving £100 cash on the night.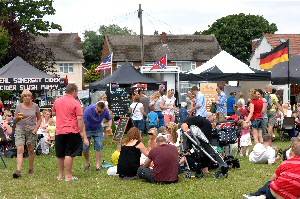 This year the show will have the West Lancs Dog Display Team putting on 2 performances and a variety of interactive participation events, in the Display Arena, for all to take part in.
The Show Tent has been expanded, so not only do will the Festival have the 'Bake Off' competition, but also a competition for Fruit, Veg and Flowers taking place. More details can be found on the events website.

Back by popular demand is the 'Kids Cooking Marquee' which is free to the children where they learn to prepare and cook with the professional chefs. The places are limited so you are advised to book in on line to ensure a place.

This year will have the shows ticket office opening, on the Park, from 1.00pm on Thursday and on Friday from 10am, to allow you to pre-purchase your wristbands to avoid the queues. We are informed that everyone who pre-purchases their wrist band will be given a little surprise gift as well! "We would also like to thank our sponsors Waitrose, FTS and Churchilll Retirement and also those who support the event including Formby Parish Council, Formby Tool Hire and Sefton Parks and Greenspaces." said a spokesman for the show.

Full details regarding costs and times open are available on our website together with entry forms.
Opening times are as follows:-

► Friday, 15 July 2016, from 5pm to 10pm.
► Saturday, 16 July 2016, from 11am to 11pm.
► Sunday, 17 July 2016, from 11am to 6pm.
More information can be found on Facebook and on Twitter.
Arrests take place after motorbike is recovered
MERSEYSIDE Police we are informed have arrested 4 males and recovered a stolen motorbike following an incident in Bootle. Merseyside Police said:- "Officers on patrol noticed a motorbike being ridden in an anti-social manner on South Park, at around 2.15pmm Friday, 17 June. A short time later, 3 males from Bootle, aged 18, 16 and 16, were arrested in South Park on suspicion of unauthorised taking of a motor vehicle and a 4th male, aged 22, from Bootle was arrested for obstructing a Police Officer." As of yet we have no updates, but we are told they they have been taken a Police Station in Merseyside to be interviewed.