Call for communities to be more learning disabilities and autism friendly
A local NHS Trust rated 'outstanding' for services for people with learning disabilities and/or autism is celebrating Learning Disability Week that ends on 26 June, by encouraging people to become more LD and Autism friendly. Around 21,000 people have learning disabilities in the Cheshire and Wirral area, almost 2% of the population. The annual awareness week, this year themed:- 'friendships and relationships', aims to build community understanding of the everyday challenges people with learning disabilities and/or autism face.

Cheshire and Wirral Partnership NHS Foundation Trust (CWP) Clinical Director, Dr Mahesh Odiyoor, says:- "There is a big difference between learning 'difficulties' and learning 'disabilities' which are often confused. A learning disability affects the way a person understands information and how they communicate; it affects everyday life for the person and their family. Some people can have multiple conditions such as epilepsy, other physical health problems, Autism, and other developmental and mental health problems. There is an urgent need to enhance support outside of hospital to enable people to live more independently at home. We know everyone is unique and need different levels of support at different times of their life. By working together with other health and social care organisations, our aim is to provide people with a choice of person centred services in the community to meet individuals' and their families' specific needs."

Andy Styring, Director of Operations, says:- "As part of the Cheshire and Merseyside Transforming Care Partnership, CWP is committed to developing improved services with local people who access services, their families and carers, and will play a key role in delivering new models of care and support."

CWP were recently rated as outstanding overall for services for people with learning disabilities and/or autism, as well as outstanding for being caring and responsive, by the Care Quality Commission (CQC).
The real problem is housing:- "The referendum will make no difference" says Belvoir
BUY to Let property investors are spending too much time worrying about the effect of the EU referendum on the UK lettings market because; according to Lincolnshire based, national property specialists, Belvoir; there are far more dangerous factors threatening UK housing. Belvoir has 6 offices on Merseyside. Martin Unsworth, who owns the Belvoir office on Allerton Road in Mossley Hill, says:- "There are just not enough properties for rent in the UK to satisfy tenant demand; and that fundamental priority will remain unchanged by the referendum."

The number of rental properties throughout the UK has been falling year on year and, nationally, stock figures are currently 5% down over the same period in 2015. "The referendum is causing uncertainty both for home buyers looking to buy properties and landlords looking to invest in properties, but this is making no difference to tenant demand which remains extremely strong." says Belvoir's Managing Director, Dorian Gonsalves.

The real problem, he argues, lies in a poor government strategy that has been worsened by 2 blunders hitting the number of people buying new properties to rent and the number of landlords investing in more properties. The 1st; was hiking up the rate of Stamp Duty for buy to let investors. This "government interference in a free market" caused a rush on mortgages, earlier this year, as investors pushed 45,000 purchase deals through before the new rates kicked in and caused a rocketing 163% distortion in buy to let mortgage lending. The 2nd was the change in Mortgage Interest Tax Relief; which delivered a 2nd body blow to landlords and was "totally the wrong strategy." says Dorian Gonsalves. The result of introducing these added expenses for landlords looks like slowing down the market in the 2nd ˝ of the year and putting a further brake on the number of rented properties available. Last month Belvoir was advertising 1,994 properties for rent compared with 2,269 at the same time last year. And that 12% drop in Belvoir's current availability of properties to let is expected to continue; making life more difficult for rent paying tenants. At the Belvoir Office, on Sir Thomas Street in Liverpool, owner Paul Rice, says:- "The Government should be incentivising landlords to increase the national housing stock. But if you choke off the supply of rented homes then property prices will rise and rents are likely to be forced up by a more aggressive 3% before the end of the year."

For the last 20 years landlords have been plugging the gap in the housing market caused by the disappearance of Council Houses, from 3.5 million to 1.6 million, and the slow growth of new replacement social housing. And, while the government still fails to address the imbalance, the declining availability of homes for rent is becoming a crisis issue. Dorian Gonsalves adds:- "This is the real problem and one that the EU referendum will not change. We just hope that an aggressive Government plan to build more housing, especially social housing, and serious consideration given to reversing landlord Tax changes will undo some of the recent damage to the private rented sector and increase the future supply of rented homes which are desperately needed by 10 million tenants across the UK."
Lytham St Annes Beach users have nothing to wine about
LYTHAM St Annes Beach has played host to a sea of volunteers as the Barefoot Wine Beach Rescue Project to place on on Saturday, 11 June 2016. It is part of a nationwide initiative to keep the UK beaches 'Barefoot Friendly.' This event kicked off its 9th year running in the UK, that sees Members of the public being invited to come down and join beach cleans. Olga Senkina, Marketing Director EMEA at Barefoot Wine and Bubbly, commented:- "At Barefoot Wine and Bubbly we think there's nothing better than to spread local love and we are excited to be heading to Blackpool to help the local community clean up their beach. I'm sure the scales will bring out the fun competitive nature in the volunteers and help us to collect even more litter than last year. Of course, we will have some of our Barefoot Wine and Bubbly on hand to raise a TOEst as we celebrate the hard work of all the volunteers!"

The project will run across the country throughout the summer in partnership with environmental charity, Surfers Against Sewage (SAS), who, for the last 26 years, have worked tirelessly to protect the UK's oceans, waves, beaches and wildlife. It's a welcome return for the group, which will be working with the Barefoot Wine Beach Rescue Project for the
ninth year running and helping communities make Britain's beaches barefoot friendly for all to enjoy. Dom Ferris, Projects Manager at Surfers Against Sewage, said:- "Each year we are astounded by the level of support and community spirit we see at the Barefoot Wine Beach Rescue Project. This year we have already had a record level of interest from keen volunteers, so can't wait to work with Barefoot and the local community again this year to work towards our goal of reducing UK beach litter by 50% by 2020."

Canine for new Merseyside Police recruits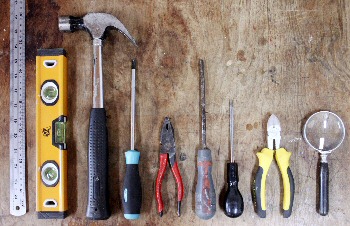 WHAT do you do with a broken lamp, toaster or chair? Toss it? No way! Stitched Up are bringing repair BACK, by launching Manchester's First Repair Cafe.

A Repair Cafe is a free community event where people get together to mend broken things. Run by volunteers, it aims to reduce waste but also to pass on important skills and provide a space for people to get to know their neighbours.

Known for their clothes swaps and upcycling workshops around Greater Manchester, sustainable fashion collective Stitched Up wanted to help further reduce Manchester's mountains of waste by offering a regular event for repairing household items.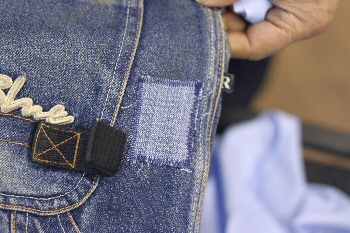 The Manchester Repair Cafe will be held monthly, with tools and volunteer repairers on hand to help visitors to fix their broken electricals, furniture, clothing and bikes. All visitors need to do is bring along their broken item on the day, and the team will do their best to help repair them.

In Manchester, like all of the UK, we generate huge amounts of waste. By sharing skills in repair, Stitched Up hope to keep some of those household items out of landfill, helping save people money and reduce CO2 emissions in the process. But most of all, the team are passionate about bringing back the love and knowledge of mending.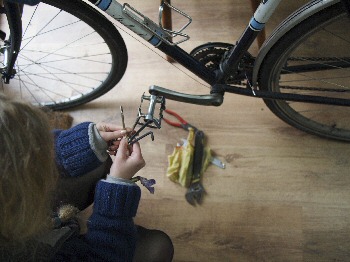 Co-founder Emily says:- "Lots of it is about having the confidence to have a go, to dismantle something and see how it's been put together. We want people to be inspired to tinker! Repairing is fun and often really easy. When you make the effort to repair something, not only have you learned a new skill, but somehow it becomes a bit more special to you. Nowadays we don't necessarily have a financial incentive to repair, what with household items being relatively cheap, But there's definitely something of a repair revolution occurring; a growing appreciation of the art and practice of repair. We want Manchester to be a part of that, so we're making the 1st step. Now we're calling out to people across the City to roll their sleeves up and get stuck in!"
The team are looking for enthusiastic volunteers whether they have an interest or knowledge of repairing household items, or they'd simply like to come along, hang out with like minded people and perhaps make the odd cup of tea! Donations of tools are also welcome.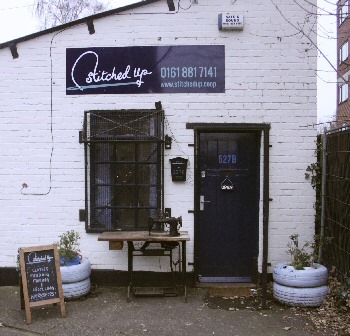 The Repair Cafe will take place on the 3rd Saturday of the month, at 10am to 2pm (starting 16 July 2016), at Stitched Up HQ, 527B WIlbraham Road, Chorlton, Manchester, M21 0UF.

If you'd like to know more about the events, or would like to volunteer, you can contact the team at Stitched Up on:- 0161 881 7141 or hello@stitchedup.coop. The Manchester Repair Cafe has a Facebook Page, and you can sign up to the mailing list by clicking on to here,