West Lancs schools score places at SPAR Lancashire School Games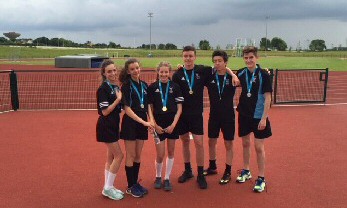 PUPILS from a trio of West Lancashire schools are celebrating success after securing 3 of the few remaining places at the largest youth sporting event in the county, the SPAR Lancashire School Games. Up Holland High School secured a win in a duathlon competition at Edge Hill University, while Our Lady Queen of Peace Catholic School took victory in handball. Meanwhile Woodland Community Primary School secured 1st place in a tri golf tournament after battling it out against 8 other West Lancashire school teams at Glenburn Sports College. The students stormed to success, competing eight different golfing challenges and pipping Delph Side Community Primary School to the top spot. Up Holland High School, Our Lady Queen of Peace Catholic School and Woodland Community Primary School will now go on to represent West Lancashire at the SPAR Lancashire School Games county finals where they will compete against teams from 14 other Lancashire districts to be named county champions in duathlon, handball and tri golf. Now in its 10th year, the SPAR Lancashire School Games comprises 2 main events designed to give all children the opportunity to participate in competitive sport.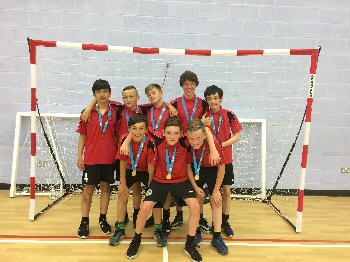 Schools across Lancashire will now battle it out for a place at the SPAR Lancashire School Games county finals, to compete against pupils from 15 county districts to be crowned champions in sports including rounders, tennis, orienteering, netball, athletics and gymnastics.
Over 2,400 youngsters are expected to take part in the event at Stanley Park in Blackpool on 5 July 2016, a result of the legacy of the London 2012 Olympic and Paralympic games, which inspired thousands of children to participate in competitive sport.
The event is organised by Lancashire Sport Partnership. It is implemented by the County's School Games Organisers and sponsored by James Hall and Company Ltd, the SPAR distributors for the North of England. It is part of the national £128m school games programme.

Breastfeeding celebrated in Liverpool
A series of activities to celebrate breastfeeding are taking place in Liverpool, until 26 June 2016, as part of 'National Breastfeeding Celebration Week.'
The events are organised by Liverpool Community Bambis, who offer breastfeeding support to mums include:-

► Wednesday, 22 June 2016 - a teddy bears picnic is being held at Walton Children's Centre, from 1:30pm to 3pm. Call:- 0151 233 6620, to book a place.

► Thursday, 23 June 2016 - a vintage afternoon tea party is happening at Tuebrook Children's Centre, from 12:30pm to 2pm. Call:- 0151 233 3830, to book a place.

► Friday, 24 June 2016 - Liverpool Community Bambis will be in the foyer at Liverpool Women's Hospital during the day offering advice and support.

Although breastfeeding is on the increase in Liverpool, the City still lags behind the national average with only around ½ of new mums feeding naturally compared to almost ¾ across the Ccountry, and this drops to 35 percent at 6 to 8 weeks compared to 44% across the rest of the Country.

Cabinet member for children's services, Councillor Barry Kushner, said:- "Experts are united in the view that breast feeding even for a short period of time gives children the very best start in life. We recognise that it can be difficult for new mums, which is why the work of Liverpool Community Bambis in offering support and advice is absolutely invaluable. These events are a fun way of spreading the word about the benefits of breastfeeding and informing women about the advantages for the health of both baby and mother. We want mums to know that there is lots of health and support out there for them if they need it."

Sandra Davies, Liverpool's Director of Public Health said:- "Breastmilk really does give babies the best start, as it is all that's needed for the 1st 6 months of life. It protects babies from infections and diseases and has many benefits for both children and mothers."

A Breastfeeding Welcome scheme, with more than 200 places that will accommodate and welcome families in Liverpool, has been established. A list of venues, and more information about the importance of breast feeding, is available online. Mums are being urged to support the week of events by sharing pictures and thoughts on social media such as Twitter and Instagram using the hashtag #celebratingbreastfeeding. Liverpool Community Bambis can be found on Facebook and are on Twitter @bambisliverpool. During Breast Feeding Awareness week the Bambis team at Liverpool Women's Hospital will be sharing interesting facts and information on social media at:- Facebook.com/LiverpoolWomens.
CCTV stills of 2 men wanted in connection to burglary in Southport

DETECTIVES have released a CCTV image of 2 men they would like to speak to following a burglary at a house in Southport. Shortly after midday on Wednesday, 25 May 2016 unknown offenders forced entry to a property on Silverthorne Drive and made an untidy search before leaving the scene on foot. Officers have viewed CCTV from the surrounding area and are keen to

speak to the men in the images or anyone who might recognise them as they believe they might have information that could help their enquiries. Officers would like the men, or anyone who recognises them to contact Liverpool CID on:- 0151 777 4060 or the confidential Crimestoppers line on:- 0800 555 111.