A Royal wave from the Town Hall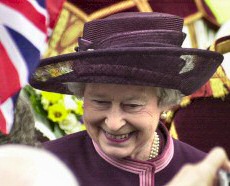 HM The Queen and HRH The Duke of Edinburgh are to have lunch at Liverpool Town Hall during a visit to the City, on Wednesday, 22 June 2016. Her Majesty and His Royal Highness will arrive at the Town Hall at around midday and will be greeted by a contingent of Merseyside Sea Cadet Corps, before meeting a group of people who have been invited because of their work in the local community. They will then make an appearance on the famous Town Hall balcony to wave to well wishers on Castle Street at around 12:30pm. Back inside, they will be entertained by 8 young people from St Vincent's School, who will sing the Hollies song:- 'He ain't heavy, he's my brother', before sitting down for lunch.

Lord Mayor of Liverpool, Councillor Roz Gladden, said:- "I am very much looking forward to welcoming The Queen and The Duke of Edinburgh to Liverpool Town Hall, particularly so soon after Her Majesty's 90th birthday. It is always a real honour to host a Royal visit and it is a great chance to show off our fabulous City and talk about the many positive things that are happening here. It is a real opportunity for the people of the City to come out and see Her Majesty and His Royal Highness and I'd urge people young and old to come and see their appearance on the balcony at the Town Hall."

It is not the first time that The Queen and the Duke of Edinburgh have visited Liverpool Town Hall; they came during a trip to the City in July 2002 when they were entertained by a huge carnival on Castle Street as part of the Golden Jubilee celebrations. During their visit to Liverpool they are also visiting IFB 2016 and officially opening the new Exhibition Centre Liverpool and Alder Hey Children's Hospital.
More litter bins for parks
UP to 500 new and replacement litter bins are to be provided in Liverpool's parks and the surrounding streets. The Mayor of Liverpool, Joe Anderson, has approved a new capital programme of £250,000 for the scheme which will see ugly or faulty bins being replaced and bins sited at the entrance to parks where they are most needed The programme will also address problems associated with cigarette stubs and dog fouling. And a new £20,000 fund will be launched for Friends and other community groups to apply for funding to support activities to reduce litter in parks and other environmental improvements.

Councillor Steve Munby, cabinet member for neighbourhoods said:- "We know there is a lot of concern about litter in general, but people are particularly offended when it is in our parks. During the summer more people visit the parks and unfortunately this can create problems with litter which can spill over into surrounding streets. This new programme will ensure that there are sufficiently good quality litter bins in our parks and the surrounding areas; there really will be no excuse for anybody to litter. We also want the Friends groups who are passionate about the parks, to help us in keeping them clean and tidy and want them to come up with ideas about how they can help us do this."

Councillor Peter Mitchell, Mayoral Lead for Parks and Open Spaces, said:- "Every park user has their part to play in keeping them clean and litter free. With this new investment in bins and the funding we are providing for Friends and other groups we are showing our determination to make sure our parks are kept as tidy as possible."

Developments fund Citywide improvements
MILLIONS of pounds worth of improvements to Liverpool's highways, open spaces and play areas are being funded through developments in the City.

The funding is provided through planning agreements, commonly called Section 106 funding which can be sought from developers who can't provide open space or environmental improvements as part of their scheme.

The funding can be used to provide public open space / public realm works; tree planting; public art or highways works on nearby sites.

The City Council has reviewed the way it allocates the funding so that there will be greater clarity on the way the funding is allocated with councillors and communities identifying local priorities.

A new sub-committee has been formed and held its first meetings to allocate funding. About £3.4m has been allocated for 17 schemes ranging from £1.4m to improve play areas across the City in the Mayoral play programme to £7,529 for an artwork commemorating Eleanor Rathbone in a walled garden at Greenbank Park.

Other schemes which have had section 106 fund allocated are:-

► Contribution to Great Howard Street bridge replacement – £1,000,000.

► Public realm improvements in Elliot Street/Parker Street - £500,000.

► Improvements to Newsham Park lake and bandstand - £98,000.

► St John's Gardens infrastructure improvements - £40,000.

► Pedestrian improvements in part of Queens Drive - £50,000.

► Supporting heritage improvements at St Luke's Church- £50,000.

► The creation of a contemplative space at:- Our Lady's and St Nicholas to support a new MV Derbyshire memorial. A new footpath linking "old" Croxteth and Croxteth Country Park - £9,750.

► 3 schemes at Jeffrey Humble playing field; a new synthetic cricket wicket ( £50,000); installation of play features (£20,000) and enhancement of perimeter fencing ( £30,000).

► Improvements to green spaces and grot spots in Sparrow Hall (£70,000) where there will also be traffic calming measures (£7,000).

► Scargreen Park will have new fitness equipment, footpath improvements, bulb plating and welcome signs - £20,000.

► Landford Avenue green space will be improved - £10,000.

► Pupils from Notre Dame School will be engaged in heritage work at the Anchor Project to renovate land at Great Homer Street and Kirkdale Road - £24,000.

It has also been agreed that a scheme to complete the dualling of the A565 and a package of 8 schemes to improve connectivity for pedestrians, cyclists and public transport across the City will also receive section 106 contributions but the amounts are still to be determined.

Among the developments which will provide the funding are housing schemes at the former Queen Mary school site, and the former police club in Prescot Road; a scheme for luxury apartments at Marwood Towers, and student accommodation schemes at Oldham Street and Great Crosshall Street and Fontenoy Street.

Deputy Mayor Councillor Ann O'Byrne, who chaired the new sub-committee said:- "We are reaping the benefits of developers not only investing in the City, but paying for significant environmental and other improvements. We have now established a process which is open and transparent and will reflect the priorities of our communities and the City is going to have improved green spaces and infrastructure along with new public artworks as a result as a result"