Ground breaking research into prostate cancer treatment at The Clatterbridge Cancer Centre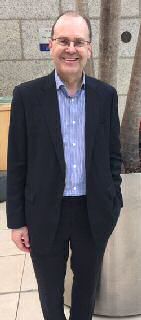 PROSTRATE cancer patients are being invited to take part in a trial that hopes to establish whether just five treatments of radiotherapy are as good as surgery for fighting the disease.

The ground breaking research is taking place at The Clatterbridge Cancer Centre NHS Foundation Trust and is aimed at men who are diagnosed at an early stage of the disease.

The Prostate Advances in Comparative Evidence (PACE) trial follows the results of the CHHiP trial, a major study released last year which found that fewer, higher doses of radiotherapy are as effective as giving lower doses for a longer period, effectively cutting the number of treatments prostate cancer patients need.

As well as examining the surgery versus radiotherapy option, in a separate arm, PACE will investigate whether the number of radiotherapy treatments can be reduced even further by administering greater doses with higher accuracy, a technique called stereotactic radiotherapy, or SABR. This will see participants having just five sessions, as opposed to the 20 recommended after the CHHiP research.

The first participant for PACE at The Clatterbridge Cancer Centre has already been treated and it is expected that more men will come forward to take part in the trial over the coming weeks and months. Suitable patients will be offered a place on the trial by their oncologist and surgeon, then, if they agree to take part, will be selected at random for surgery or SABR radiotherapy. For those that wish to avoid radiotherapy, the selection will be between standard radiotherapy over four weeks or SABR radiotherapy.

The PACE Study is coming to The Clatterbridge Cancer Centre after early work on SABR for prostate cancer at The Royal Marsden and Mount Vernon hospitals. The trial is now an international collaboration led by The Royal Marsden with more UK and Canadian cancer centres joining the effort.

Dr Shaun Tolan, Consultant Clinical Oncologist at The Clatterbridge Cancer Centre, and member of the studyís Trial Management Group, said:- "The PACE trial is looking at the new SABR technique of giving just 5 treatments in 5 days of higher dose, highly targeted radiotherapy and comparing that to surgery or, in men who donít want an operation, to 20 standard treatments over 4 weeks. Weíve already seen prostate radiotherapy schedules slashed from 7 1/2 weeks to 4 weeks and now PACE is looking at the possibility of treating men in 1 week. This would be a very attractive option for men who wish to avoid surgery or for men who are concerned about the tiredness associated with lots of travelling and the disruption to work and family life caused by many weeks of treatment."

Robert Croft, 62, from Chester, was the first patient to take part in the PACE trial at The Clatterbridge Cancer Centre, undergoing five radiotherapy treatments in a week at the hospital in Merseyside.

He was told about the PACE trial and was asked to decide what suited him better, surgery or radiotherapy. "Iím not medical. I just had to weigh up which seemed the most practical for me. Over 2 or 3 days the decision formed; I would choose the radiotherapy trial. I learnt I was to be the first patient at Clatterbridge. That didnít worry me. I have been taken very good care of."

He said the chance to have a shorter course of radiotherapy treatment appealed to him, adding:- "It meant my summer being less disrupted and my momentum less deflected."

Robert said he had been impressed by his treatment and the staff at The Clatterbridge Cancer Centre. He added:- "This is a place where extraordinary things happen for ordinary people."
Coffee evening brews up funds for cancer research charity
A charity coffee evening raised more than £700 for North West Cancer Research. Coffee lovers gathered at the Aughton Institute on Bold Lane to help raise funds to support lifesaving cancer research projects across the region.
Guests enjoyed a selection coffee, teas and homemade cakes. They were also able to buy gifts and arts and craft items from various stalls. A raffle was also held and prizes were kindly donated by charity supporters.
Money raised has been donated to North West Cancer Research to facilitate cancer research projects in the region. These research projects will help improve our understanding of cancer and how to better detect, treat and prevent it.
North West Cancer Research has committed to funding £13 million worth of research over the next 5 years; approximately £9 million of which will be spent on research based at nearby University of Liverpool.
Ruth Griffiths, secretary of North West Cancer Researchís Aughton based fundraising group, said:- "Once again the generosity of the local community has astounded us and has helped us to raise a tremendous amount of money. North West Cancer Research is the regionís biggest locally based funder of cancer research and relies solely on donations to fund its lifesaving research, which is why every penny we can raise to help them in their mission to beat cancer is important."
Bobby Magee, fundraising manager at North West Cancer Research, said:- "The success of the event is testament to the strength of our long serving fundraising committee in Aughton and the time and energy they devote to helping us. Without the generosity and backing of the local community the charity would not be able to continue to support cutting edge research, so on behalf of the charity I would like to thank everyone involved and who gave so generously."

Women and Girls in Liverpool get top tips from Rugby World Cup winner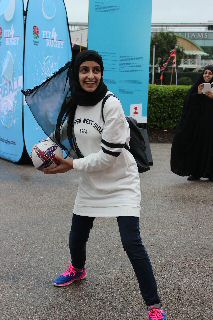 WOMEN and girls in Liverpool found themselves trying out something new, on Thursday, 11 August 2016, at Liverpool ONE with England Rugby World Cup winner and RFU Spirit of Rugby ambassador Maggie Alphonsi.

At a massively exciting time for womenís rugby, with Rugby Sevens making its Olympic Games debut in Rio at the weekend, growth in the game at an all time high and for the first time ever professional contracts being awarded to Englandís XVs players, Alphonsi was in Town to showcase the best in the game and encourage more women and girls to give rugby a try.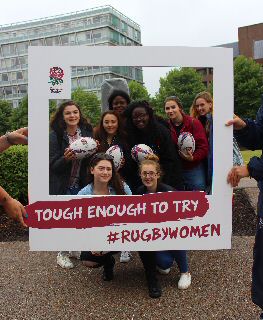 The excited participants got to take on the former England international in an inflatable passing cage, a throwing tower, a kicking cage and the gauntlet run as well as learn some top tips from one of the sportís best.

ďIíve had a fantastic day. It has been terrific to see so many women and girls trying out rugby, and giving something new a go! Womenís rugby is a game like no other and I hope today that I have helped show people what fun this sport can be. Whatís more, with Sevens being played in the Olympics for the first time we are exposing the sport to a huge audience and I am sure the GB womenís team will have inspired more players to give rugby a go across the country. Rugby has certainly had a massively positive impact on my life and I want to see other people benefit from the sport too.Ē said Alphonsi.

Alphonsi was supporting the event as a Spirit of Rugby ambassador. Spirit of Rugby is a nationwide project funded by the Spirit of 2012 and it aims to ensure the spirit that radiated from London 2012 Olympics and Paralympics is felt across the UK.

The projects are uniquely led and devised by 16 to 24 year olds, with the aim of increasing participation through new and innovative events, which engage groups not traditionally involved in rugby.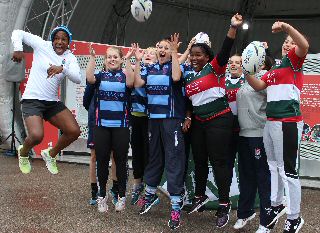 In Liverpool, the Spirit of Rugby group has been focusing on increasing the awareness of rugby in a football dominated area, and getting more people involved in the game, be it students, coaches and volunteers.

Waterloo RFC event volunteer, Keisha Hendricks, said:- "This has been a brilliant day. It has been great to see so many women and girls from the area come down and give rugby a go. It has been nice to see a real focus on womenís sport and womenís rugby and I know this event is going to have an impact on rugby in this area. I am looking forward to seeing some new faces coming down to our clubs. Itís also been fantastic having a real rugby hero in Maggie Alphonsi attending. She has really enthused everyone who has turned up, even though it is raining, and shown people what is great about our game, whether youíre small or big, and from any background."

For more information about womenís rugby and how to get involved, visit:- FindRugby.com.
For more information on the Spirit of Rugby projects taking place across England, click on here.