Olympians encourage residents to Dive In!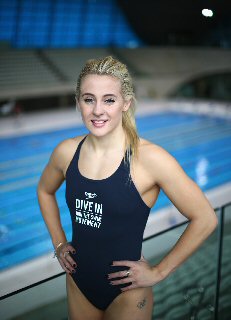 OLYMPIC Silver medallist Siobhan-marie O'Connor and 100m Freestyle champion Grant Turner are encouraging Liverpool residents to take the plunge and be part of a special swimming event, on Saturday, 24 September 2016. Siobhan-marie, the 200m Individual Medley star, and Grant who is a Commonwealth Silver Medalist and was part of Team GB in 2012, are heading to Wavertree Sports Park this weekend as part of the Speedo Dive In campaign which aims to help adults swim their way to fitness by improving their front crawl.

Free 60 minute swim fit sessions will be on offer in the Aquatics Centre where Siobhan-marie will be joined by swim coaches to give out tips and advice on how to improve people's swimming techniques.

The swimming drive has been launched in response to new research from Speedo, which revealed that only 36% swimmers surveyed in the North West could swim more than 4 lengths (100m) of front crawl proficiently, even though 65% of British adults recognised swimming as the best for a full body workout. The report also found that 34% adults are still not confident in the water. In addition, 20% people that can swim, said that learning to be a better swimmer would encourage them to swim more frequently.

Anyone, over the age of 18, who wants to have a free 60 minute session, can sign up before Saturday via:- Speedo.Co.UK/Dive-In, where they can choose a time slot to apply for. There will be a small number of places available on the day, but they are limited and will be awarded on a 1st come, first served basis.Assistant Mayor and Cabinet Member for Culture, Tourism and Events, Councillor Wendy Simon, said:- "This is an unmissable opportunity for adults of all abilities to get the very best advice from some swimming elite, which will help them improve their stroke and give them the confidence boost they may need. To be coached by an Olympian is a once in a lifetime opportunity, and I hope as many people as possible sign up and be part of this fun and informative day."

The 60-minute Dive In sessions have been designed with the help of leading athletes and ex-professional swimmers James Goddard, Ian Hulme and Harry Needs. Rio Silver medalist and Team Speedo athlete, James Guy said:- "As with any workout, the right technique is essential in helping maximise your session. You don't have to be an elite swimmer to have good technique and even the smallest changes can really make a massive difference to the enjoyment and results you get from swimming."

James Hickman, Global Sports Marketing Manager at Speedo International said:- "We are hugely passionate about swimming and in this big year for the sport we want to effect a real change in the nation's swimming habits and get more people swimming for fitness. By providing 10,000 adults with free sessions we hope to inspire people to Dive In and really get the most from their swimming; learning new techniques with some of the UK's leading athletes, to maximise their fitness potential in the pool."

The one off event is supported by the City's Fit for Me campaign which is being run by Liverpool City Council and NHS Liverpool Clinical Commissioning Group (CCG). Fit for Me is looking to get everyone in the City more active.
Dr Maurice Smith, a GP at Mather Avenue surgery in Allerton and Healthy Liverpool's 'Living Well' clinical lead said:- "It's great to see that people in Liverpool will be able to benefit by getting top tips and tuition from swimming champions and an Olympian no less. You don't have to be an Olympian to get involved in Fit for Me though. It's about everyone being active, whatever they choose to do and at whatever level they are at. The benefits to getting active are often more than people think; you can benefit from better sleep, having more energy and feeling more positive. Swimming is a great way to get active and you can even get a free swim to get you started at any of Liverpool's Lifestyles Fitness Centres by signing up to Fit for Me online at:- FitForMe.Info."

Find out which Lifestyles centres have pools by visiting:- Liverpool.Gov.UK/Lifestyles and why not check out the latest Fit for Me Free Swim offer.

Dobbies helps Southport to get growing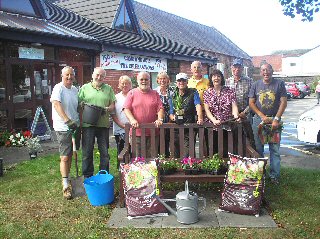 AS part of its community campaign, Dobbies Garden Centre Southport has helped to transform four local community gardens. Having urged local schools and community groups to get in touch, Dobbies Southport chose four inspiring projects to support. Macmillan Cancer Support Centre, St Marks Primary School, Ainsdale Community Care and Rethink all received over £500 worth of products, along with expert advice and assistance, to help bring their garden projects to life. The groups applied to Dobbies' Helping Your Community Grow campaign for support with their outdoor spaces that needed re-vamping. The programme aims to get communities growing and spending more time outdoors. This year it focused on 'welltality' gardens, aiming to improve health and wellbeing though gardening, from allotments in primary schools to dementia friendly gardens.

Zoe Stanmore, Community Champion for Dobbies Southport, said:- "It has been brilliant working with such a diverse range of projects and people. Gardening is a great activity for improving overall health and wellbeing for all ages, whether that is through growing your own veg or simply being able to enjoy a communal outdoor space".

Dobbies has supported over 100 community garden makeovers around the UK this year.
1 in 10 renters victim to law breaking landlords in North West of England
NEW research released has revealed that in the last year alone 1 in 10 private renters in the North West of England has suffered from an illegal act, committed by a landlord. Nationally, over a million; or 1 in 8; private renters across England have suffered at the hands of a landlord who has broken the law. Alarmingly, the survey by Shelter and YouGov uncovered a range of problems with law breaking landlords in the North West of England, ranging from unlawful behaviour to serious criminal offences. While reports of landlords entering homes without permission and deposits not being properly protected were among the most common complaints from renters, many cases of shocking behaviour from rogue landlords were also uncovered in the survey. The most striking findings from the region included:-
► The equivalent of almost 10,000 renters reported that a landlord has cut off their utilities without their consent and 7,400 said their belongings had been thrown out of their home and the locks changed

► Nearly 50,000 renters have had their home entered by a landlord without permission or notice being given

► 7,300 reported having been abused, threatened or harassed by a landlord

► Almost 15,000 renters felt they had been treated unfairly due to their race, nationality, gender or sexual orientation.
The housing charity is warning that a minority of rogue landlords are causing misery to the lives of renters by committing these civil and criminal offences. Often renters don't know what their rights are. In just the last year, Shelter's website has received over 220,000 unique visits to its advice pages for people facing problems with a private landlord.

Shelter's helpline adviser, Danielle Goodwin, said:- "Every day at Shelter we speak to people at the end of their tether after a law-breaking landlord has caused chaos in their lives. These range from instances where the renter has been unaware of their rights, to cases where renters are exploited and subjected to terrible experiences by a minority of law breaking landlords. Too many people simply don't know their rights as a renter; but Shelter is here to help anyone having landlord problems with free, expert advice. As a first port of call go to:- Shelter.Org.UK/Advice or for urgent problems call our helpline on:- 0808 800 4444."
Next of kin appeal:- "Barrara Kelsall"
THE Liverpool Coroner's Office are appealing for the public's help in tracing the next of kin of a woman who recently died. Barbara Kelsall, 74, of Gateacre Rise, Liverpool died at her home address, on Thursday, 15 September 2016. There are no suspicious circumstances surrounding her death. Anyone with information that could help the coroner trace relatives is asked to call Coroner's Investigation officer Simon Knuckey on:- 0151 225 5069.