Programme to tackle children's mental health problems has been shortlisted for a top award
A new programme combining emoji bingo and sport to tackle children's mental health across Merseyside has been shortlisted for a top award. Tackling the Blues (TtB), an early intervention programme targeting 6 to 16 year olds, in Merseyside's most disadvantaged areas, has been shortlisted at this year's:- 'Times Higher Education Awards.'

The programme, launched by Edge Hill University in partnership with Everton in the Community, the official charity of Everton Football Club, uses sport and education to help children with, or at risk of mental health issues.

Emoji bingo, peer mentoring and physical activities are used to increase self-esteem and reduce anxiety in children whilst helping them build positive relationships with peers and external agencies.

Andy Smith, Professor of Sport and Physical Activity at Edge Hill University, said:- "We launched TtB in response to the very significant mental health problems facing young people. 8 in 10 are not accessing mental health services, others have to wait 9 months to access support. Inequality and deprivation are high in the North West and TtB operates in areas ranked amongst the 85% most disadvantaged areas of the country. Our early intervention programme tackles a variety of mental illness from depression and anxiety to eating disorders and anger management. Without TtB many young people would just slip through the net."

Volunteer students from Edge Hill's Department of Sport and Physical Activity and Faculty of Education are trained in internationally accredited mental health qualifications to deliver weekly sessions in schools, acting as mentors to the young people.

Jon Jones, Edge Hill Project Lead for TtB, said:- "Operating across nine secondary schools and two young carer groups, the sessions mix sport and physical activity with educational workshops on topics such as stigma, bullying and emotions where 'emoji bingo' is used to encourage children to talk about their feelings. Delivering activities that children can relate to has allowed us to start informal discussions around mental health whilst maintaining their engagement and enjoyment."

Conor, 13, a pupil at Hillside High School in Bootle, said:- "TtB helps me with my feelings and doing sport. If I felt down or upset or was angry in other lessons I knew I could talk about it and I don't really get angry anymore."

Fellow pupil, Nathan, 13, said:- "TtB teaches you how mental health affects people and how you can overcome it. Sometimes I felt upset but I spoke to people in school and my parents. Now if I feel angry I walk away from it. I'm also helping the Year 7's teaching them about mental health."

Chrissie Doran, Progress Leader for Years 7 and 8 at Hillside High School, added:- "TtB is really helping. We've see our students learn new skills, make new friends and they access support from different types of people making them feel more confident and better about themselves. Students on TtB are more likely to come to school, take part in school life and are generally more engaged and communicative."

The volunteers are assisted by mentors and coaches from Everton's official charity to maximise the impact of the brand of the Club which has helped recruit and retain 95% of young people, over the last 15 months.

Michael Salla, Director of Health and Sport at Everton in the Community, said:- "TtB is part of our wider work in the community promoting health and wellbeing. 1 of the key areas is mental health and we've found football is a highly effective engagement tool to reach people who wouldn't normally engage. Once they're involved in a programme we can start a conversation with them, help tackle the stigma and work alongside partners such as the NHS and other agencies where appropriate."

TtB has been shortlisted in the Outstanding Contribution to the Local Community Category in the 'Times Higher Education Awards.' The winner will be announced in London, on 24 November 2016.

Charles Knight, a Senior Lecturer in Business and Management at Edge Hill University has also been shortlisted in the:- 'Most Innovative Teacher of the Year' category.

Nominate your local hero for a Wirral Award
WIRRAL Council is calling on residents to nominate their local heroes to receive a Wirral Award. The annual awards, presented by the Mayor in a ceremony at Wallasey Town Hall, confer civic recognition for either an outstanding achievement from the last 12 months or distinguished service over a period of 20 years or more. Past winners include:- dedicated community volunteers, hardworking fundraisers, social workers, sportsmen and women, educators and community leaders. Mayor of Wirral, Councillor Pat Hackett, said:- "Having seen the good work done by many different groups throughout my year as Deputy, and the first few months as Mayor, my appreciation has grown. The Wirral Awards are one of the highlights of my civic year. The annual ceremony is the Mayor's chance to express, on behalf of the people of Wirral, how grateful we all are for the dedication of selfless individuals. Now it is up to the people of Wirral to highlight those who need recognition. I look forward to seeing the nominations and to the day of the awards."

A nomination form can be downloaded from:- Wirral.Gov.UK/Mayor. The completed nomination form should be forwarded via email or by post to:-
Mayor's Parlour
Town Hall
Brighton Street
Wallasey
CH44 8ED
Nominations must be received no later than Friday, 9 December 2016. For more information, call:- 0151 691 8527.
Antony Jones Looks for Christmas Helpers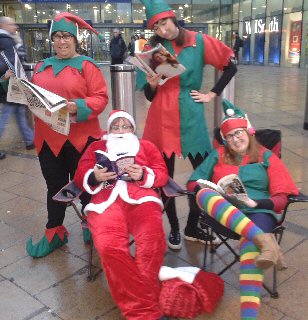 COMMUNITY Fundraiser for Marie Curie Antony Jones, launched a plea to the people of Southport to help raise hundreds of pounds this November and December. The charity needs more volunteers to help collect at supermarkets throughout the area, to make sure every hour of every collection is covered. Marie Curie organise supermarket collections around the festive season, raising funds to provide 1 to 1 nursing care for terminally ill people in their own home.

Antony, Community Fundraiser said:- "We have amazing volunteers in Southport, who give their time to collect each year, but we always need more volunteers to make sure we don't miss out on valuable collecting time and therefore valuable donations from festive shoppers. We're really lucky in that the local supermarkets and shopping centres have been so generous in offering us dates to collect; we just want to make sure we make the most of this opportunity to raise much needed funds for end of life care. By giving us just 2 hours of your time this Christmas to help collect in a supermarket, you'll be helping us raise much needed funds. Christmas is a time for families and our nurses will again be working over the festive period to provide vital care and treatment to people with cancer and other terminal illnesses, enabling them to be at home, surrounded by their families and the things they hold most dear."
Please get in touch if you would like to give up a few hours to help fund local cancer care. For further information about the collections, please call the Fundraising Office on:- 0151 801 1412 or send them an email or please go to our website to find your local collections and sign up online.