₤200,000 investment blows wind of change through intensive care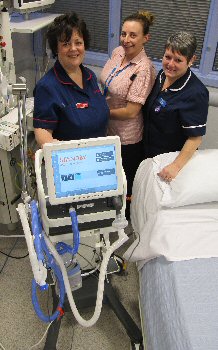 INTENSIVE care patients at Southport Hospital are benefitting from a ₤200,000 investment in 10 new ventilators.

The new devices, worth ₤20,000 each, replace ageing 10 year old machines which will now be sent for auction, probably for use abroad.

Ventilators help a patient breathe. This is usually because of a medical problem that makes it hard for them to breathe well on their own. While on the ventilator, the body is able to rest so it has the potential heal. A ventilator can help with breathing or totally breathe for the patient.

As well as being the latest technology, the new ventilators are also portable so they can be kept with the patient if they need to be moved.

Julie Webb, Senior Sister on the Intensive Care Unit, said:- "This is a wonderful investment by the Trust in our Hospital and we're very excited to start using them to help patients."
FareShare Merseyside invite athletes to tackle food waste
FareShare Merseyside is delighted to announce a new partnership with Dame Kelly Holmes Trust, in which athletes use their spare time to tackle food waste. English footballer Chris McCready, is volunteering at FareShare Merseyside today to give back to the local community and empower others to do the same. He will be driving refrigerated vehicle from FareShare Merseyside to 6 frontline charities and community groups to help tackle hunger and food waste, by redistributing good food that would otherwise go to waste to vulnerable people in Merseyside. In total FareShare Merseyside delivers to 151 frontline charities on a weekly basis.

Chris McCready, former professional footballer, said:- "I am delighted to offer my help and support to FareShare Merseyside. Part of my aims this year is to be more giving of my time in helping others and this is an amazing charity. FareShare put the needs of others above their own and their approach resonates with me on a personal level and further down the line it is something I would like to inspire in my own children as they get older."

Mark Hall, Development Manager for FareShare Merseyside, said:- "A huge thank you to Dame Kelly Holmes Trust for supporting FareShare and inspiring others to follow in their footsteps. This partnership is fantastic for Merseyside as we are adopting an alternative resource to ensure the food we receive is being redistributed to our frontline charities. Without volunteers, we simply couldn't operate and get the food out to people who need it the most in homeless shelters, children's breakfast clubs and domestic violence refuges."

Leigh Hall, Area Manager at Dame Kelly Holmes Trust, added:- "All of our world class athletes are passionate about giving back to the local community and want to change the lives of local people through the work that they do. We are fortunate enough to have a strong, and exceptionally talented team of athletes who go above and beyond in their communities. True partnerships are key to the work we do, both locally and nationally and the value FareShare adds to community groups and charities is inspirational."

Volunteers can register their interest online, plus you can also contact FareShare Merseyside on:- 0151 486 1139 or send Mark Hall an email.

Public views sought on proposals for a modern Sefton Bus Network
PEOPLE in Sefton have the opportunity to comment on proposals to make the Town's Bus Network simpler and clearer from Monday, 16 January 2017. The proposals will be available for view and comment online, from 9am, on Monday, 16 January 2017, until 5pm, on Thursday, 26 January 2017. Also there will be 3 drop in events, where members of the public can speak to Merseytravel staff about the proposals and give their feedback.
The drop in events will take place on the following days:-

► Friday, 20 January 2017, 10am to 3pm, at Maghull Library.
► Monday, 23 January 2017, 10am to 2pm, at Southport Railway Station.
► Thursday, 26 January, 9am to 4pm, at Bootle Strand.

This follows events across Sefton in September and October which saw over 1200 people attend and more than 800 offer their feedback on their frequency and pattern of bus use, including those services publically funded by Merseytravel, and what might make them use buses more.

Sefton is the 3rd area to be reviewed as part of a wider review of the whole Liverpool City Region Bus Network which began in May 2017.

Historically bus routes have been considered on a piecemeal basis and the idea is to consider the commercial network and the supported network; that which relies on public subsidy via Merseytravel; as a whole for the 1st time to ensure it best reflects current working and living patterns, new developments and how they are served.

This is 1 of the 1st undertakings of the Bus Alliance, a formal partnership with operators Arriva and Stagecoach, with the aim of transforming Bus Services to encourage more people to take the bus. However, bus reviews involve all bus operators.

Part of the review has been looking at the current supported Bus Network and considering how increasingly limited public resources can be focussed where there is most need.

Impacts of changes have been mitigated by re-routing or extending existing commercial services where possible to negate the need for a service supported by public funding.

To make the network easier to understand there are also plans to make the evening network to reflect the daytime services, both in route and number. The proposals endeavour to ensure that everyone is within reasonable distance of a bus service.

The proposed changes would come into effect in April 2017.

Cllr Liam Robinson, Chair of Merseytravel said:- "The input we had from Sefton residents on their patterns of bus use and what would get them to use it more has been extremely helpful and insightful. We now want comments on these detailed proposals before we finalise the plans. Through these 'Bus Network Reviews,' we've worked hard with bus operators in re-scoping the network and believe the proposals will offer a network that is clearer, simpler and with some real benefits for the people of Sefton. We recognise that there may be some proposed changes that don't suit everybody with some people having to walk further to catch a bus, but we've been looking at how we can best meet people's needs within budget constraints due to Government spending cuts. This is us continuing to work innovatively through the Bus Alliance when other areas outside Merseyside and the Liverpool City Region, due to budget pressures, are seeing some communities left without any Bus Services."

The Bus Alliance is an agreement between Merseytravel, Arriva and Stagecoach to improve bus travel for people across the Liverpool City Region. In time, it is hoped that other bus operators will join the Alliance.

The Alliance's ambition is for a thriving, affordable and sustainable bus network that offers the customer a value for money and hassle free journey experience; leading to an increase in fare paying passengers. It will look at creating simpler networks and fare structures to more investment in the buses themselves. Encouraging more people to travel by bus drives investment and means less reliance on the public purse.

Key work areas include:-

► A review of the City Region Bus Network.
► Investment in new and greener vehicles.
► On board Wi-Fi and at seat USB charging points on all new vehicles.
► Improved bus links to and from John Lennon Airport.
► Streamlined service changes to make Bus Services more stable.
► Simpler ticketing and a review of zonal structures and pricing.
► Review of all customer information including more Real Time Information.
► Better integration of bus and rail services.
► Improved Customer Service training for all bus drivers.