Help to protect local policing against government cuts
MERSEYSIDE'S Police Commissioner is reluctantly asking local people if they would be willing to pay a little extra to protect local policing against on going government cuts to the Police budget. After 6 years of austerity, the Government promised in December 2015 to protect Police budgets. However, before Christmas the Commissioner, Jane Kennedy, urged the Government to stop the misleading the public after it was confirmed that the grant allocated to Merseyside Police will once again be cut for 2017 top 2018. If the proposed 1.4% cut is imposed it will leave the Force facing a grant reduction of £3.3m, next Tax Year, in comparison to the 2016 to 2017 Tax Year. To help fill this funding black hole, the Government has assumed that local people can pay more towards policing through their Council Tax. In fact, as part of the Home Office's official financial settlement, they have already included in their calculations a 2% increase to the policing element of the Council Tax bill paid by local people.

This is the maximum increase allowed to the Police precept, but even if local people do approve this increase, it will raise less than half the money lost by the grant reduction; just £1.4m. If this increase is not made, the Police's budget will effectively be cut even further. Before making a decision on whether to make the increase expected by the Government, Jane wants to hear the views of local people. The Commissioner is holding a region wide consultation asking people if they would be willing to contribute a little extra; 4p a week for the majority of Merseyside's Taxpayers; to make up for the Government shortfall and help her to limit the impact of these cuts. Jane said:- "The Government have not bothered to ask people if they are willing to contribute more for policing. There was no consultation. Instead when ministers have done their calculations, they have simply assumed that Taxpayers can pay extra. I am extremely reluctant to ask local people to once again put their hands in their pockets to help supplement the funding for policing Merseyside. However, yet again my hands are tied. I have been left with no choice; if I don't increase the amount of council Tax collected towards policing, more Police officer posts will go. We are now facing an additional £3.3m black hole. I can offset that by £1.4m by asking local people if they are once again happy to contribute a little extra, but it still does not make up the cut we are facing. The Government has broken its promise to protect the Police. They are cutting our funding by the back door and then expect local people to make up the difference, despite the fact Taxpayers are already stretched and being expected to contribute more and more."

The proposed increase expected by the Government works out as about £2 a year extra for a Band A household; the lowest Council Tax Category and the amount paid by the majority of Tax payers on Merseyside. This would increase the Police element of Tax payers' bills from £108.53 to £110.65. Jane said:- "Merseyside Police has already had its budget cut by more than £84m over the last 6 years. This has led to the loss of more than 1,600 officers, PCSO's and staff. This is all in a context of rising crime and major budget cuts to our community safety partners. We cannot afford to lose any more. I am therefore forced to ask people on Merseyside if they would be willing to contribute an extra 4p a week to help protect vital frontline Police services. I know finances are tight for a lot of people on Merseyside at the moment so I don't ask this question lightly. Before I make any final decision I want to hear the views of local people."

People are invited to have their say through a short online survey, on Wednesday, 1 February 2017. The Commissioner will also be holding a series of road shows, 1 in each Local Authority area, to ask people for their views in person.

Local GB athlete volunteers at FareShare Merseyside to tackle food waste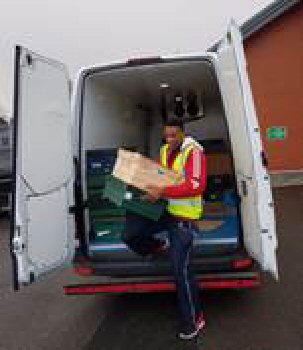 OLYMPIC Taekwondo athlete, Henry Cookey, volunteered at FareShare Merseyside last week to give back to the local community and empower others to do the same. His visit marked the start of a new partnership with Dame Kelly Holmes Trust, in which athletes use their spare time to tackle food waste. The athlete, based in Liverpool, drove a refrigerated vehicle from FareShare Merseyside to 6 frontline charities and community groups, to help tackle hunger and food waste. Along with a group of volunteers, Henry helped redistribute good food that would otherwise go to waste to vulnerable people in Merseyside. In total, FareShare Merseyside delivers to 151 frontline charities on a weekly basis.

Henry Cookey, local Heavyweight Taekwondo champion, said:- "The work FareShare does is amazing and I just couldn't say no when the Dame Kelly Holmes Trust asked me to volunteer. I feel like I've really helped people in the local area who need it, and I urge others to do the same for such a fantastic cause!"

Mark Hall, Development Manager for FareShare Merseyside, said:- "A huge thank you to Dame Kelly Holmes Trust for supporting FareShare and inspiring others to follow in their footsteps. This partnership is fantastic for Merseyside as we are adopting an alternative resource to ensure the food we receive is being redistributed to our frontline charities. Without volunteers, we simply couldn't operate and get the food out to people who need it the most in homeless shelters, children's breakfast clubs and domestic violence refuges."

Leigh Hall, Area Manager at Dame Kelly Holmes Trust, said:- "All of our world class athletes are passionate about giving back to the local community and want to change the lives of local people through the work that they do. We are fortunate enough to have a strong, and exceptionally talented team of athletes who go above and beyond in their communities. True partnerships are key to the work we do, both locally and nationally and the value FareShare adds to community groups and charities is inspirational."

Volunteers can register their interest at:- Fareshare.Org.UK/Volunteering or contact FareShare Merseyside on:- 0151 486 1139 or send an email to:- Mark.Hall@fareshare.org.uk.