Scouse back on the menu with R Charity
IN March, supporters of the Royal Liverpool Hospital's R Charity will be dusting off their tried and trusted scouse recipes once again, to celebrate Merseyside's favourite comfort dish. The 2nd annual Scouse at R House event from R Charity encourages Merseyside residents to don their aprons and host a party to celebrate all things scouse. The charity, who raise money to provide the very best treatment and comfort for patients in the new Royal Hospital, are calling for local businesses, pubs, community centres or individual fundraisers to get their friends together for an evening to celebrate our great City. As part of their scouse celebration, R Charity have called in the help of top local chefs Dave Critchley of the London Carriage Works and Paul Fuller from Mister Miyagi's to provide their own tried and trusted recipes for others to cook for themselves. Aimee Clare, senior community fundraiser for R Charity, is hoping as many scousers as possible sign up to take part in March 2017.

She said:- "Our Appeal aims to raise £10million to provide patients with stroke, breast cancer and other serious illnesses, with the best and most effective treatments in a comfortable setting. The Royal is a place that every person on Merseyside will have been to or been treated in and this is why we want you to help support us to give the very best care that we can to fellow scousers. Scouse at R House events don't have to focus around the scouse food dish; parties can celebrate everything and anything that makes this City great. So dig out your old Merseybeat records, or your old Everton and Liverpool scarfs out the loft and let's have some fun!"

R Charity's Scouse at R House fundraising packs are filled with fun ideas and games to help make your scouse themes night a special 1, including a 'Scouse Nous' quiz by BBC Radio Merseyside's Tony Snell. To pick up your free pack email:- FundRaising@RLBUHT.NHS.UK.
Johnstone's Trade calls on Merseyside residents to nominate local charity projects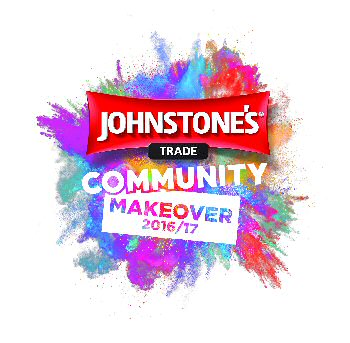 JOHNSTONE'S Trade has opened nominations for its Community Spirit competition, and is asking the residents of Merseyside to put forward a deserving local community organisation or charity building that could benefit from a redecoration. Following a successful launch in 2014, the Johnstone's Community Spirit competition has returned for 2017, with charities and community groups; and their supporters; from across Merseyside being urged to enter for the chance to win a makeover of their premises to the value of £10,000. Entrants have until Friday, 24 February 2017, to submit their completed application form and a minimum of 4 high resolution images, including:- 1 external and 3 internal shots. Please send them to:- etaylor@ppg.com. The application form can be downloaded from the Johnstone's Trade website. Once all nominations have been received, a judging process will take place and a shortlist of 4 will be announced. The decision then falls to members of the general public, who will be asked to vote for their favourite entry to win. The finalists will be invited to the Johnstone's Painter of the Year event, where the winner will be announced.

Richard Mazurkiewicz, Marketing Manager at Johnstone's Trade, commented:- "We've always maintained a strong commitment to working closely with, and making a difference among, local communities. Following the success of the competition in previous years, we're excited to have the opportunity to transform another building that is close to the hearts of people in local areas. Whether the project is big or small, we're looking forward to helping create a space that the whole community can benefit from."

Note:- The makeover is a paint redecoration and does not include furniture, landscaping or construction work.
Southport couple win national search for lovers who met at the bingo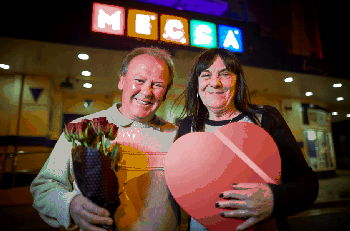 THOSE who say romance is dead need look no further than Southport's own Katherine Jackson, who 1st locked eyes on her new partner, John Reynolds, at their local Mecca Bingo club. The couple are the winners of Mecca Bingo's search to find couples who fell in love while playing bingo. Nominated by Katherine's daughter Lisa and John's sister Lynda; Katherine and John met at Mecca's club in Southport in 2014. Both were widowed and had been single for a few years. After exchanging nervous glances at the bingo for several nail biting weeks, Katherine plucked up the courage to cheekily ask John for a chip after he smiled at her. The pair soon started chatting and found themselves heading out for a drink after they'd wrapped up their game of bingo. 3 years following the first date at the bingo and John and Katherine are now very much in love. While the two laugh at talk of marriage, John's sister Lynda Reynolds says:- "Watch this space." John and Katherine even celebrated Valentine's Day, at Mecca Southport, where they 1st met. The team members in the club were delighted that they won Mecca's national competition and presented the lucky couple with a beautiful bouquet of flowers and selection of chocolates to enjoy.

St Helens military survivor in journey to Le Mans with Team BRIT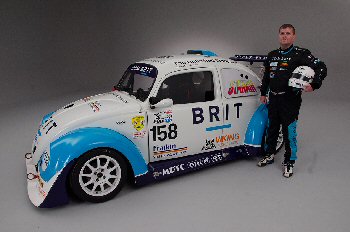 A military veteran from St Helens in Lancashire who suffered extreme injuries whilst serving in Afghanistan will be joining a team of disabled troops in their journey to Le Mans.

Tony Williams is a driver for Team BRIT, a motor racing team of disabled ex troops; who are on the road to making sporting history thanks to a new corporate partnership. Team BRIT stands for British Racing Injured Troops.

Thursday February 16, the team has announced that insurance giant Brit Insurance ('Brit') will support them in a multi year deal that will kickstart their journey to the pinnacle of endurance motorsport.

At a launch event, the team is also supported by patrons and Formula 1 legends, Damon Hill OBE and Johnny Herbert.

Team BRIT aims to be the first ever team of all disabled drivers to compete in Le Mans, in 2020, a feat they will achieve after progressing through racing series starting with the Fun Cup in 2017.

The team's 4 drivers are all ex or serving troops that have sustained serious physical or mental injuries and are disabled.

Tony served as a Corporal in the Queen Alexandra Royal Army Nursing Corps. Whilst serving in Afghanistan in 2010 at the age of 26, Tony survived 2 grenade blasts before being shot 6 times, 3 weeks later, whilst giving life saving treatment to an injured soldier that had been shot.

During the attack, he was shot in the shoulder by a sniper whilst treating his comrade. Despite this, he returned to help the casualty nearest to him, against an order to wait out medical evacuation, and was shot 5 more times. 1 'critical shot' resulted in a broken hip, torn bowels and a broken spine, paralysing him from the waist down.

The initial prognosis was paraplegia and he was told he was unlikely to walk again. He was also told he had less than 5% chance of fathering children, was unlikely to regain full bladder function and had suffered severe nerve damage to his lower legs. He also sustained a mild traumatic brain injury by being hit in a grenade attack, with shrapnel embedded into his forehead.

Through determination, hard work and rehabilitation, Tony can now walk, although he has paralysis in his left leg and a drop foot, so uses a leg brace. He is also the proud father to 2 children.

Tony spent a year with the charity KartForce, of which Team BRIT is a branch, racing in 24hr races, such a British 24hrs, Le Mans, 24 hrs of Majorca, and smaller endurance races around the UK before being asked to the join the team.

Tony said:- "When I was injured, my whole world changed and so many opportunities were taken away from me. I had always been extremely active, and enjoyed skiing, rugby and hockey. With none of these things an option, I gained weight and became unfit. I had never considered motorsport before I got involved with KartForce and I'm so glad I gave it a go. When I'm racing I forget about the pain I experience and the adrenaline rush I had always found in sport returns. I want to inspire other people who think they can't compete or enjoy sports such as this due to a disability, and most importantly, I want to make my children proud."

Tony's team mates are:-

► 24 year old Andy Searle from Torquay who lost both his legs, his right hip and 2 fingers after being hit by the blast of an IED in 2011. He was just 19 years old when serving with 1 Rifles in Afghanistan. His unit had been tasked with providing outer protection during the search of a village when he was hit by the explosion. To date, he has undergone more than 50 surgical operations.

► 34 year old Jimmy Hill from Bournemouth who was shot five times in the leg whilst serving in Afghanistan as a corporal in the Royal Marines. Jimmy has made a full recovery, but lives with a semi paralysed 'dropped foot'. He is still serving in the marines, but based at Headley Court Military Rehabilitation Centre.

► year old Warren McKinlay from Braintree in Essex who was involved in a motorbike collision in 2005 whilst serving as a recovery mechanic in the Royal Electrical and Mechanical Engineers. Warren suffered a broken back, broken pelvis and traumatic brain injury resulting in him suffering from 'walking corpse syndrome', making him believe he was dead and living in purgatory.

The drivers compete against able bodied drivers on a completely level playing field. Advanced hand control technology allows drivers with injured legs or feet to compete.

The team is a branch of KartForce, a charity set up to inspire, challenge and motivate injured ex-troops through motorsport. It aims to show injured military personnel that they can achieve what they never thought possible, that they can compete at the highest level, and to equip them with a wide range of personal and professional skills through understanding the business of motorsport.
Team BRIT's season begins on Saturday, 8 April 2017, at the opening race of the Fun Cup series, at Silverstone, UK.