Crosby Junior Photography prize winners to be announced at special event next week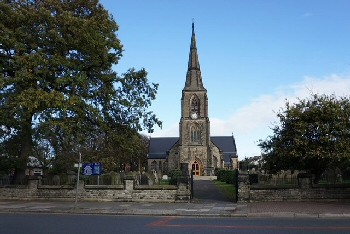 THE winners of the Crosby Junior Photography Competition will be announced at a special presentation evening on Tuesday, 21 March 2017, from 7pm, at St Luke's Church, Crosby. Leading members of Crosby Camera Club will cast their expert eyes over the prints ahead of the presentation event. Local schoolchildren were invited to submit photographic prints on the subject of 'My Crosby' for the chance to win a first prize of ₤50 and have their work displayed. The competition is being run jointly by Crosby Camera Club and Crosby Rotary Club.

Margaret Quayle, chair of Crosby Camera Club, said:- "The competition is now closed and I'm excited to say that we've received a stack of superb photographs from the talented young people in our community. It really is going to be a tough job to pick out our 2 winners and runners up. I do hope as many people as possible come along to St Luke's Church on the 21st to see the quality of the photographs our young artists have produced. The event is free, refreshments will be available and members of Crosby Camera Club will be on hand to answer questions about photography and how to join the club."

The winners of each category; Juniors, aged 7 to 11, and Young Adults, aged 12 to 17; will receive a prize of ₤50 plus a trophy, and certificates will be awarded to the runners up at the event on 21 March 2017. Further details are available from Crosby Camera Club's website.
Taxi drivers prosecuted
11 Private Hire Taxi drivers have appeared in Court charged with a variety of offences following a crackdown in Liverpool. It follows an operation before Christmas by Council licensing officers and Merseyside Police which identified drivers from Liverpool, Sefton and Wirral who were trying to pick up passengers that hadn't booked or were driving without insurance. 9 drivers who faced magistrates, on Thursday, 9 March 2017, were fined a total of ₤2,670; and 8 were given 6 penalty points on their driving licences. A further 2 have pleaded not guilty and their cases were adjourned for trial, that is due to take place on 19 May 2017.

Councillor Christine Banks, Chair of the Licensing Committee, said:- "We want to make sure that our taxi industry is fair and we are determined to crack down on those drivers who are flouting the rules. Unfortunately there are a very small minority who breach regulations to make extra money and we are committed to taking action and in doing so, send a clear message out that it is not acceptable. Passengers should always ensure they only use properly licensed taxis or pre-book Private Hire vehicles, otherwise they are placing themselves in danger as they are not insured if there is an accident."

The prosecutions are part of a series of measures being undertaken by the Council and Police to crackdown on Taxi and Private Hire drivers breaking the law. On Saturday, 11 March 2017, 105 Hackney and Private Hire vehicles were inspected; with more than ˝ found to have faults that needed fixing. A total of 16 were ordered off the road straight away for issues such as broken lights and seatbelts, while another 43 were told to repair issues such as damaged seats and bodywork within 7 days. The Council has also recently put a number of Police Officers through a specialist Taxi Licensing course to help them spot vehicles that aren't complying with the law.
Puppy Power Helps Super Southport Support for Marie Curie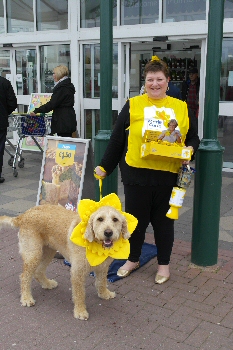 LOCAL volunteers, and one four legged friend called Jimmy pulled out all the stops in support of Marie Curie's Great Daffodil Appeal collection at Morrisons in Southport last weekend, raising ₤1,875.42 for the UK's leading palliative care charity. Jackie Pinkney collected with Jimmy her 18 month old Labradoodle, she said:- "Jimmy was definitely the centre of attention wearing his daffodil gear in support of the charity's 'Great Daffodil Appeal', and he loved every minute of it. He lapped up all the strokes and pats he got from passing shoppers. I was thrilled to hear that the collection raised such a great amount for such a great cause, and feel proud that Jimmy and I we're part of it."

Marie Curie fundraiser for Southport Antony Jones said:- "I would like to thank all the customers and staff of Morrisons for their support. The ₤1,875.42 raised over the 3 days we collected in store was such a great amount! I'd also like to thank every one of our fantastic collectors including Jimmy of course for their support, we simply couldn't have done it without them. We'll be back in Southport collecting for the Great Daffodil Appeal at Sainsbury's and B&M in early April 2017. Help us make every daffodil count and volunteer just 2 hours of your time by signing up to a collection online or call:- 0800 304 7025. We're also holding an information evening at Morrisons in Southport, on Monday 10 April 2017, at 6pm, to talk to local people about our fundraising groups, with the aim of setting up a new group in the area. If you anyone like to come along and find out more, please call Antony on:- 0151 801 1412 or via email."
2 remanded in connection to insurance fraud case
MERSEYSIDE Police can confirm 2 men have been charged with fraud offences following 2 incidents in Wirral and Sefton in January 2017. Christopher Smith, 48, of no fixed abode, was charged with fraud by false representation and with making a false statement to an insurance company and Andrew Lovell, 41, from Chester, has been charged with fraud by false representation. Both appeared at Wirral Magistrates on Wednesday, 15 March 2017 and have been remanded to appear on 12 April 2017. This follows an incident on 5 January 2017, in which a 75 year old woman was defrauded of ₤3500 in Claughton, Wirral and a further incident, on 9 January 2017, when an 84 year old woman was defrauded of ₤3200 in Formby, Sefton.

Frank and Kate share hospital wedding day with Songs of Praise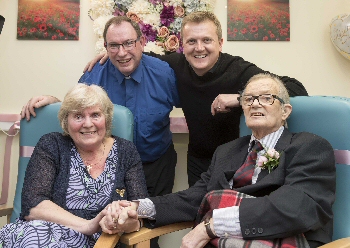 SOUTHPORT Hospital marked its second marriage ceremony of the year when a Formby couple wed on Ward 15A; with TV presenter Aled Jones as their special guest. Frank Heath, 72, and Kate Hart, 69, had planned a small wedding in the ward day room but it quickly became a TV event when they agreed to let the BBC's Songs of Praise film their special day.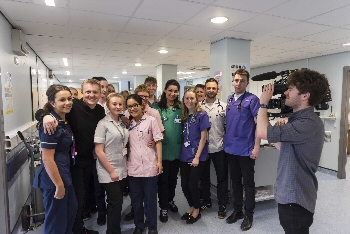 A team from the long running religious television programme was following the work of the Southport and Ormskirk Hospital NHS Trust chaplain, the Rev Martin Abrams, when he was asked to conduct the wedding service. Staff joined family, friends and Aled Jones to watch the happy couple take their vows in a ceremony made possible at short notice by Sefton registrars at Southport Register Office.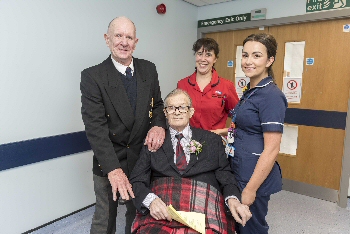 Among the guests was John Smits, from Hull, who served in the Army with Frank in Aden (the former British colony now part of Yemen) in the mid 60's. John tracked him down through the Aden Veterans' Association and it was the 1st time they had met since their Army days 49 years ago. The wedding was the 2nd to be held at the Hospital this year. In January, a patient at the North West Regional Spinal Injuries Centre married her partner in a civil ceremony.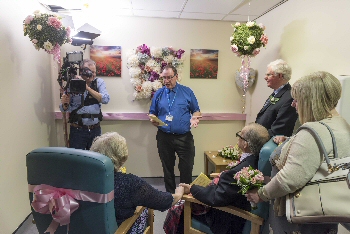 The Rev Martin Abrams said:- "The service was a wonderful, happy day for everyone concerned. It may have been our second wedding this year but is very unusual for patients to marry while they're in Hospital. It was just luck that Songs of Praise happened to be here. I want to thank Kate and Frank for allowing us to share their wedding day as well as staff from across the Trust who pulled out the stops to make it so very special for them. They are truly a lovely and remarkable couple."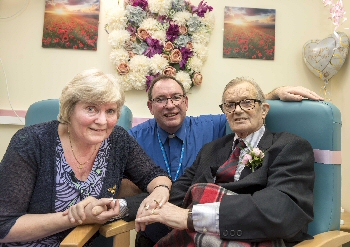 Writing on Twitter, Aled Jones added:- "Had the most incredible humbling day @SONHStrust; wonderful staff and patients and an honour to spend time with Kate and Frank – xx."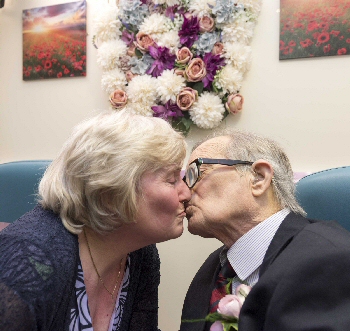 Flowers for the wedding were provided at no cost by June the Florist of Birkdale. The episode of Songs of Praise featuring Kate, Frank, staff talking about their faith and the work of the chaplain is due to air on BBC1, on Sunday, 19 March 2017.