50th Anniversary - 'Bring a bear... Travel ½ fare!'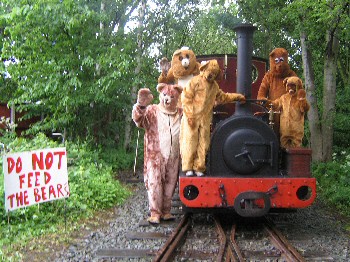 THE West Lancashire Light Railway (WLLR) on Station Road, Hesketh Bank (PR4 6SP) are holding a very special event on Sunday, 21 May 2017. As they celebrate the Railway's 50th Anniversary, they will be in full steam, with a 'Teddy Bears Outing' that will be held on the day, from 11.30am to 4.30pm. So if you ride on our train to the woods that day, you're sure of a big surprise........... To add to the fun they will be running a:- 'Bring a bear... Travel ½ fare' offer as well as having:-
► 2 locomotives in steam.
► Look out for the teddy bear trainspotters.
► Other attractions including model railways.
► Free Admission.
Tickets to ride on the train will cost adults ₤4.00, children ₤3.00, senior citizens ₤3.50 and a family ticket will be just ₤12.00. But do not forget you will get ½ price for all persons accompanied by a bear! Tickets valid all day and you can ride as many times as you like... Plus under 3 is free!
Hot and cold snacks available on and off site. Picnic tables provided; sit and watch the trains go by (but beware of bears...)
'A Finger Lick' in Slice of America' comes to The Atkinson
IN the spirit of the famous Bluebird cafe - Nashville in the Round brings the intimate sound of guitar pulls and songwriter showcases to Southport again, at The Atkinson, on Friday, 19 May 2017. Nashville in the Round for 2017 has a new line up with three Nashville residents Sarah Darling, Jenn Bostic and Michael Logen each recording artists in their own right come together for an evening of songs in the round from the music City.

Sarah Darling brings her 'dream Country' sound to the evening. Having released several albums with 1/2 million downloads worldwide and two number 1 videos on CMT and GAC. Her biggest hit:- 'Home to Me' lead to performances on:- Conan O'Brien, Fox and Friends, and opening for artists like:- Carrie Underwood and Kacey Musgraves. Her next Grand Ole Opry appearance will mark her 83rd performance on the historic stage. Darling has already released his new music since January 2017. From wishing on wandering stars, to never giving up, it really captures the spirit of the ones who love to dream.

Jenn Bostic is best known for her hit single:- 'Jealous of the Angels' a tribute to her late father, with the support of:- BBC Breakfast, Songs of Praise, BBC Radio 2, Weekend Wogan, Good Morning Sunday, and Smooth Radio, Bostic won over the hearts of people across the UK. It has been through the writing and over 600 performances of this song that Bostic continues to pull on the heartstrings of people around the world with her honest lyrics and emotionally powerful voice.

Tennessee based Michaeal Logan performs songs from his new album 'New Medicine' an articulate, measured examination of the inner workings of the human mind and heart on a backdrop of gorgeous, sweeping, acoustic based, rhythmic folk/pop. Michael's songs have been featured on many TV shows including multiple placements on:- 'Nashville,' 'Suits,' 'Parenthood,' 'The Fosters' and '1 Tree Hill...' Logen's folk song:- 'Couldn't Ask For A Better Friend' played prominently throughout the 2016 Rio Olympics, when it was chosen by Folgers as the theme for their award winning ad.

A prolific songwriter, Michael's songs have been recorded by many other artists including:- Jonny Lang, Kelly Clarkson, Mat Kearney, Brandon Heath, The Greencards, Paul Carrack, Will Hoge and Sister Hazel.

For more information about the event or to book, please visit theatkinson.co.uk or call Box Office on:- 01704 533333 or buy over the counter during opening hours.*

* Please be advised there is a ₤1 per ticket booking fee for telephone and online sales and a 2% credit card fee for sales at the Box Office. There are no booking fees for cash purchases at the counter.

½ of North West drivers admit to speeding in 20mph areas
ROAD safety charity Brake is calling on drivers in the North West to #SlowDown this Beep Beep! Day as survey reveals nearly ½ of drivers, that's 48%, admit to speeding in 20mph areas.

The new North West sample from 2,000 drivers also shows that 75% think traffic is too fast in their neighbourhood for the safety of children on foot or bike. Research has found children cannot judge the speed of approaching vehicles travelling faster than 20mph, so may believe it is safe to cross when it is not. More than 5 children are seriously hurt or killed every day in the UK, with the majority (80%) being on foot or bicycle at the time.

The findings come as more than 50,000 2 to 7 children aged 2 to 7 take part in a Beep Beep! Day run by Brake and Churchill Car Insurance. The project for nurseries, schools and childminders engages little ones with road safety including, critically helping them to raise awareness among parents and the wider community about protecting children, particularly those on foot or bicycle, by slowing down.

The event, now in its 14th year, coincides with the United Nations Global Road Safety Week's #SlowDown campaign, which aims to increase understanding of the dangers of speed and encourage drivers in all countries to slow down to protect road users. Beep Beep! Days are also happening in countries including:- Russia, India, Saudi Arabia, Cameroon and South Africa this year.

500 children are killed on roads globally every day; a figure (68%) North West drivers surveyed underestimated; showing the importance of raising awareness about the situation across the world. That's why this year's Beep Beep! Day includes a range of special resources to help children to understand how people travel around the globe and to highlight the importance of drivers slowing down where children live, walk and play.

Brake and Churchill's survey also reveals that nationally 73% of 25 to 34 year olds are likely to drive at 25mph or more in a 20mph area, whereas fewer than 45% of 55 to 64 year olds say they would do so. Men (61%) admit to driving at those speeds more than women (43%). The 25 to 34 age bracket of drivers gave the highest results in terms of thinking that traffic travels too fast in their community too (83%).

Dave Nichols, community engagement manager at Brake, said:- "All children have the right to play safely and live a healthy life without fear; rights that are universally recognised by the United Nations and world leaders. Yet, in the UK, 1 of the most developed countries in the world, our children are often denied these rights because of the lethal danger posed by fast traffic. That's why, in a week when the UN is asking people across the world to #SlowDown on roads, we're calling on UK drivers to take the lead in making roads safer for children; by driving at 20mph or less and taking more care in communities. The Beep Beep! Day project engages kids in this life saving cause, helping them learn about road safety issues and, critically, inspire their parents and drivers to reduce danger on our roads, by actions such as slowing down."

Steve Barrett, head of Churchill Car Insurance, said:- "We are very proud to be supporting Beep Beep! Day once again this year. Too many children die or are seriously injured on our roads each week. Beep Beep! Day is a great way of starting to talk to young children about road safety, as well as raising awareness among drivers, including parents and grandparents, of the need to drive with extreme care when young children are about."

Full survey results for North West:-

Q1. Within the past year, have you driven at 25mph or faster in a 20mph speed limit?
► Yes, once a day or more 8%.
► Yes, several times a week 9%.
► Yes, about once a week 8%.
► Yes, about once a month 8%.
► Yes, less than once a month 15%.
► No, never 52%.
Q.2 Do you think traffic in your neighbourhood is travelling too fast for the safety of children on foot or bike?
► Yes, traffic is too fast on most/all local roads 25%.
► Yes, traffic is too fast on some local roads 50%.
► No, 25%.
Q3. How many children do you think are killed on roads globally every day?
► 100 - 29%.
► 200 - 16%.
► 300 - 14%.
► 400 - 9%.
► 500 - 32%.