Leo Sayer - 'The Show Must Go On'
Photos and review by Jo Forrest.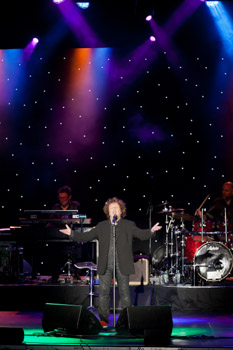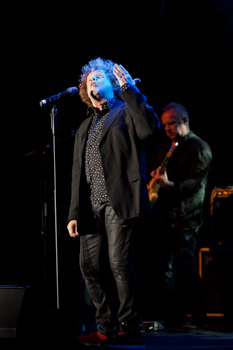 IT is hard to believe that Leo Sayer shot to fame almost 45 years ago with his 1st hit The Show Must Go On. Fast forward 40+ years and he is still selling out gigs not only in the UK, but Australia too.

Leo now an Australian citizen and resident returned to the UK to start his current tour before ending the year back in Australia. With a massive 20 albums and 26 hit singles under his belt, Leo is 1 of the most successful acts the UK has ever produced.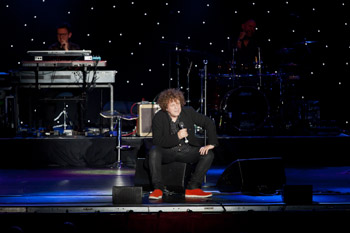 This tour sees him perform some of his new material alongside some of the old favourites to a sold out Floral Pavillion on Thursday, 11 May 2017, in New Brighton. A generally older crowd, but not without some younger audience, the night opens with 'Dancing The Night Away' a hit from 1978 that was more of a hit in Australia than the UK, and soon the audience were singing along.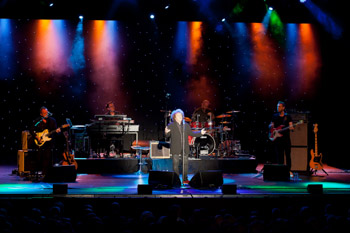 The night was interspersed with trips down memory lane and tales of West Sussex, before singing some of the old favourites:- '1 Man Band,' 'Moonlighting' and a cover of Buddy Hollies 'Raining In My Heart..' The audience didn't seem to be overly enthusiastic at times and Leo talked about the lack of heckling as if to get the audience engaged more with little results really. I am sure they had a great evening though, it would be hard not to, classics like the grammy award winning:- 'You Make Me Feel Like Dancing' have a great feel good factor about them that you just can't help wanting to sing and dance along to.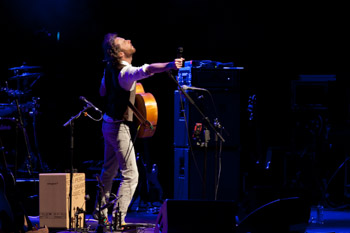 It is hard to believe that Leo is now 69, this entertaining legend still has all the energy and enthusiasm that he has always had, not to mention the famous hair. His heyday may have been back in the 70's, but if the other night is anything to go by he has proved he is still capable of captivating audiences every time on both sides of the pond.

Leo Sayer was supported by Ben Maggs.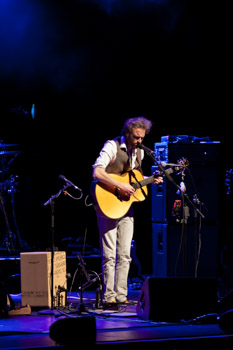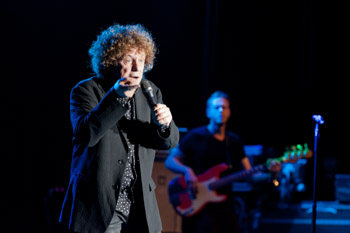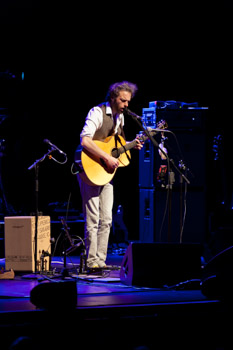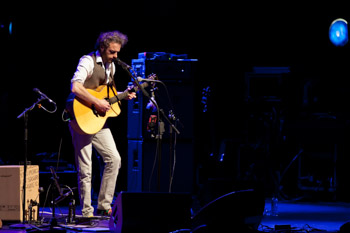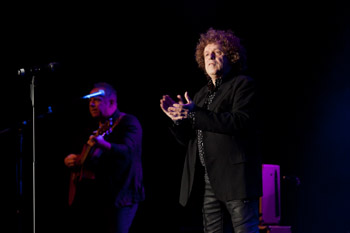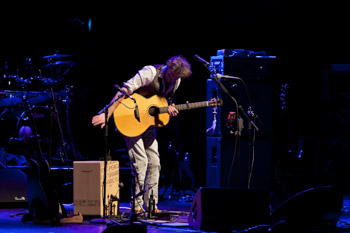 Take That announce the live Cinema broadcast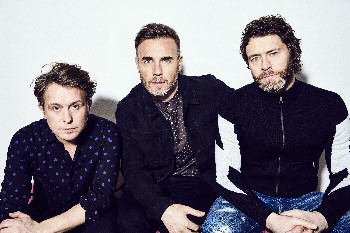 EVENT Cinema specialists CinemaLive and Take That, the UK's most successful live act, are pleased to announce the live broadcast of their forthcoming 'Wonderland' show, which will broadcast live to close to 500 cinemas across the UK and Ireland, along with selected territories, on Friday, 9 June 2017, at 8pm, from London's O2 Arena.

For the 1st time, Gary, Mark and Howard will perform in the round at the O2 arena, giving fans a unique and unbeatable cinematic experience. Cinema audiences will be able to experience the full concert from 'the best seat in the house...'

"We're really looking forward to returning to cinemas with the live broadcast of our Wonderlandshow at London's O2 in June. The last time we did this in 2015, the atmosphere was amazing. The chance to have so many extra people joining us from cinemas around the UK and in Europe for one night only will be really exciting..." Take That

Take That are renowned for their incredible live shows and for pushing the boundaries of liveproduction, having created some of the most memorable stage shows in UK music history. They are the only band in the world to have had a huge mechanical elephant as part of the cast for their Circus Tour, not to mention a 70 foot man named Om who rose out of the stage on 'The Progress Tour.' Walls of water, enormous holograms, circus performers, aerialists, a custom made flying machine and a huge ball of fire have all graced their stages and the 'Wonderland Live' is sure to be no less spectacular.

Take That are one of the UK's most successful acts with an enviable career spanning three decades. The band have sold over 8.5million concert tickets setting the record for the fastest selling tour of all time in UK history when 1.34 million tickets were snapped up for their Progress Live Tour in less than 24 hours.

In the UK alone, they have achieved 7 UK Number 1 albums, 12 Number One singles, selling over 45 million records, won 5 Ivor Novello Awards, and 8 BRIT Awards. Internationally, they have scored an incredible 54 No.1 hits and 35 No.1 albums.
Tickets are on sale via:- TakeThat.Com/LiveCinema.
If you do not already know, CinemaLive, is a multi award winning specialist in Event Cinema which distributes and delivers live and recorded content theatrically to over 70 countries worldwide covering a range of genres including music concerts, opera, theatre, musicals and comedy.

CinemaLive currently hold the record the Highest Grossing Music Concert at the UK and Irish box office. For more information visit:- CinemaLive.Com.
Physical Fest performance programme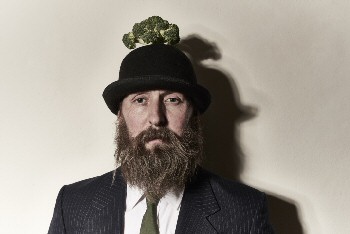 PHYSICAL Fest, in partnership with Unity Theatre, has announced the relocation of the performance programme for this year's festival, over 26 May, until 3 June 2017.

Following the rescheduling of the reopening of Unity Theatre, which has been attributed to a number of issues with the redevelopment of its historic building during the final phase, Physical Fest 2017 movies to City of Liverpool College to The Arts Centre with the North West premiere of Kallo Collective's Only Bones on Friday 26 May.

All scheduled performances of Tmesis Training Company's new production Daydream Believers will be held at the Hope Street Theatre on Hope Street. Come and see a space that you've never been to before hidden away on Hope Street...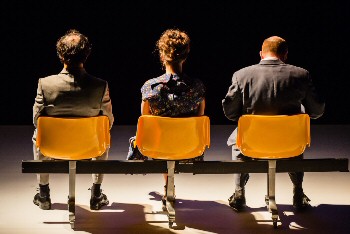 With both venues a brief four minute walk from each other, and just a 5 minute walk from previous venue Unity Theatre, expect the same Physical Fest atmosphere with bars, festival DJ, street food, visual minutes and numerous surprises animating the short route.

Physical Fest Artistic Director Elinor Randle says:- "We are extremely proud of the programme we have in store for the festival. Both The Arts Centre and Hope Street Theatre are great venues that will provide our festival performances with the space to flourish. We're once again delighted to work in partnership with the Unity Theatre as part of their extended Out of Space season."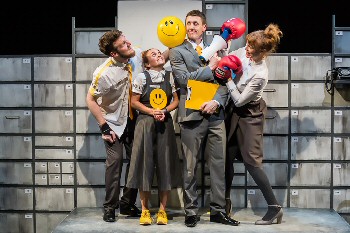 Now in its 13th year, Liverpool's international physical theatre festival is the only festival in Europe specialising solely in physical theatre allowing audiences to exclusively catch the very best physical theatre, in one place and at one time.

Get ready for an entire week packed to the brim with visually stunning performances from Finland's Kallo Collective, Belgium's premiere physical theatre company Chaliwaté with their UK premiere of Jetlag and Tmesis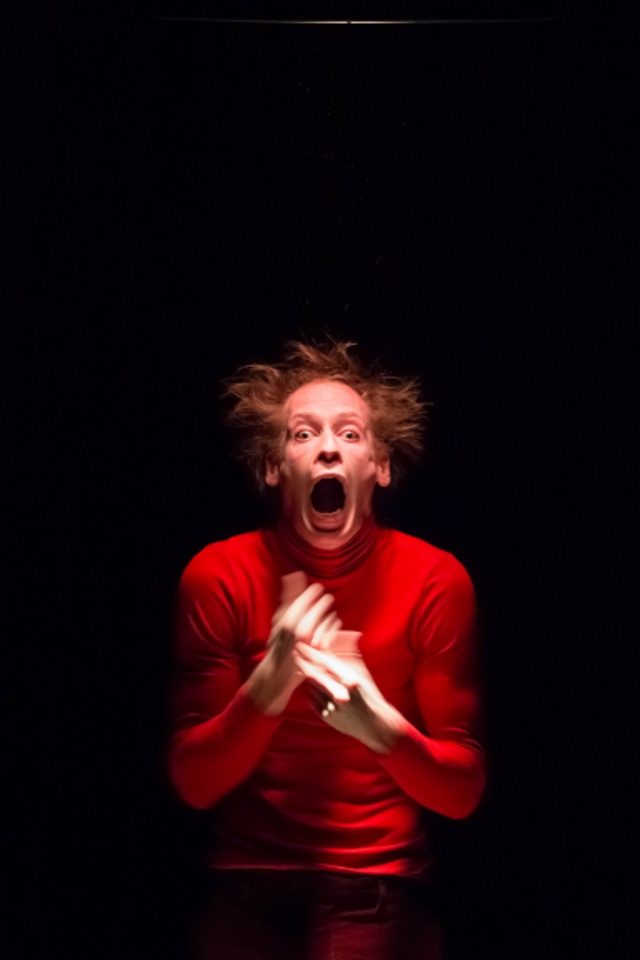 Theatre Training Company's premiere of Daydream Believers.
Levantes Dance Theatre will showcase their latest work The Band, while Sean Kempton and Jo Tremarco present a double bill Stuff and Dying on My Feet, Tmesis Theatre presents Happy Hour and Jamie Wood closes the festival with 'I Am A Tree.'

Fest Live showcases a selection of extracts of new work from local, national and international artists takes and this year's lineup includes Lauren Silver, Duncan Cameron, Physical Fest/MDI Bursary winner Katy Anne Bellis and Izumi Ashizawa.
Carl Hutchinson ready to square off 'Life's Petty Annoyances'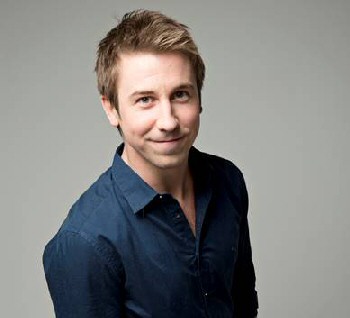 SEE 1 of the UK's most in demand comedians, Carl Hutchinson, at The Epstein Theatre, on Thursday, 25 May 2017! In a world obsessed with answering the complex questions in life, meet the only man brave enough to tackle a multitude of tiny everyday issues, the things that really matter. From people who obnoxiously post motivational quotes on social media to those who urge you to put your phone in rice when you get it wet. Carl Hutchinson takes on a bunch of little everyday issues in his latest show:- 'The Fixer.' Continuously building up a following, Carl has been on numerous nationwide tours with Chris Ramsey having supported him earlier this year and has appeared as a guest on 'The Chris Ramsey Show' (Comedy Central). A huge fan of professional wrestling, Carl has supported WWE Legend and former 3 time wrestling heavyweight champion Mick Foley on sell out UK tours, and Carl's previous show Learning The Ropes followed his attempts to become a wrestler himself. Carl has won the Magners Pub Comedian of the Year and Beat the Frog World Series Competition, has reached the finals of the So You Think You're Funny and Leicester Mercury Comedian of the Year awards, and his debut Edinburgh Fringe Festival solo show Acceptable? was shortlisted for the Amused Moose Laughter Award. Book today and join Geordie comic Carl as he attempts to put the world to rights in his brand new hour of stand up.

Theatre manager, Rebekah Pichilingi, said:- "Carl Hutchinson is one of the most in demand comedians in the country right now and I am certain he will prove exactly why when he steps onto The Epstein stage this May."

His shows sell out fast so book your tickets now for this hilarious stand up comedian.