Award winning Warrington digital agency launches free programme to boost youngsters coding skills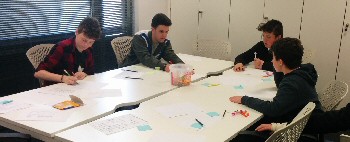 THE award winning Warrington digital agency Results Through Digital (RTD) have launched a groundbreaking community programme designed to teach young people the benefits of learning how to code; and help them design a new youth club website.

The Coding Club, run in partnership with OnSide Warrington Youth Club, will see up to 15 youngsters aged between 13 and 17 work alongside digital experts from RTD over the course of the next 12 weeks.

They'll carry out research on target audiences, design a new youth club logo and branding and work on the technical details of the site before putting it together and then watching it go live.

The 1st session of the club saw the youngsters get a behind the scenes tour of RTD's office in Centre Park, Warrington. And then it was down to business as they mapped out what they wanted to achieve over the next 12 weeks and the key skills they wanted to learn.

"It was fantastic to welcome the young people to RTD House. There's plenty of work ahead but their attitude was brilliant. With our help, I'm confident we'll produce something really special for OnSide Warrington Youth Club." said Jamie Wilson, RTD's CEO.

Dave McNicholl runs OnSide Warrington Youth Club, which has over 4,500 members aged 7 to 19 or up to 25, with a disability, and operates out of the Town's Tim Parry Johnathan Ball Peace Centre.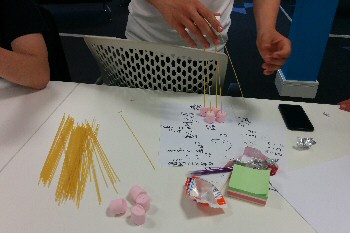 "Over the last 15 years we have organised a number of courses and programmes to help our young people develop their confidence, social skills and independence. We all know how important digital skills are, but without the help of RTD we just wouldn't have been able to deliver such a high quality programme to teach them. This new coding club is going to give our young people a valuable set of skills that can only help them progress in their chosen careers and improve their confidence. We are aware that there is a significant skills gap around IT and this is only due to increase. The team at RTD is providing the opportunity for many of these young people to consider a career in the IT industry." said Dave McNicholl.

As part of their contribution to OnSide Warrington Youth Club, RTD is also donating 10 computers, to enable youngsters participating in the project; and future youngsters supported at the Centre, learn and improve their digital skills.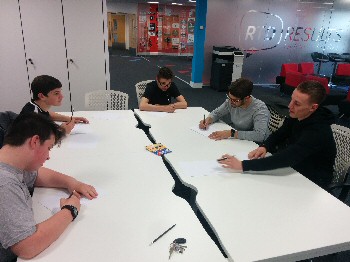 "The generosity of Jamie and the team is amazing and we're really keen to make sure we use the 10 free computers for the good of many of the Town's young people." added Dave.

In March, the Government launched its digital strategy, which is designed to improve the public's digital skills and teach around 45,000 school children how to code.

Culture secretary Karen Bradley said the strategy would make Britain the best place in the world to start and grow a digital business and make sure nobody was left behind when it came to skills.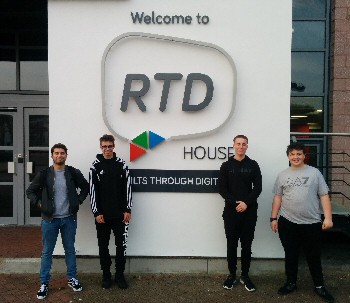 "Improving the digital literacy of our young people is integral to the growth of Warrington and the North West as a hub for innovation and new business. The digital sector is worth 7% of the country's economy so it's vitally important to educate young people on the benefits of learning key skills in this area." added Jamie.

Results Through Digital, which opened in Warrington in 1999, has developed more than 17,000 websites.
Only recently, RTD was named as 1 of the UK's top 3 SEO companies and hailed as 1 of best digital agencies in the North of England.

In March, Jamie was recognised as 1 of the region's outstanding business leaders after being shortlisted in the 2017 High Sheriff of Cheshire's Awards for Enterprise.

Formby Markets start in the hopes of saving Village businesses

FORMBY Village was bursting with fabulous stalls which lined Brow's Lane, most manned by local businesses. The idea is to hold regular events on Friday's throughout the summer. This, it is hoped, will encourage people to come back into the Village. This new attraction will take place weekly, every Friday, for 5 months, until the end of September 2017.

A spokesperson for Formby Parish Council said:- "We have been very concerned about the decline in visitors to the Village Centre's shopping facilities over the last few years. This is just 1 of the many ways we are trying to improve the ambiance of the Village. We have also upgraded the CCTV system operating in the village to try to make it a safe experience for shoppers and visitors."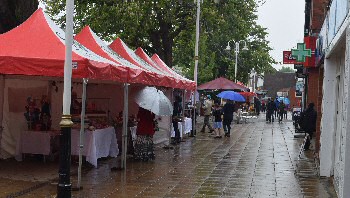 Some local businesses said that:- "No matter what 'improvements' are made, the biggest problem is parking. This has been made worse with car park charges being implemented in Sumner Road. As soon at that happened, the decline got faster and faster."

This new Market is based on the markets the village used to hold back in the 1980's and 1990's, but which were stopped by a number of factors, that included issues with Sefton Council.

We have been told that there will be 30 stalls in total, running down Chapel Lane and that there will be no financial charge to the Parish Council, as the market will be run by Sefton Council.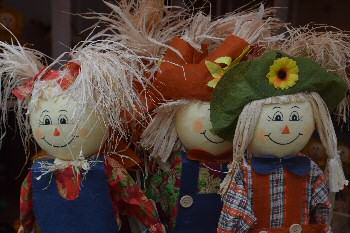 The market will include 1 stall, every week, that will be available for free, which can only be used by a Formby based organisation, school or charitable trust. To apply to use this stall, please contact Formby Parish Council Clerk based in Formby Library, Duke Street on:- 01704 395 955.

Despite the weather, the inaugural Formby Market appeared to go down well. So what do you, our readers think about this idea? Did you attend the 1st event on Friday, 12 May 2017? Email us your thoughts and views to:- News24@SouthportReporter.com.