Amazed by Science Festival returns to Cheshire for ½ Term
IF you're looking for something to do with the kids this ½ Term then check out this year's Amazed by Science Festival.

The week long festival, that will run from 27 May, until 4 June 2017, with a packed programme of science, technology, engineering and maths events for all the family taking place across the county. Whether the kids fancy operating a robot, learning about space and aliens, messing around with slime, meeting beekeepers or making a lava lamp there is something for everyone.

The festival, now in its 4th fantastic year, was created by Marketing Cheshire and The University of Manchester's Jodrell Bank Discovery Centre. The headline sponsor is Essar, at Stanlow, with other local sponsors including Urenco, Siemens, National Nuclear Laboratory and Waters.

The event aims to promote and celebrate Cheshire's rich science base, and capture children's imaginations. Venues taking part include:- Tatton Park, Catalyst Science Discovery Centre, Chester Zoo, Jodrell Bank Discovery Centre, Norton Priory Museum Gardens, Anderton Boat Lift and Lion Salt Works.

Free events take place at:- Warrington Golden Square Shopping Centre, Crewe Lifestyle Centre, Chester City Centre (town hall square), Cheshire Oaks Designer Outlet and Pedal Power and science events will be hosted by Essar at Ellesmere Port Sports Village and Ellesmere Port Arcades Shopping Centre.

Ian Cotton, Head of Communications and Community at Essar Stanlow said:- "Making science exciting and fun is the key aim of the Amazed by Science Festival and we're delighted to be able to support the event. We hope lots of local children will enjoy the events this ½ Term happening across Cheshire"

Katrina Michel, Chief Executive at Marketing Cheshire, commented:- "We're delighted to host Amazed by Science for the 4th year, celebrating Cheshire's strong background in science and innovation. Amazed by Science aims to inspire a love of science in children and we hope families enjoy the fantastic range of hands on experiences taking place throughout the county this ½ Term."

For the full list of events can be found on:- AmazedByScience.Co.UK or find them on Facebook or Twitter.
Both Arriva Rail North and Merseyrail are due to strike again
THE UK's Rail Union, RMT, have confirmed that a new strike will take place, on Tuesday, 30 May 217, for 24 hours between 00:01am and 11:59pm on both Arriva Rail North and Merseyrail.

The union said that it was angry and frustrated that both Merseyrail and Arriva Rail North had both blocked attempts to broker a safe and sustainable settlement to the disputes. RMT's executive also paid tribute to the Merseyrail members who have taken 2 days of rock solid action and who have mounted a highly effective picketing operation on those strike days.

The RMT clais that Merseyrail turned down a union proposal to set up a "safety working group," alongside outside safety bodies and the train manufacturer Stadler, on the principle that a 2nd safety critical person would be retained on all services.

Also with Arriva Rail North, the Union claims the company jams the brakes on all efforts to make progress in the long running dispute over rail safety and the headlong dash towards Driver Only Operation. As well as digging their heels in on the crucial issue of the guarantee of a 2nd safety critical member of staff on their trains the company continue to plough on with plans to introduce a minimum of 50% driver controlled operation across the franchise upon the introduction of the new rolling stock without agreement and in the teeth of opposition from the public, politicians and their own staff.

RMT General secretary Mick Cash said:- "It is disgraceful that Merseyrail continues to refuse all reasonable attempts by the Union to settle this dispute. Merseyrail has repeatedly kicked all conciliatory approaches by RMT negotiators back in our faces and made it crystal clear that all that they are interested in is the union signing a surrender document which gives them a free hand to rip apart the safety culture on the railway. It is that cynical and hostile stance from Merseyrail which has left us with no option, but to put on this additional strike action. RMT recognises the severe impact that the action will have but we are dealing with an employer that refuses to listen or engage with the union on the critical issue of safe rail operation and we ask the public to understand that we have no option, but to take this high profile action to force the company back to the negotiating table. There is ample time, between now and 30 May 2017, for genuine talks to take place and for a safe and sustainable deal that protects the future safety across Merseyrail services to be, put in place. The company should take up that offer of further talks as a matter of urgency. Merseyrail are completely ignoring the clear wishes of their own passengers, who overwhelmingly oppose the idea of Driver Only Operated trains on their network. That pig headed attitude has forced the union's hand and the idea that we would compromise on the fundamental issue of rail safety is absurd. The ball is now firmly in Merseyrail's court."

RMT General Secretary Mick Cash said:- "The sheer intransigence of Arriva Rail North means that we have no option, but to confirm a further 24 hours of strike action. The responsibility for the inevitable disruption lies wholly with the company. We are angry and frustrated that Arriva continue to face up to the facts and also continue to ignore a perfectly reasonable Union proposal to invite the DfT to join us in 3 way talks aimed at finding a solution. The public, who support RMT's campaign for a guarantee of a guard on their trains, will be appalled that Arriva Rail North have failed yet again to offer any kind of progress whatsoever in the talks and have instead opted to try and bulldoze through their plans regardless. It is that flagrant disregard for the safety issues at the heart of the dispute which leaves us with no option, but to press on with the campaign of strike action. RMT commends our Arriva Rail North Members on their rock solid display of strength, resolve and unity during the action so far in opposition to the introduction of driver controlled operation and defence of the guards to guarantee a safer, securer and more accessible railway for all. We have no doubt that they our members will remain united and determined as we prepare for the next phase of action in a fortnight. The Union continues to remain available for meaningful discussions with the company in order to seek a satisfactory resolution to the on going dispute."

Frack Free Southport hold event on Lord Street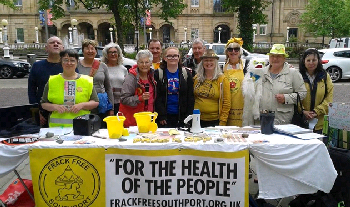 ON Saturday, 13 May 2017, Frack Free Southport (FFS) held an event outside Barclays Bank on Lord Street in support of this year's Global Divestment of Fossil Fuels campaign. All over the world, major institutions have been asked to dump their investments in fossil fuel companies, a major driver of climate change. Barclays Bank has been targeted by protesters throughout the UK, owing to its investments in the fracking company, Third Energy. Barclays has now bowed to pressure and agreed to pull out of backing fracking.

FFS delivered a letter to the manager of Barclays Bank, and gave customers information on the issues of divestment and fracking, asking them to consider switching to another bank. Their information stall entertained passers by with humorous songs with serious messages about the many concerns surrounding fracking. These include the dangers of:- water and air pollution, the use of known carcinogens, earth tremors, radioactive waste transport and disposal, falling house prices, increased house insurance, and prevention of house sales. The latter is already happening close by on the Fylde.

FFS's Global Fossil Fuel Divestment action was initiated by Colin Marshall:- "Our group's recent visits to the Cuadrilla fracking site at Preston New Road, Little Plumpton, made me want to alert the people of Southport to the dangers of fracking on their doorstep. The site is only 10 miles from Southport as the crow flies. The fracking process has already started even closer to us with Seismic Surveys in Formby last year, and our beach is a licensed area for fracking. I chose Barclays as they are so heavily involved in fracking and the fossil fuel industry."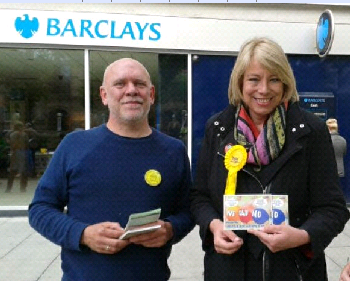 The FFS event was attended by Labour candidate, Liz Savage and Lib Dem candidate, Councillor Sue McGuire. Sue McGuire was actively involved in Ribble Estuary Against Fracking, the 1st anti fracking group in England. There was also a visit from new Labour Metro Mayor Steve Rotherham.

FFS spokesperson Lesley Graham said:- "We were delighted to hold our 1st awareness raising event in Southport. We displayed our new banner featuring the English translation of Southport's Latin motto 'Salus Populi' For the Health of the People. We are concerned that Southport's popularity as a seaside resort and retirement destination with its many Care Homes would be threatened by the effects of fracking. There is an ever growing mountain of evidence clearly demonstrating the many dangers to health caused by the fracking process; children and pregnant women are particularly at risk, as are people with respiratory problems such as asthma. We strongly urge all Southport residents to get informed; just Google 'Fracking and Health.'"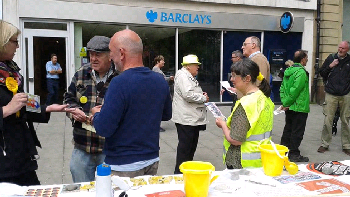 Contact Frack Free Southport via:- FrackFreeSouthport.Org.UK. If you are interested in getting involved, we are told that you can attuned meetings on the 2nd and 4th Thursday of the month 7.30 pm Bold Hotel, Lord St.
Open Event at West Lancashire Yacht Club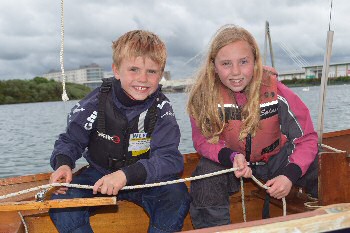 THE West Lancashire Yacht Club has held an Open Event on 20 May 2017. We will have lots of photos of this fantastic event in our next issue. So even more reason to keep your browser pointed at Southport Reporter next week... If you attended, please let us know your views and thought, via emailing us to:- News24@SouthportReporter.com.