Addressing key care challenges this summer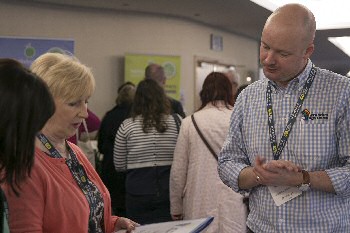 LAST week Care Roadshows made its 2nd stop of the year at the wonderful venue of Aintree Racecourse. The event brought together the key thought leaders and suppliers in the care sector to provide its audience with free content, tools and information to help protect and grow their organisation. As the sun was shining, nearly 250 passionate care practitioners visited the show to talk to exhibitors, network with like minded individuals, top up their CPD along with interacting with hands on workshops taking place across the day. The first seminar of the day hosted by Care Quality Commission saw a packed room as people took valuable notes on the CQC's 4 strategic ambitions along with the latest findings on care quality in adult social care and to debate the future of the industry.

Sheila Scott from National Care Association followed in the afternoon and had the audience laughing with her honest and educational seminar about what the proposed CQC changes will mean to them. This allowed care workers to ask important questions about the future and how their jobs will be affected moving forward.

Carrie Twist from Twinkl Elderly Care saw the same eager faces around the table at each of her workshops as people were keen to discover how to use creativity to inspire memories and enjoyment in their care settings. The visitors were granted with the opportunity to taste a variety of chocolate, sing songs and learn about the benefits of arts and crafts.

The next event in the Care Roadshows calendar is taking place at Villa Park Stadium, in Birmingham, on 4 July 2017. The same line up of industry experts and associations will be present at the event including headline sponsors, Quality Compliance Systems, with their popular talk surrounding leadership. You can see the full seminar and workshops programme here.

If you are looking to receive free business advice, share experiences along with becoming better equipped for providing outstanding levels of care then this is an event to not miss. With free entry, free parking and on site refreshments, Care Roadshow Birmingham will provide an informative day out for yourself and colleagues. For more information and to register for your FREE tickets for yourself and colleagues, visit:- CareRoadShows.Co.UK or call:- 01425 838393.

Merseyside Fire and Rescue Service reaches out to deaf and hard of hearing communities during Deaf Awareness Week
MORE than 900,000 people in the UK are severely or profoundly deaf and would be unable to hear ordinary smoke alarms at night.

Therefore, as part of 'Deaf Awareness Week,' 15 May to 21 May 2017, Merseyside Fire and Rescue Service is reminding the county's residents to make sure they fit and test the right smoke alarms for those who suffer from hearing loss in their homes.

A whole range of alarms have been designed specifically for the hard of hearing, with features ranging from strobe lighting and vibrating alarms to small wearable radio linked pagers. These specialist alarms can save lives, alerting people to a fire in their home even if they remove their hearing aid at night.

For anyone concerned that a relative, friend or neighbour may not be able to hear their smoke alarm in the event of a fire, Merseyside Fire and Rescue Service may be able to provide them with a hard of hearing smoke alarm featuring a vibrating pad and light strobe.

Station Manager for Community Safety Prevention and Protection, Kevin Johnson, said:- "It is vital that people who are deaf or hard of hearing ensure they have the right smoke alarm technology in their home to protect them and that they test them regularly, to make sure they work. Many people with hearing loss could be at serious risk if they don't have the right alarms in place. Specialist alarm systems provide valuable time to escape from a house blaze. Without it, lives could be lost. Anyone unsure about the alarms they need should contact Merseyside Fire and Rescue Service for a Home Fire Safety Check. We are here to help make sure your home is as fire safe as possible. Home Fire Safety Checks offer people the opportunity to get invaluable advice about planning escape routes, positioning alarms and ensuring that appropriate working smoke alarms are fitted in your home."

If you have concerns that a relative or friend may not be able to hear their smoke alarm in the event of a fire please call:- 0800 731 5958 or fill out the Home Fire Safety Check request form on:- MerseyFire.Gov.UK.

People who have difficulties with speech or are hard of hearing or deaf can email requesting fire safety information to be sent to them.

Merseyside Fire and Rescue Service also urges people who are unable to make a voice call to:- 999 to register their mobile phones with the emergency SMS service. This allows them to text an emergency call to any of the UK's emergency services.
To do this they should text:- 'register' to 999 and then follow the instructions received. Or for further information visit:- EmergencySMS.Org.UK.

Once registered the person can make an emergency call by sending a text to:- 999.