70% of parents in the North West say its not fine to fine
ONLINE flight booker, Kiwi.com, has revealed the frustrations of parents in the North West being penalised for taking their children away on holiday during school term time.

Research conducted by the brand reveals that 70% of parents in the North West sided with Jon Platt, who earlier this year lost his High Court battle for the right to take his children out of school during term time. When asked whether it is wrong to fine parents who take children on holiday during term time, 60% agreed.

The data also reveals that 87% parents from the North West think holiday costs are too high during July and August, and is the main reason they take their children out of school during term time. Visiting family and relatives abroad is also a contributing factor to term time absences as it seems getting everyone together can only ever be done around universal and expensive holiday periods such as Christmas and the Summer holidays. 31% of parents have taken their children out of school for family/relative related reasons.

52% of families in the North West have taken their kids out of school in term-time and estimate they save ₤670 on average from taking term time holidays. As a result, 63% of parents would take their children on holiday during term time. Despite 70% of parents being fined by their local Council, just 52% of those would do it again.

Stephen Davis at Kiwi.com said:- "Each year the school holiday period heavily impacts the cost of flights abroad, meaning families have to pay unnecessary premiums for their annual trip abroad, or battle with colleagues to bag the holiday time from work 1st to avoid missing out. Our ethos is focused around finding the right flights for our bookers, at the best price; whatever the reason for flying, wherever you're going."

It is not just flight costs that drive families in the North West to book their breaks outside of the designated holiday months. 13% of parents in the North West reveal they find it hard to get the time off work during the holidays as they are competing with so many other parent colleagues who want the time off. This has resulted in arguments with management and colleagues, being bullied into taking time off, and even feeling so pressured that they have considered leaving their jobs.

Kiwi.com offers bookers the best prices all year round. To take advantage of some fantastic flight deals, visit:- Kiwi.com. Kiwi.com also offers a guarantee on all bookings, protecting customers from flight cancellations, delays and rescheduling of flights. Customers will either be refunded or a new flight will be purchased to the final destination.
Local ladies raise ₤9560 for Hospice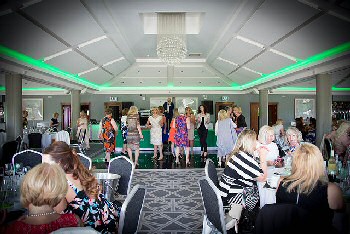 200 ladies from across Merseyside got dressed in their best, on Sunday, 14 May 2017, to attended a party the afternoon at the St. Joseph's Hospice Spring Ladies Day and raised a staggering ₤9,560.

A few drinks and a sumptuous 3 course lunch gave way to an afternoon of pampering, shopping and dancing but the main focus of the afternoon was to raise as much money as possible for St. Joseph's Hospice.

TV presenter and Broadcaster, Debi Jones, hosted the day, and kept everyone going on the dance floor. She also encouraged everyone to dig deep for the chance to win a range of stunning prizes.

Singer, James Franklyn, and DJ, Jeff Wall, kept everyone entertained throughout the afternoon with a wide range of hits from across the decades which got everyone up on their feet and singing.

A number of local businesses supported the event, including Investec, who sponsored the raffle; The Christmas Decorators, who donated a beautiful kissing arch; and all the stall holders and therapists.

Laura Smith, fundraiser at St Joseph's Hospice who organised the event, said:- "Our ladies did us proud yet again. The atmosphere was fantastic and we even managed to book the sunshine this year. I want to say a really big thank you to our match funders from Barclays and Barclaycard, as well as local businesses from Crosby, Formby and Maghull which donated money and prizes. Also to our host Debi Jones, Singer James Franklyn, DJ Jeff Wall and all the staff at Formby Hall who worked hard to make sure the event ran smoothly. However, the final word of thanks must go to everyone who came along on the day. All our glamorous ladies support this, and many other events, year after year and they all helped to make the day such a big success."

North West health network wins national award for outstanding care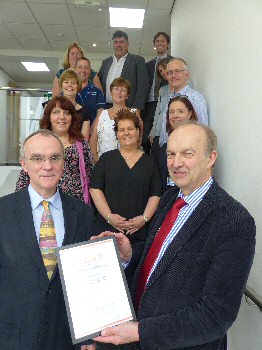 A group of NHS North West experts have been awarded 'Network of Excellence' status for their care of people with neuromuscular conditions.

Muscular Dystrophy UK, the charity for 70,000 people living with muscle-wasting conditions, awarded the status to the North West Adult and Paediatric Neuromuscular Network, which works with many of the estimated 8,000 people living with neuromuscular conditions in the North West.

Many muscle wasting conditions are rare and complex, meaning that professional education is vital for making sure that people receive the right treatment. The network, formed in 2006, was praised by the charity for its events training professionals in the conditions. It has grown rapidly since 2015 with new support staff, involvement from NHS England and more professions joining the network, contributing to its new award status.

The network brings together staff from 7 organisations and is 1 of only 3 networks to receive the accolade from the charity.

It pools the skills of medical consultants with patient representatives, physiotherapists, occupational therapists, psychologists, commissioners and support staff to provide faster referrals, improved service and better coordination for patients.

The network also supports community teams who work across the network to ensure that they have the knowledge and support to care for people with neuromuscular conditions close to home.

The status was awarded following a rigorous UK wide audit of neuromuscular services by a panel of experts. The panel, chaired by geneticist Professor Martin Bobrow, were particularly impressed by the network's focus on hosting events for patients and health professionals across the region. The meetings are welcomed by people living with neuromuscular conditions as a chance to ask questions outside of often stressful clinic appointments.

Dr Esther Vasanth, from Manchester, has 2 adult sons with Becker muscular dystrophy and said:- "The North West Neuromuscular Network is making a difference to me and my family as they work together to increase the support provided to people with muscle wasting conditions. The more support our regional neuromuscular experts can provide to NHS decision makers and community health professionals, the more we can see real improvements in our care. The network's work is essential and this status is well deserved."

Dr Stefan Spinty, Network Clinical Lead, North West Adult and Paediatric Neuromuscular Network and Consultant Paediatric Neurologist said:- "I am delighted that the Northwest Adult and Paediatric Neuromuscular Network has been recognised as a Network of Excellence. Founded more than ten years ago, the network has brought together multidisciplinary healthcare professionals involved in the care of and individuals affected by neuromuscular disorders, charities and commissioners. Educational events throughout the network over the years have been increasingly well attended leading to significantly increased awareness about neuromuscular conditions, their presentation, diagnosis and modern treatments. The North West Neuromuscular Network will continue to work together to further improve neuromuscular service provision in the North West. On behalf of the network we would like to thank Muscular Dystrophy UK for their ongoing support."

Robert Meadowcroft, Chief Executive of Muscular Dystrophy UK said:- "The North West is well deserving of becoming a Network of Excellence. The 8,000 people in the North West living with muscle wasting conditions have specialist needs and the NHS staff working with them need to be fully up to speed on how best to support them. The network's excellent knowledge sharing approaches provide a model for other areas as they have put neuromuscular care on the health agenda in the North West. The right specialist care helps people to lead longer and less stressful lives, which is fantastic for both patients and the NHS. The network has rapidly become invaluable in providing the services and information that people need. We warmly congratulate the excellent team for delivering such high standards and expertise, and look forward to seeing what improvements to care it cultivates next."