Bikes fixed – for free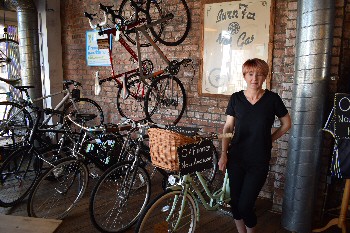 MECYCLE café and bike workshop, in Ainsdale, is delighted with the success of the Big Bike Revival (BBR) and starts its final week of providing free bike services from Monday, 22 May until Saturday, 27 May 2017. MeCycle, which is part of Autism Initiatives and supports young adults with autism in work placements, is taking part in BBR; a national campaign to encourage people to enjoy the benefits of cycling; by making bike repairs for free. Vicky Jones, MeCycle Manager, said:- "During the 1st week we serviced or fixed 138 bikes, which was more than we did in a 2 week period last year (2016). People were queuing up outside before we opened and as the week went on we had to turn some people away. So make sure you get your bike down here early in the week!" MeCycle mechanics will make straight forward repairs such as brakes, cables and inner tubes. They will also run guided bike rides on Fridays for the whole 6 weeks of the Big Bike Revival, from 10am, call:- 01704 579353 to book a ride.
Southport to Manchester line looked at by Conservative Candidate Damien Moore and Paul Maynard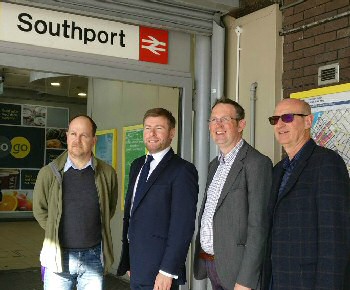 THIS morning the rail minister Paul Maynard visited Southport to discuss the issues surrounding the Southport to Manchester rail line, with the Conservative candidate Damien Moore. Also present was the chairman of the Ormskirk, Preston and Southport Travellers' Association, Alan Fantom and Eric Woodcock, a representative of the Southport Rail Transport Forum (SRTF). Damien supports the campaign to retain the vital rail link and hopes to become its champion by both working closely with Paul Maynard and lobbying on behalf of the town. He said:- "maintaining the rail link is essential to the local economy, good connectivity is important for the town not only to survive, but thrive." Damien, who has already established a connection with the rail minister, will be a strong voice at the heart of government that can resolve these issues and make a positive and lasting impact for Southport.

Property management firm fined for not having landlord licences
A property management firm has been hit with a bill of more than ₤8,000 for failing to apply for landlord licences at a block of flats in Toxteth.

Liverpool's Landlord Licensing Scheme came into force in 2015 with the aim of driving up standards in the private rented sector, and action is now being taken against those who are still refusing to sign up.

Landlords have to meet a variety of conditions around:- fire, electric and gas safety rectifying disrepair issues, tackling pest infestations, keeping the exterior in a good state of repair and dealing with complaints about anti social behaviour caused by tenants.

At Liverpool Magistrates Court, on Thursday, 18 May 2017, Elite Property Management and Lettings Ltd, pleaded guilty to 13 charges of having control of flats, at a tower block, at Mill View, on Rutter Street, without the required licences.

The Court heard that Elite, a professional property management company, were acting on behalf of overseas owners, and were responsible for full management of the flats including finding tenants and collecting rent. The rent was in the form of Housing Benefit which was paid direct to Elite.

The Director of Elite, Darren Sharkey, had been given advice by Liverpool City Council's landlord licensing team on numerous occasions advising that he would be the most appropriate person to hold the licences but he had failed to make any applications.

In mitigation, Mr Sharkey stated that he thought the licences were the landlords responsibility and that since he had taken over the block in September 2015 he had made considerable improvements to the block and the area, which had previously been subject to Anti Social Behaviour.

Elite were fined a total of ₤8166.97, that was made up of ₤500 for each of the 13 offences, plus the Council's full costs of ₤1616.97 and a victim surcharge of ₤50.

Councillor Frank Hont, Cabinet member for housing, said:- "Licences for privately rented properties are not just the responsibility of the owner of the property. Where a managing agent is actively managing the property, finding tenants, collecting rents and issuing tenancy agreements, under the legislation they are likely to be the most appropriate person to be the licence holder. Agents who manage properties for owners knowing they are unlicensed, therefore put themselves at risk at prosecution. Our advice is that they should apply for licences or cease management of the properties in these situations. Licensing is key to drive up property management and tenancy management in Liverpool which has a direct impact on our neighbourhoods and communities. We are serious and determined about improving housing and housing management standards in the City, and the vast majority of the landlords in the City are complying. Unfortunately, we have some who have refused to engage with us and think they are above complying with the scheme."

In a separate hearing, Ian Hall, a landlord of properties in Seymour Road, L14 pleaded guilty to four offences of operating the properties without the required landlord licences contrary to the Housing Act 2004. He was fined ₤500 for each offence and ordered to pay costs of ₤757.73 and a victim surcharge of ₤50.

Around 8,000 landlords responsible for more than 44,000 properties are already engaged with the Landlord Licensing scheme.

Current and prospective tenants can access use an online database at to see if their landlord is on the database.
Landlord licensing has the backing of campaign groups including Shelter and Generation Rent.