Merseyside's Sahir House named among UK's top community health charities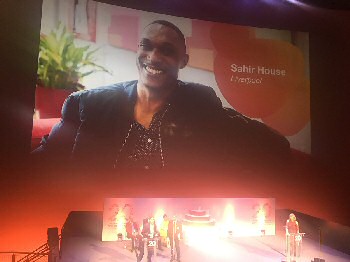 A charity providing HIV support, information and training across Merseyside has won a prestigious national award. Sahir House has beaten more than 400 organisations from all over the UK to be one of the 10 winners of the 2017 GSK IMPACT Awards, a national award that recognises excellence in charities improving health and wellbeing in their communities. The charity will receive ₤30,000 in funding as part of its prize, as well as expert support and development from:- 'The King's Fund.'

Established in 1985 and based in Liverpool City Centre, Sahir House runs a range of services including advocacy, advice on housing and welfare benefits, and counselling and psychotherapy for those living with, affected by or at risk of HIV. It also delivers training to:- schools, community groups, public bodies and companies to help improve understanding of HIV. A short film can be seen here about why Sahir House was chosen online.

The charity has shown how it successfully adapts its approach so that it keeps meeting the changing health and wellbeing needs of people living with HIV. Following concerns expressed by older people living with HIV that they may encounter discrimination if they moved into a care home, Sahir House developed a specialist training course that has been delivered to staff in 38 residential and nursing homes.

Sahir House proactively targets people from black and minority ethnic (BME) backgrounds, working successfully with local BME community groups. It also provides support to asylum seekers who are lesbian, gay, bisexual or transgender; the only organisation doing this in the area.
There are more people living with HIV in the UK than ever before. More than 100,000 people live with the condition and 88,769 access HIV care services; a number that has doubled over the past decade. The life expectancy of people living with HIV has improved dramatically, although the condition can have a severe impact on physical and mental health. There also remain many misunderstandings about HIV, with a survey suggesting only 45% of the public know how HIV is transmitted. Poor knowledge of HIV increases the risk of transmission and can also feed into prejudice and stigma.
Lisa Weaks, Head of Third Sector at The King's Fund, said:- "Sahir House is a dynamic charity that shapes its services around the changing needs of people living with HIV in Merseyside. Through its innovative projects and commitment to reaching the people that most need its support, it moves into spaces where no one else is working. Sahir House does fantastic work in raising awareness of HIV issues and improving public understanding of the condition. This is so important both for combatting stigma and for helping to reduce HIV transmission."

Tommy McIlravey, Chief Executive of Sahir House, said:- "Winning a GSK IMPACT Award is a massive accolade for everyone involved in Sahir House. This award programme is unique in recognising the work of smaller charities having a large impact on community health and wellbeing. We couldn't achieve all that we do without our dedicated volunteers, supporters, and staff; this is such a wonderful boost to all of them."

Developing leaders in the charity sector is an important aim of the GSK IMPACT Awards programme, which has now been running for 20 years, and Sahir House will have access to training and leadership development tailored to its needs. It will also be invited to join the GSK IMPACT Awards Network, a national network of more than 70 award winning health and wellbeing charities working together to develop their leaders, find new ways of working and support others. Sahir House will receive its prize at a ceremony held at the Science Museum in London, on Thursday, 18 May 2017, along with nine other GSK IMPACT Award winners.

We need you! Tesco calls on Southport charities to join free food scheme
CHARITIES and community groups in Southport are urged to sign up to a scheme that lets them collect surplus food from their local Tesco store. The food is free, and will include fresh produce such as fruit and vegetables, bakery products and chilled food like meat, cheese and ready meals.

Since launching in February 2016, the initiative, Community Food Connection, has helped provide more than 8 million meals to over 4,400 charities and community groups, whose service users might otherwise go hungry. Tesco has stated its commitment to ensure no food fit for human consumption will go to waste from their UK retail operations by the end of 2017.

Tesco is now set to extend Community Food Connection to its convenience stores across Southport, which will significantly extend the number of charities reached and the number of meals given to people in need. Groups that benefit include homeless shelters, substance abuse rehabilitation services, after-school clubs, foodbanks and domestic violence refuges.

Tesco's Community Food Connection programme, with FareShare FoodCloud, recruits and supports charities and community groups, linking them to Tesco stores via an app that allows store teams to alert them to surplus unsold food items available at the end of each day.

Frank Jakeman, Duty Manager for Hesketh Esso Tesco Express said:- "At Tesco we have no time for waste. We're so proud to already support local charities and community groups through Community Food Connection from our larger stores in Southport and to be able to extend that support to our convenience stores is fantastic. We are looking forward to forging more strong links with local charities and community groups in Southport, and supporting their efforts to help more vulnerable people in our community."

If you are a charity or community group that could benefit from the support of Community Food Connection, you can go online to register.
Inquest into death of UK serial killer Ian Brady held in Southport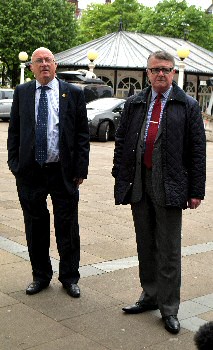 THE inquest into the death of the sick and twisted UK serial killer, Ian Brady, who tortured and murdered 5 children Aided by his girlfriend Myra Hindley, was held at Sefton Coroner's Office, in Southport Town Hall. The child killer died at Ashworth Hospital on 15 May 2017. Then on Tuesday, 16 May 2017, Coroner Christopher Sumner said that the killer's body would not be released until assurances have been given that his ashes won't be scattered on Saddleworth Moor. The moors are the location he and Myra Hindley dumped the bodies of their victims. Mr Sumner said:- "I have no legal means of making that an order, but I believe it is right and proper, the correct moral judgement to make." On 17 May 2017, the inquest into his death has heard that Ian Brady's ashes will not be scattered on Saddleworth Moor. Merseyside Police's Assistant Chief Constable Julie Cooke said in a statement after the hearing:- "Brady has long been a person of public interest who throughout his lifetime was reviled by the public due to the appalling and heinous crimes he committed. In view of the abhorrent nature of the offences he committed and in order to protect the public interest and the relatives of his victims, we made representations to the coroner in a bid to ensure that the remains would be disposed of in a manner which may not offend those interests." Ian Brady, in all his time since he was court and placed in the Maghull psychiatric institute, has never revealed where Keith's remains were buried, even though Keith's mother, Winnie Johnson begged Brady to do so. It added to her unbearable suffering and she sadly died without being able to give him a Christian funeral, in 2012. In 1986 in a bid to find Keith's body Police even escorted Brady to Saddleworth Moor, but sadly Officers suspected he had treated it only as a "day out." For decades, Brady suggested he knew where Keith was buried and could lead the Police there, but this never happened. If he knew, Brady has now taken that secret with him to the grave. This was 1 of the most horrific crimes ever committed in the UK and it still resonates throughout Manchester today; indeed all over Britain and beyond. The photo is of Coroner Christopher Sumner with an assistant as they left Southport Town Hall, on Wednesday, 17 May 2017.